Are you dreaming of entering the lucrative world of affiliate marketing, but concerned about the financial barriers?
Don't worry!
Here you'll find 8 effective strategies that will allow you to kickstart your affiliate marketing journey without spending a dime.
What is affiliate marketing?
Actually, on digital platforms, online creators or bloggers establish a connection with big brands to promote their products/services. In return, they earn commissions that may range from 5% to 100%. We know these bloggers or online creators as Affiliate Marketers. We term this complete business model- Affiliate Marketing. You may refer to this detailed guide on what is affiliate marketing.
Isn't it interesting?
Are you also interested in starting affiliate marketing but worried that how will you manage the cash? Well, you need not worry anymore; I have good news for you.
I'll guide you on how to start affiliate marketing with no money, and that's what this post is all about.
How To Start Affiliate Marketing For Free?
Below are 8 ways to start affiliate marketing for free:
How to start affiliate marketing with no money in 2023?
What is Affiliate Marketing all about?
Affiliate marketing is basically an arrangement that includes three persons; one is the producer, the second is a promoter, and the third is a customer. The producer creates products/services; the promoter refers to them, and on his recommendation, the customer buys the product.
In this entire process, the customer receives the product that he needs, and the producer gets the sale without spending a single penny on promotion. Also, the promoter/affiliate marketer gets the commission for the product that costs him nothing, but he generated passive income through it. So, it's a win-win for everyone.
You may start affiliate marketing to earn a decent passive income along with your primary source of income. If your side business grows, you may convert into a full-time affiliate marketer and achieve financial freedom.
It is one of the most effective and growing ways to make money online in the world right now.
How does this business model work?
Let's learn how affiliate marketing works. Basically, it involves three persons, i.e. producer, the affiliate marketer, and the customer. In this business model, we may define affiliates as individuals who partner with the brands and refer customers to them.
The below-mentioned picture will help you understand how it works: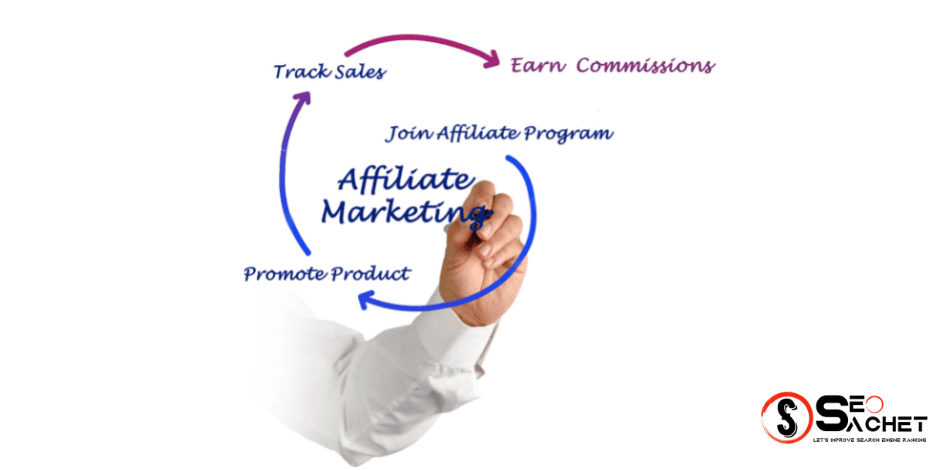 The merchant or producer gives a unique tracking link to each affiliate so that he can track the sales made through the affiliate. The link usually looks like this:
When a customer clicks on the link, a small file named cookie gets stored in his device. These cookies track the affiliate sale. In every affiliate program, you receive the admissible cookie duration.
For instance, an affiliate program allows a cookie duration of 30 days. This means that if the customer clicks on your affiliate link and doesn't buy that day but buys the product after 2 weeks, you still get the commission of the sale. Because it stored cookies on his device and they will track the sales for 30 days.
Benefits of Affiliate Marketing
Here are some benefits of affiliate marketing:
Low risk
As a typical salesperson, you always sell the same product to the audience. And your boss gives you some target that needs to be finished in a particular time frame.
Whereas, in Affiliate marketing, you are your own boss and may promote as many products as different merchants. There is no target and no deadline. This means you have a free hand to work as you like.
If you cannot drive sales, you may get fired. Whereas, as an affiliate marketer, if you promote no product, you may switch to losing nothing.
Passive Income
As a sales agent, your job is to promote the product of one company, thus you have a limited income.
Whereas, in affiliate marketing, you may choose as many affiliate programs and drive sales to them. As a result, the sky is the limit of earning in this case.
You need not work all the time to drive sales, just write a detailed article and it will drive sales automatically. This means affiliate marketing passive income generates even if you are sleeping or not working.
Work From Anywhere
If you've ever dreamed of a life where you do not have to wake up early in the morning? If yes, then affiliate marketing can do the best for you.
Here, you are your own boss, there is no time bar.
Work in your own interest; you can travel, spend time with your loved ones and earn while sleeping.
How much money can you generate as an affiliate marketer?
My answer- THE SKY IS THE LIMIT.
Yes, there is no limit on affiliate marketing income. It depends on your niche and audience.
I have seen many affiliate marketing millionaires. Yes, most successful affiliate marketers are earning in seven figures.
I am earning a decent amount of passive income through affiliate marketing. Here is the earning screenshot of my ShareASale account: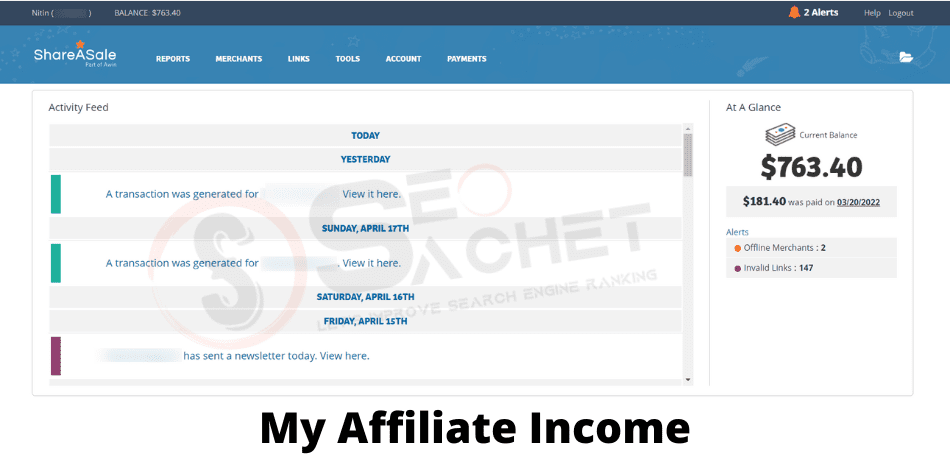 How fast can you make money with affiliate marketing?
Well, affiliate marketing income can stable your life, but it takes time. Yes, it is a marathon, not a sprint.
This is the truth about affiliate marketing.
You can not expect it as a money-making machine. It would not give you money from the next month of starting the business. Of course, you need to work hard and build your business before it generates passive income for you.
Once it generates money, you can live your dream life and earn while sleeping.
Do you need money to start affiliate marketing?
Affiliate marketing is a business model where companies will pay a commission to an affiliate for each sale or lead that is generated by the affiliate's marketing activities. The concept takes advantage of the internet's unique ability to connect people with the products or services that they need.
Some people are hesitant to start an affiliate marketing business because they think they need a lot of money to start a business. However, this is not true.
Do you also feel you need to have money to start affiliate marketing?
You don't need a lot of money to start an affiliate marketing business as long as you have a lot of time, energy, and dedication.
How can you become an affiliate for free?
There are many ways in which you can become an affiliate for free. In order to make money from affiliate marketing, you need to have a website and plenty of traffic. However, it's not mandatory to have a website.
In the next section, I'll show you how to start affiliate marketing without a website & investment.
It is possible to make money by doing a few things.
You can create videos about products and promote them on social media.
You can also create your own email list by using free email marketing tools and convert your subscribers into customers.
If people buy online courses, they can contact the instructors to promote their courses and earn a commission in return.
You can also create your own blog to promote affiliate products.
You may refer to this article on how to start an affiliate blog.
How to start Affiliate Marketing with no money
In this blog, you'll learn about the 8 ways how to start affiliate marketing with no money.
In 2023, there is no need for you to have any money for starting affiliate marketing. You can start this business with people skills, marketing skills, and social media marketing skills.
Affiliate marketing is one of the fastest-growing industries. In the past few years, it has become a necessity for businesses of all sizes.
By the end of 2023, affiliate marketing will be a trillion-dollar industry. Do you want to be a millionaire in that industry? Well, it all starts with you, so read this post and find out the way.
There are hundreds of websites that offer affiliate marketing services. You only need to do some research and find out which companies offer the best commission rates.
What skills do you need?
Starting affiliate marketing is not as easy as you think. It takes lots of hard work and dedication to be successful in this field. But, it is not impossible.
The skills required for affiliate marketing can vary depending on the type of affiliate marketing you are going to do. However, the one thing that is common for all is that it requires a good understanding of marketing, sales, and business.
Affiliate marketing is a flourishing business today. Many people have been making money online through this business, and it is one of the best ways to make money with no investment.
The only thing you need to start the business is to have proper skills. You need to know how to write articles, and how to design graphics and landing pages.
To make your venture successful, you will need to understand the importance of marketing. You will need to learn how to market any product, and what are the best strategies to market it online. For marketing, you can do a lot with social media marketing.
You need to know how to create an email marketing campaign and how to write an email.
Once you've done that, you need to build your email list. As your email list grows, promote your affiliate products through your email list. After all, this method is used to turn visitors into subscribers and subscribers into customers.
Choose your niche
Choosing a niche is the first step in affiliate marketing. Depending on your skills and experience, you can choose from a wide range of niches to work in. There are hundreds of niches, so it's difficult to decide on just one. Here are a few suggestions that you might like to consider.
You need to choose a niche that you're interested in and that people are likely to be interested in.
In simple terms, choose a niche that has enough search volume, and that is monetizable. There is no benefit to choosing a niche that has a search volume, but there is nothing in that niche that you can promote and earn.
There are many niches that are monetizable, a few of them are:
Health
Sports
Blogging
Travel
Finance
Food
Pick up the affiliate programs
You need to sell products before you make money with affiliate marketing. In order to get started, pick up the affiliate programs available in the industry.
The best place to start is to search on Google or YouTube for the top 10 free affiliate programs.
Choose the one that suits your needs and your product. There is a wide range of programs available in affiliate marketing. These may be Amazon, Shopify, eBay, and Etsy.
If these do not relate to your niche, then one of the simplest ways to find affiliate programs is the affiliate marketplace. It is a platform that provides many affiliate programs related to your products/services.
ShareASale, Impact Radius, ClickBank, Rakuten, and PartnerStack are the marketplaces that offer the best affiliate marketing programs for beginners.
It is important to pick the affiliate program that has the best tools and offers the most money. You don't need money to do this, but you need the correct tools, knowledge, and skills to succeed in this venture.
Promote the products/services
As the Internet has become much more accessible, affiliate marketing has experienced a tremendous boom to reach out to a wider audience. It is an affordable and strategic way to advertise products and services to a larger number of people and make a living doing so.
You can promote the products and services on social media platforms like Instagram, Facebook, and Twitter. You can also advertise the products and services on your website and blog.
Promote the products/services and let the profits come in.
Make sure that you promote your products and services by creating a blog, YouTube channel, Facebook page, Twitter handle, and other social media platforms that are free.
You need to create a newsletter and share it with your audience. You can also create a downloadable e-book, and send it to your audience. This will help you build your audience. You can also create an offer page, offer the products and services of your company, and have your audience download it.
I have mentioned below some ways that can help you start affiliate marketing with no money.
Blogging
There are many ways how to start affiliate marketing with no money, and the most common way is to start by creating a blog.
It is an easy way to earn money. You just have to feed people who are interested in a particular product or service.
How can you feed them?
Solve their problems and describe the benefits of the products that can solve their problems.
Of course, I recommend you use a self-hosted blog, but you can start blogging from free platforms like blogger.com, medium.com, etc.
Don't forget to use the right keywords in your content to get organic traffic. You may use Answerthepublic.com, or Semrush free trial to find your target keywords.
YouTube
YouTube has a tremendous user database, with almost 2 billion users. You must have watched mobile phone reviews or problem-solving videos on YouTube.
Why don't you create your own video and promote any product? It is absolutely free.
Just sign up and create your own channel. Find the products that are useful to your audience and promote them by creating videos around them.
It is an incredible platform to start affiliate marketing for free and successful affiliate marketers are earning millions by creating videos.
The only thing you should remember is not to use copyrighted videos or audio in your content.
Facebook
Facebook is a social platform that has billions of users. Have you ever thought of creating a group of like-minded people?
If not, create it. Find out their problems and provide them a solution as products or services that you promote.
Create a Facebook page around your niche, build your audience, and promote your products. Just be sure not to flood promotions, it may lead to blocking you from accessing Facebook.
Instagram
Instagram is a wonderful social media platform to promote affiliate products, as they highly focused it on visuals.
If you have no money to start a profitable blog, you can use it to earn affiliate commissions.
You can create a reel or image describing the benefits of your products and promote them. But, like Facebook, it is necessary to build your audience first.
To build your audience, you may use hashtags while uploading any images or videos. Hashtags give your content much exposure if you have added them wisely.
Note: Hashtags work for every social media platform, so leverage the benefit by using them.
Twitter
Twitter is another social media platform with over 400 million users.
If you are looking for building a target audience, I highly recommend using it. Just like other social platforms, hashtags on Twitter can boost your followers.
Interact with other users to increase your followers and retweets.
Tweet about your niche and use relevant hashtags to give them exposure. You can use Twitter to share your blog posts, YouTube videos, and LinkedIn posts about your affiliate products.
Though you can directly promote your products on Twitter, I'd recommend using it to grow your audience.
TikTok
If you think kids only use TikTok, then you're wrong. I agree that users between the age of 10-20 are proportionately higher than other age groups. Still, a good number of users use it to promote affiliate products like laptops, digital products, and even cosmetics.
As TikTok videos are just 50-60 seconds in duration. Still, you can use them to direct visitors to your profile where you've added your affiliate link.
Since the videos are short, you need to add at least 4-5 videos daily to build your audience. Thus, using a sales funnel, you can get them onto your profile and ultimately convert them into customers.
Remember that TikTok has a huge user database and you do not require a professional presence to engage the audience. So, use it to convert your audience.
Reddit
Reddit is the most useful platform for marketers. It requires utmost care to provide valuable content.
You should present interactive and valuable content to your fellow users. Also, take part in discussions by commenting on them.
Never think of it as a self-promotion platform. Because if you don't build your karma points by providing valuable content and taking part in the discussions, they may ignore you.
And, if you self-promote yourself, then they may ban you.
So, take it as an affiliate marketing opportunity to provide something useful and then introduce your products to the users.
Quora
Just like other platforms, Quora also needs you to build your reputation first. Quora is a platform where millions of users ask questions daily.
So, you'd be successful there only if you provide valuable answers to their queries. If you just spam the answer by adding your referral links, then they might ban you as quickly as you join it.
If you gain upvotes for your answers, you get much exposure to your other answers, which ultimately improves your organic reach.
You can suggest the relevant products to the audience in the answers by providing them with valuable insights.
Quora has a vast database and you can use it to search for problems that your audience is facing. Simply, solve their problems by introducing your products and earn commissions as well from the merchants.
FAQs: Affiliate Marketing
Don't Wait & Join Affiliate Programs Now
We hope you enjoyed our blog post about how to start affiliate marketing with no money in 2023. This post details some resources that can get you started on your first affiliate marketing campaign.
The article offers a few different ways that you can start affiliate marketing, providing a clear and detailed explanation of each technique.
We hope it helped you decide how to start affiliate marketing, even if you don't have any money.
So build your audience using social platforms and once you have a sufficient following on social media, join the free affiliate programs.
ShareASale, Impact, and Rakuten are the most common free affiliate network places that offer you a variety of affiliate programs related to your niche. To join these programs, you should have a great social presence. So, make sure you focus on problem-solving and quality content.
We hope you make your affiliate marketing dreams come true!
If you are interested in learning more, stay tuned with us. Thank you for reading. We would love to hear from you!
If you found this article helpful, please share it with others.