SE Ranking Review: The SEO Tool Widely Used By Experts
Brace yourself with an outstanding tool having innovative features, powerful analytics, and the potential to revolutionize your online presence.
Get ready to discover whether SE Ranking can dethrone the competition and put itself in the market as the best SEO tool of 2023!
Pricing Details
| Pricing Plan | Cost (Billed Annually) |
| --- | --- |
| Essential | $39/month |
| Pro | $89/month |
| Business | $189/month |
I think you'll agree with me when I say-
Sustaining your keywords ranking is really crucial!
Of course, driving traffic is the foremost thing for every webmaster. But, a performance check is equally important to make sure that your SEO strategies are really working or not.
The best keyword rank-tracking software should be one of your top priorities as an SEO expert. Thankfully, we have the best keyword rank checker available on SE Ranking.
I have been using it since 2020 and now I can definitely share my experience. In this SE Ranking review, I'm going to explore this multipurpose SEO tool and to be honest with you.
This is a cloud-based SEO tool that started as a keyword rank tracker and now provides many other features like keyword research, backlinks monitoring, website audit, competitor analysis, social media management, etc.
I've seen no other SEO tool so good at such an affordable price for beginners.
I'd recommend you use a 14-day free trial of it before we begin this SEO tool review.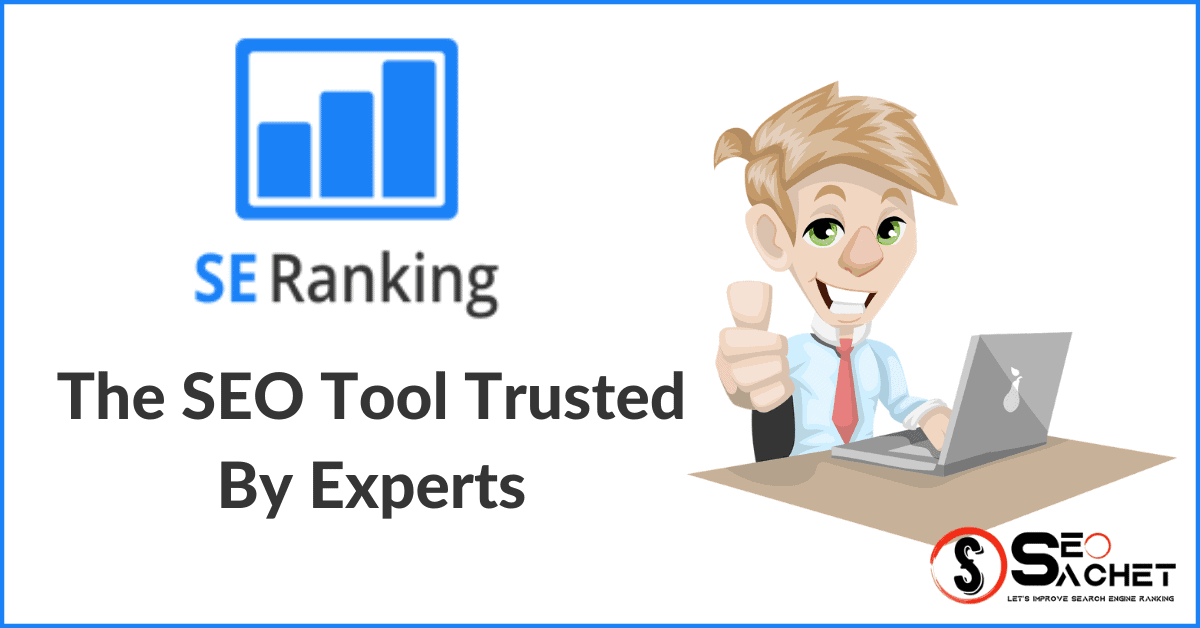 What is SE Ranking?
SE Ranking is a cloud-based SEO tool that assists you in optimizing your website.
Valery Kurilov developed it in 2013 as a keyword rank tracker. But it is the most popular all-in-one SEO tool nowadays that SEO professionals widely use. It is now trusted by 600,000+ users and the user database is continuously growing.
Yes, similar to Semrush, you can use this tool for any purpose, like keyword research, competitor analysis, backlinks check, keyword position check, etc. In fact, it is the best alternative to Semrush.
What can SE Ranking Do For you?
Any tool is worthless if it doesn't prove to be beneficial for you. Of course, you should not pay your hard-earned money on such tools.
Is SE Ranking worth it?
This is the most suitable question. Yes, you should not believe in any tool just by a review.
Let me ask you a very simple question.
Why do you want to use an SEO tool?
Of course, it should help you in building a robust SEO strategy and improve your blog's ranking on Google. For this, you want a tool that can help you in search engine optimization and, of course, it should be affordable.
What are the Benefits of SE Ranking?
It is an all-in-one SEO tool that assists you as an SEO professional in the following ways:
So, these are some important SEO features that assist you in improving your website's rank on Google.
One more importance of this tool is that it offers all such features at an affordable price that is much cheaper than other SEO tools.
SE Ranking Review: Why Should You Try It?
For any buyer, it's very important to first analyze the tool, so this review will help you in analyzing the tool.
Though an honest review is incomplete without mentioning the pros and cons, you'll get the same in the following section.
Note: You must need access to this tool while reading this review to better analysis of the tool. If you haven't already signed up for SE Ranking free trial, you can do so by clicking on the link given below. It will provide you with free access to the tool for 14 days.
Get 14-days free access to SE Ranking ($39 value for free)
Now let's explore the tool for the above-mentioned features and learn how to use it.
Keyword Research
Keyword research is really important for an SEO professional. You may read Neil Patel's detailed guide on how important keyword research is in search engine optimization.
Keyword research tells you about-
how many people are searching for a particular query
how difficult is it for you to rank on that keyword
brainstorming similar keyword ideas
which websites are already ranking on that keyword
advertiser's bid on that keyword
Using the tool, you can easily gather the above information about any keyword. I've written a detailed guide on how to use SE Ranking for Keyword Research. You may refer to it.
How to use SE Ranking to get unlimited keyword ideas
To start with keyword research, access the Keyword Research toolbar shown in the header bar.
This will open the keyword suggestion tool for you where you get insights into your focus keyword.
Now type your main keyword in the box, select your target location, and hit the Analyze button.
On the next screen, you will get an overview of your target keyword.
what will you see upon doing so–

👉 It is important to note that you can update the Keyword difficulty score and search volume to get more updated results.
Keyword difficulty score range-
That's not only what the SE Ranking keyword suggestion tool offers to you.
When you scroll down, you will see a tab with the title Keyword Ideas showing you all related keywords to your seed keyword.

On clicking to View Detailed Report, you can explore the tool to get unlimited keyword suggestions for that keyword.
The filter option gives you a free hand to get the most desired results for your project. You can filter the result by search volume, keyword difficulty score, include/exclude a keyword, CPC, etc.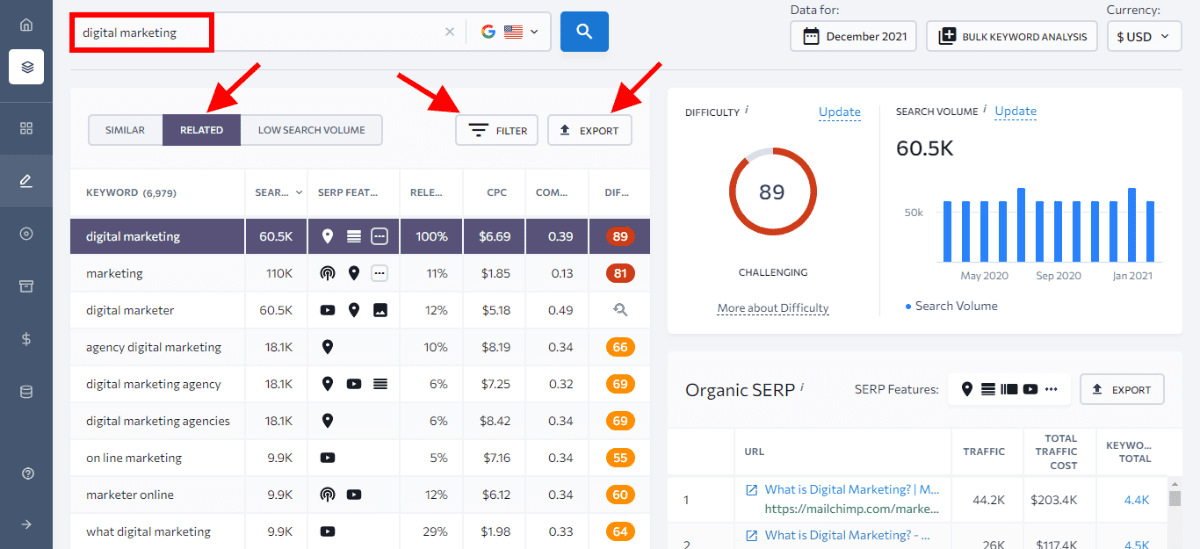 👉 One more important feature of the tool is you can export the keyword ideas into an excel sheet.
On further scrolling down, you get organic search results for that keyword. This means you get a list of top Organic Results URLs ranking on that keyword.
This helps you analyze those URLs and build a more robust SEO strategy that will work for you to outrank those URLs.


One new feature listed in the keyword research tool is Ranking Dynamics. This feature shows you the ranking of top URLs that are improved or declined for that keyword in a graphical form.
Competitor Research
Competitive analysis is very important to search engine optimization. You can not manually check all metrics of your competitor's domain.
Here comes the competitor's research. It is the only feature that tells you about your competitor's strategies.
If you want to rank on your competitor keywords, then you must implement competitive research in your SEO strategy.
Using this feature, you can get insights into which keywords your competitor is ranking for, and you can monitor his backlinks, traffic analytics, organic keywords, paid traffic, etc.
So, it is of utmost importance to take care of what your competitor does. It provides you with a tool to spy on your competitor.
How to use the SE Ranking Competitor Research tool?
It's quite easy to perform competitor analysis using this tool. Just enter the domain/URL in the competitor research tab, select the geographical location, and hit the Analyze button.
On the next screen, you'll get an overview of your competitor's domain.

You get the following metrics from your competitor–
Here, domain trust is the overall domain quality score based on the number of backlinks and referring domains.
You should remember that scores like domain trust and page trust are not 100% accurate, as these are based on estimated traffic, quality backlinks, and referring domains.
SE Ranking does not guarantee 100% accuracy for traffic figures and no other SEO tool can guarantee this. These are always the estimated figures.
Here you can see the detailed report of keywords on which your competitor is ranking, which keywords he improved, and on which he lost rankings.
On scrolling down, you get a detailed report of his top organic pages means the pages of your competitor that are ranking on top and bringing huge web traffic.

In the organic competitor semantics comparison, you find the keywords gap.
Yes, similar to Semrush, it tells you the keywords on which your competitors are ranking and you are missing the opportunity with them.
On clicking on missing keywords, you get the detailed report of such keywords and find the opportunity to rank on them as well.
Keyword Rank Tracking
You put every effort into bringing traffic to your website and improving its search engine ranking. But performance checks are of utmost importance if you are an SEO professional. This explores websites ranking on different keywords so that you can build strategy accordingly.
That's why keyword position checkers should be your top priority. I have used many keyword rank checkers, but to be honest; I did not find anyone that can compete with SE Ranking in this metric.
Its keyword rank tracker provides you with 100% accurate keyword position data on different search engines.
Keyword rank tracking not only tells you which keywords you are performing better on but also gives you the opportunity to find the low-performing keywords and improve them.
The Keyword Rank Tracking tool shows you the exact position of your keywords on search engines like Google, Bing, Yahoo, and Yandex.
If you are running a local business and want to explore your keyword ranking in a particular region. Of course, you can use this tool to find the position of the keywords in a particular region and language.
You just need to set up a project to get insights into your keywords position.
Click on the projects tab to create a project.
Enter details like your website URL, keywords, the search engine on which you want to track the keywords, and your target location.
You can get insights into the past year through the historical data
The rank tracker panel looks like this-
Recently, it launched a new feature in its position checker and now provides you a quick summary of your keywords ranking.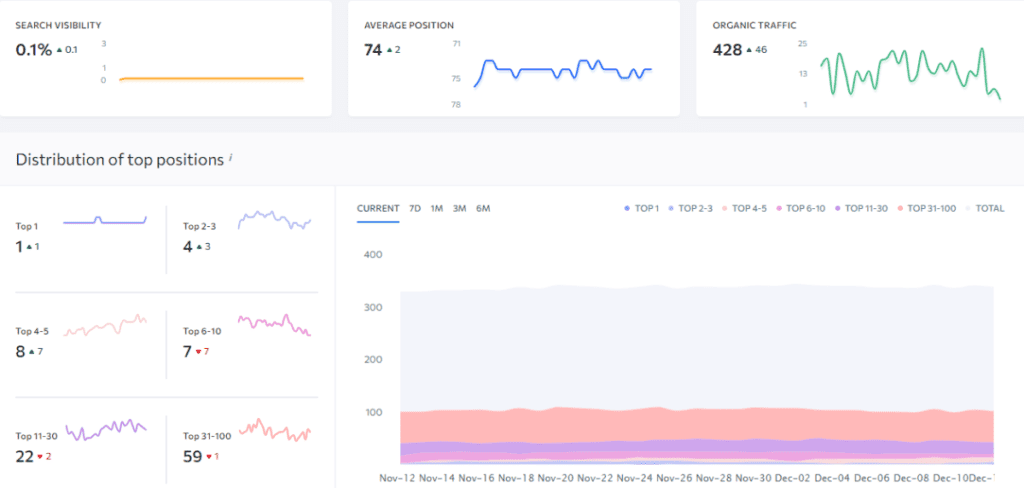 Now, in a single place, you can get an overview of your keywords. It helps you to check how many keywords are in the top 1, top 3, and top 10 positions.
You can also integrate your Google search console data to SE Ranking to get more insights.
Backlinks Monitoring
Backlinks have always been an important SEO factor. Of course, quality backlinks lead to improved search engine rankings.
But how to get them?
Here comes the backlinks checker tool. Yes, this tool helps you in analyzing your backlinks. If you have low-quality backlinks that are pointing to grave sites, then you can disavow them and save your website from facing a terrible impact.
Also, you can monitor your competitor's backlinks and find opportunities to create quality backlinks for your website, too.
Let's monitor the backlinks of a domain!
Click on the Backlinks Checker tab and enter a domain name to monitor its backlinks.
The limit to checking backlinks differs in each plan. I'm currently using the Pro plan so, it's 200 for me.
Once you click on the update report, you will see an overview of backlinks pointing to that website.
What you will see in the Backlinks Checker tool?
Not only this, but you also get to know about how many backlinks are do-follow/no-follow and how many backlinks are created from Gov and Edu sites.
You can easily analyze your backlinks regarding country code top-level domains. The tool gives you a brief about these metrics as well.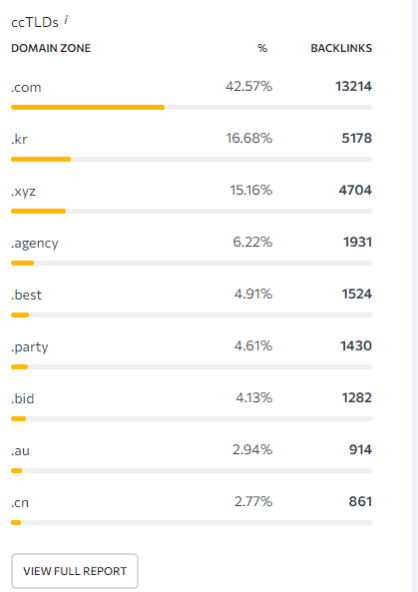 While spying on your competitor's website, you may use filters to get a list of backlinks that you can target for your website.
I'd recommend you use SE Ranking Backlinks Checker tool to spy on your competitors and find opportunities to build some quality links for your website, too.
Website Audit Tool
It is really difficult to manually check a website for broken links, which often leads to 404 errors.
Also, it is really hard to monitor your webpage's loading speed. If we have a lot of slow-loading pages, that will, of course, hit your blog's SEO.
If we miss adding alt tags to images, and meta descriptions to blog posts, it becomes very difficult to find such posts and fix them.
How great it would be if we have a tool that can check our website for all such errors so that we can fix them on time.
Thankfully, SE Ranking is here to provide us with a robust site audit tool.
You simply need to go to your projects and click on Website Audit.
This will open the next screen for you where you can check your website's health.
What type of analysis this website audit tool can do for you?
It will highlight the top issues pertaining to a website in the overview while going deeper. It shows you an in-depth analysis of your website.
Some important analysis results that we get are:
SE Ranking Exclusive Features
Apart from the features mentioned above, this tool offers you some exclusive features also that I have never seen in any other tool at such a price.
Features like social media management, white-label, On-Page SEO checker, SERP Analyzer, and marketing plan are really important that we get in this all-in-one SEO tool.
Social Media Management
Social media is really important while promoting web content. It not only drives referral traffic to our website, but also helps in building a brand and a target audience.
Though it is time-consuming to publish content on each social media handle.
But you need not worry, we have a fantastic tool to assist you in publishing content on social media channels.
You can integrate this tool with the two most popular social media platforms means Twitter and Facebook to automate your content publishing.
Simply add your Twitter account to your project and automate your postings.
You can post the content once and it will publish it automatically at the scheduled time. It also allows you to add images to your content.
So, if you want to save time and analyze which is the best time to publish content on social media, you must try this social media management tool.
Content Marketing Tool
SEO-optimized content writing is really a tedious job. But fortunately, SE Ranking provides you with a new and efficient content marketing module that assists you while writing a blog post.
Here you can see that when you enter your focus keyword, it automatically gives you all relevant keyword ideas. It gives you the range of how many headings you should use and images to use in your blog post.
Based on all these optimization ideas, it gives you a content optimization score out of 100. The more score you get, the more optimized your content is.
Thus, you can easily craft SEO-optimized content for your blog and win the game.
White Label
This is a feature that is really important if you are running an agency and generating SEO reports for your clients.
Usually, this feature is absent in SEO tools while in the SE Ranking tool, you get this feature included in your subscribed plan. But it is available in Pro and Business plans only.
This feature allows digital marketing agencies to create reports with their own logo and color schemes. Thus, you can present yourself more authoritative infront of your clients if you use SE Ranking White Label SEO tool.
So, if you are an SEO-related service provider or reseller, this will enhance your business and increase your number of clients.
Marketing Plan
If you don't want to miss any chance to improve your search engine rankings, the marketing plan is really helpful for you.
It is available in checklist form so that you can check every essential task and make a robust SEO strategy for your website.
When we are in a hurry, we often ignore some SEO practices. But this tool keeps us reminded of what we include in our marketing plan so that we leave no important practice.
The marketing plan guides us through keyword research, on-site optimization, mobile optimization, content strategy, and off-site optimization.
SE Ranking Pricing
It offers a flexible pricing model. Basically, it offers three main subscription plans, and each varies under the features included in them.
I must say that it offers all SEO tools packed in a single tool at such affordable pricing that other tools offer $100+ per month.
It might be surprising, but its price is much lower than Semrush, Ahrefs, and Moz prices.
It is the most recommended tool for small business startups and big marketing professionals.
You may read also– SE Ranking vs Ahrefs: Which is the Best SEO tool in 2023?
Essential Plan
The Essential plan starts at $39 per month, which allows you to track up to 250 keywords. The plan costs you $31.20 per month if you opt for an annual subscription.
You can create up to 10 projects in this plan and generate up to 100 reports per day.
What do you get in the SE Ranking Essential Plan?
👉The base pricing of the Essential plan increases to $54/month when you opt for 500 keywords for rank tracking daily and further up to $69/month if you opt for 750 keywords.
Though you miss some features in this subscription such as-
Organic SERP history
Historical data on keywords
Page changes monitoring
White Label
API
If you're a beginner, I'd highly recommend you use the Essential plan. As you need not pay a high price for the features that you don't need often.
Pro Plan
It is the most popular plan of the SE Ranking software. It starts at $89 per month and allows you to track up to 1000 keywords. The plan costs you $71.20 per month if you opt for an annual subscription.
You can create unlimited projects in this plan and generate up to 5000 reports per day.
Pro allows you to monitor backlinks up to 200 domains/day.
What do you get in the SE Ranking Pro Plan?
👉The base pricing of the Pro plan increases to $149/month when you opt for 1750 keywords for rank tracking daily.
You get access to all features that were missed in the Essential plan except API.
Whereas the Essential Plan allows you to add up to 5 competitors to each project, in the Pro plan, you can add up to 10 competitors per project.
Business Plan
Though this plan is the most expensive plan of this tool. If you're an SEO professional who owns an SEO agency or provides services to clients, this is the best choice for you.
It starts at $189 per month and allows you to track up to 2500 keywords and costs you $151.20 per month if you opt for an annual subscription.
What do you get in the SE Ranking Business Plan?
👉The base pricing of the Business plan increases to $349/month when you opt for 5000 keywords for rank tracking daily and further up to $899/month if you opt for 20,000 keywords.
This plan gives you all access that you get in the Pro plan, but you can fetch much more data in this plan.
It is the only plan that gives you access to the API.
I again suggest that it is a perfect plan only for big organizations and digital agencies. If you are an individual or an experienced SEO expert, Essential and Pro plans are the best for you.
👉 Note: The above-mentioned pricing model uses weekly website ranking frequency. If you want daily rank tracking, then you will have to pay a little more.
SE Ranking Discount Code
Though the tool already provides you with up to a 20% plan if you choose the annual subscrip[tion. But, if you want an extra 10% off, you may refer to this article pertaining to the SE Ranking discount code.
This article will let you know how to grab the discount coupon.
SE Ranking Lifetime Deal
If you read my blog regularly, you know that I'm a proud user of the SE Ranking tool. Of course, it is my duty to aware my audience of everything about the tool that I recommend.
You may search for the SE Ranking Lifetime Deal.
Well, to be honest, there is no SE Ranking Appsumo deal that you can purchase for a onetime payment. Still, you can grab the SE Ranking discount for a lifetime by subscribing to their annual plan that offers you 20% OFF.
In this way, you can avail of the benefit of a 20% discount throughout your lifetime.
Pros and Cons
The SE Ranking review is incomplete without disclosing its pros and cons. Though every product or service has its merits and demerits, similarly, it has as well.
Which is the best SE Ranking Alternative?
There are many SEO tools available in the market that can be referred to as alternatives to SE Ranking. But, the one that actually deserves to be the best SE Ranking alternative is Semrush.
You may compare SE Ranking vs Semrush on the following grounds:
The above comparison shows that Semrush has some more features available but at a higher cost. So, it is the best SE Ranking Alternative.
SE Ranking Review: FAQs
Conclusion
I've used many SEO tools so far, but what distinguishes SE Ranking from others is its low starting price that offers all features at such an affordable price.
You have got an idea of this all-in-one SEO tool in this SE Ranking review. I've provided you with all details like how to use it, what are its benefits and how it differs from its competitors.
There is no other tool that comes out clean on so many SEO features at a budget-friendly price.
If you are a blogger or SEO professional who needs a 360-degree optimization tool then you must try this.
Subscribe to the 14-day free trial of SE Ranking and use this review to evaluate the tool.
Don't forget to share this SE Ranking review among your friends and share your experience with the tool in the comments section.
Some useful guides for you: