Backlinks are an important ranking factor for your website. So, it is important for you to know what backlinks your competitors still have. This can help you take background from your competitors.
The SE Ranking Backlink Checker is a great tool that can help you do just this.
This blog post will look at how you can use this Backlink Analyzer tool to find backlinks to a website in 2023.
It is a useful tool to do backlink analysis. There are many benefits of using this tool; as it will help you in finding the following key parameters:
Dofollow/Nofollow links
Type of links (text or image)
Anchor text
Domain trust
Page trust
Alexa rank
First seen/last seen
IPs & subnets
Backlinks Gap Analyzer
UGC/Sponsored links
Google index status
Actual status of backlinks
This article will provide you with the steps on how to use the tool to find competitors' backlinks.
SE Ranking Backlink Checker: Overview
It is important to keep your backlink profile healthy. You should always remain relevant to your website through backlink profiles. To get information on your competitor's backlink profiles, SE Ranking Backlink Checker is a great tool that you can use.
SE Ranking is an all-in-one SEO toolkit that offers all your needful tools at an affordable price. You may use SE Ranking for the following analysis:
Keyword research
Competitor analysis
Backlinks monitoring
Website audit
Keyword rank checking
On-Page SEO
Content marketing
SERP analyzer
White-label reporting
Lead generating
👉 I highly recommend using this tool for backlink monitoring.
Sign up for a 14-day free trial of SE Ranking now!
Not only is it an effective way to find backlinks to a website, but it will also help you find out more about your competitors. Over time, you will discover the benefits and are more likely to keep using them.
You may read our guide on how to use SE Ranking for keyword research.
Backlinks are a crucial part of SEO campaigns. With SEO backlinks, it's easier for a website to rank higher on search engines like Google.
But how do you find backlinks for a website?
With the SE Ranking Backlink Tracking tool, that is quite easy. If you want to check total backlinks in website in 2023, you can use this tool to help. Actually, you can use it to spy on your competitor's backlink profile as well.
This blog will talk about how to find competitors backlinks.
SE Ranking Backlink Monitor Pricing Plans
You can get an SE Ranking discount of 20% and 40% respectively if you choose to track keywords every 3 days or 7 days.
How To Use SE Ranking Backlink Analyzer Tool To Find Backlinks?
SE Ranking Backlink Checker is an incredibly helpful tool for SEO professionals who need to check the backlinks of websites.
This tool can help you find backlinks to websites that are in the same niche. For example, you can use this tool to check backlinks for a website that is in the same niche as your website. It crawls the web to find the links pointing to a website.
SE Ranking Backlink Analysis Tool in 2023
How to check the backlinks for website?
Here are the simple steps for backlinks analysis of a website:
Open the SE Ranking dashboard and click on Backlinks in the header tab to open backlink checker.
This will open two dropdown menus; Backlink Checker and Backlink Gap Analyzer. Choose the first option for backlinks analysis.
This will open the backlink checker; now enter the domain name and click the search button. Of course, y ou can check backlinks for URLs as well.
This will open a dashboard containing all necessary metrics about the domain.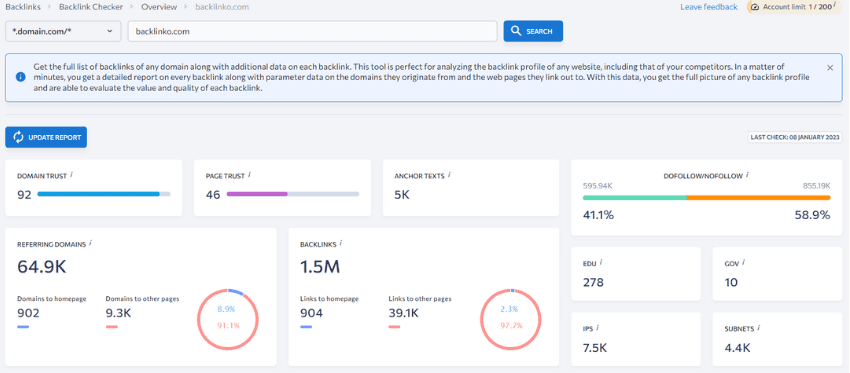 Now, check backlink profile of any domain you wish. Here you can see the domain trust (domain authority in terms of SE Ranking), page trust, number of anchor texts, the total number of dofollow/nofollow backlinks, referring domains, Edu/Gov backlinks, etc.
The dashboard comprises much more information about the website, like its new/lost backlinks, anchor texts of backlinks, ccTLDs link categorization, etc.
The Backlinks Analyzer helps you find out the top backlinks anchors and referring domain anchors.
How to check active backlinks pointing to a website?
To check active backlinks, you need to click on the left sidebar tray and select the active backlinks option.
This will open the following dashboard that shows you the total number of active backlinks pointing to a website.
The report includes DT/PT, anchor text, target URL, DF/NF and first seen date on the web.
This dedicated tool will also show you the number of newly found and lost backlinks as well.
Similarly, you can find the total number of active referring domains along with new/lost referring domains.
I always search for the backlinks reporting tool that shows the top pages having the highest number of backlinks. So that, I can easily find out which page is performing well in terms of links pointing to it.
Thankfully, the SE Ranking Backlink Checker tool gives me the opportunity to find such pages.
Here in the above picture, you can see the number of backlinks a specific page has. Clicking on the dropdown menu opens those backlinks and you can analyze how many of them are Dofollow/Nofollow and their DT/PT of the pages. So, if you ware looking for a dofollow backlinks checker, this could be a great choice for you.
Read this definitive guide to Dofollow backlinks for better clarity.
Backlinks Gap Analyzer
Using this tool, you can unveil opportunities to beat your competitors. SE Ranking offers you a dedicated backlinks analyzer that finds the gap between linking domains to your competitors website and yours.
Compare your backlink profile with your competitors and find the links that are pointing to their domains but not yours.
This potent backlink gap finder tool is useful to you if you want to build a robust link profile for your website.
You need to enter your domain name in the main domain/URL box and in the next boxes, you can add up to 5 competitors' domain names.
This will take you to the Backlink Gap Analyzer dashboard, where you see the referring domains and backlinks.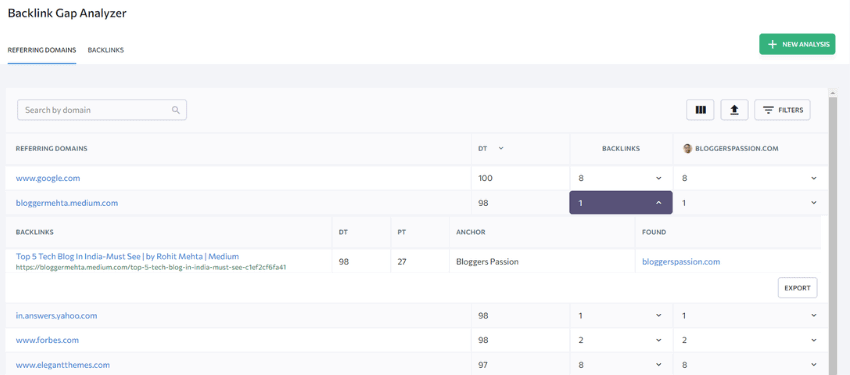 By default, it only shows the links of your competitors, which means the links that are missing from your backlink profile.
However, you can use the "Filters" option to see all backlinks.
So, you can easily find out the opportunity to get links from your relevant niche.
Frequently Asked Questions
Use SE Ranking Backlink Checker To Find Your Competitor's Backlinks
We hope you enjoyed our blog about how to find backlinks using the SE Ranking tool.
With this helpful tool, you can find backlinks to your website that other websites might use to rank higher than yours.
If you would like to learn more about how to use this tool, please go to the search bar in the header section of this website and type "SE Ranking".
Thank you for reading. We hope to hear from you soon.