How to Boost Web Traffic Using SE Ranking Keyword Research?
Many content creators write content with a topic idea in their mind.
Do they get web traffic on their content by just writing randomly about something? What do you think?
They might get some visitors but it is hard to get a good amount of target visitors.
Why?
Because you don't know what queries your audience is searching for. It's impossible to determine it on your own and thus, you need a good keyword research tool along with a robust keyword research strategy.
You must give some time to keyword research to make your content fruitful.
This blog will cover everything you need to know about using SE Ranking for keyword research. You will learn how to use the ranking data to identify the best keywords quickly.
So, in this article, we'll focus only on SE Ranking's keyword research capabilities. This SE Ranking review will help you to explore more about the tool.
In this guide, you'll learn:
You'll learn these techniques using SE Ranking's 2 primary tools/modules:
Before getting started, let's make sure you have an active SE Ranking subscription.
If you don't have one, I'll suggest you sign up for a 14-day free trial of SE Ranking by clicking on the link below.
Sign up for SE Ranking's 14-days free trial
If you want to continue your subscription after the free trial, visit the below-mentioned link to find the promo code for getting an extra 10% OFF on your regular savings.
Read– How to use SE Ranking Discount Code in 2023?
Note: This free trial will give you access to all 30+ tools and features in the SE Ranking toolkit along with these 3 keyword research modules we're going to explore in this guide.
How to use SE Ranking for Keyword Research in 2023?
Let's get started to uncover the ultimate keyword ideas and optimize your content to rank higher on Google.
Quick Keyword Analysis using SE Ranking Keyword Research Tool
The very first step in keyword research is to look at the search volume and other metrics of a keyphrase.
Here's how to do keyword analysis:
To get started, enter the seed keyword in the keyword research toolbar and choose your target location.
The keyword analysis report will provide you with some crucial metrics about the seed keyword, like-
Search volume
Keyword difficulty
CPC
Search trends
Keyword Ideas
Organic results
Ranking dynamics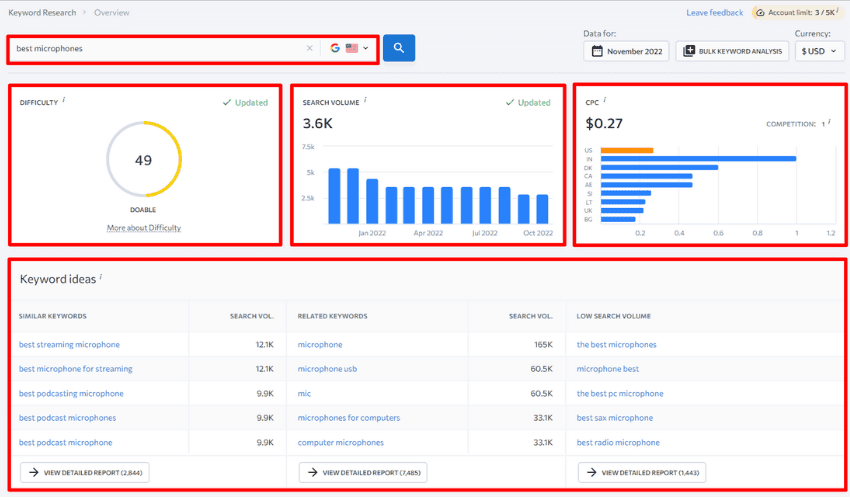 Let's inspect these metrics-
Search Volume
It indicates the average number of times a term is searched every month. For example, "best microphones" has an average search volume of 3.6k searches in a month in the USA.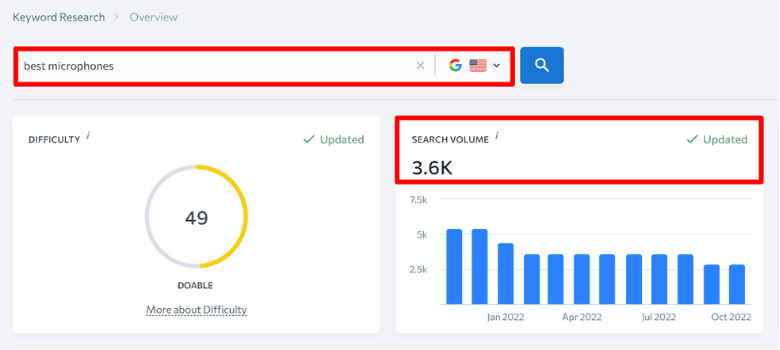 Note: Here the value of search volume is the average of searches in the past 12 months. So, please don't assume a keyword is popular because it has a high search volume. It may be a seasonal keyword also which has got a high number of searches on the event day and the search volume data gives you the average value of the past year.
For better clarity of search volume data, please refer to the below picture.
Here you can see that the term "Black Friday Sale" has a search volume of 74k. But it is the average monthly search volume. You can clearly see that this term has more than 800k searches in November and it shows you the average of those searches by distributing all searches in a year.
So, be aware while choosing a keyword, and don't blindly follow the search volume data.
Before selecting a keyword, you must examine other SEO metrics like the keyword difficulty score, CPC, and search trends.
Keyword Difficulty
The keyword difficulty score ranges from 1 to 100. The higher the score, the lesser the chances to succeed for that keyword (if your site is new and doesn't have authority).
In this case, the difficulty score is 49, which implies "Doable". This means you can rank for this keyword if you put out some extra effort like writing quality content and having some links from authority sites.
If you find a keyword with high difficulty, select one of the keyword ideas shown in the keyword analysis report.
CPC
It is the average price that advertisers pay for visitors' clicks on the ads displayed for the selected keyword in Google ads.
If you run a PPC (pay-per-click) campaign, it is an essential SEO metric for you.
Search Trend
Search trend shows the interest of visitors in the selected search term over the past 12 months.
In this case, "Best Microphones" has more or less the constant search graph except for noticeable spikes during Black Friday Sales.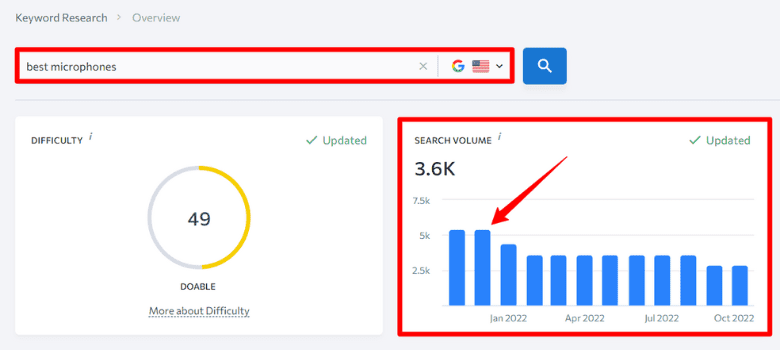 Note: If you see a declining graph in the search trends with lower search volume, you should ignore that keyword and move on to other variations of the seed keyword.
Keyword Ideas
As we discussed earlier that the keyword research report will provide you with keyword ideas containing related, similar, and low search volume keywords.
If after keyword analysis, the search term is found to have a high difficulty score, then you should consider these variations of keywords.
How to choose the best keyword among these ideas?
Well, you should read a little bit more. I've discussed it later in this guide.
Organic Results & Ranking Dynamics
On scrolling down the keyword analysis report, you'll find a section where SE Ranking displays the organic results and ranking dynamics.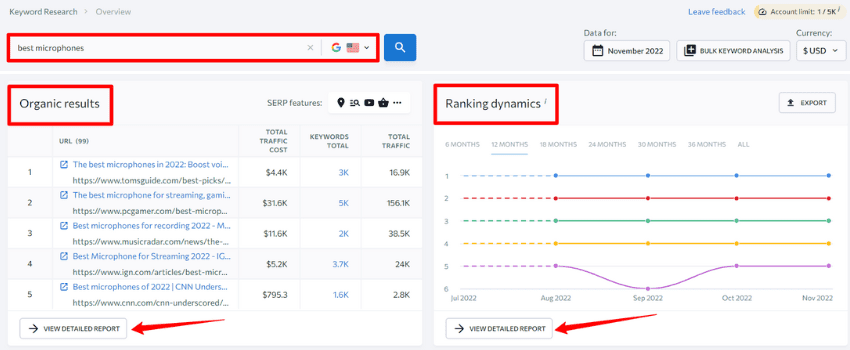 On viewing the detailed report, you get the list of the top 100 URLs competing for the selected keyword. You'll see other important SEO metrics alongside each URL which are competing with each other to achieve the #1 position on Google SERPs.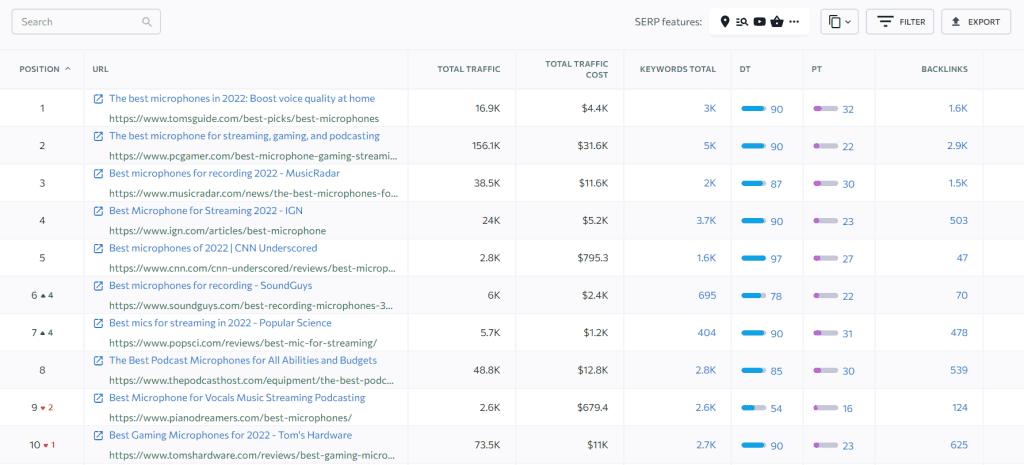 You need to focus on the top 10 URLs and pay attention to their SEO metrics.
Ranking dynamics show you the top competitors for the target keyword in a graphical form.
That's why SE Ranking keyword research tool is best to have a quick glance at seed keywords.
Now, let's explore the tool deeper to find the best keywords.
Sign up for SE Ranking's 14-days free trial
How to do Keyword Research using SE Ranking
SE Ranking has the biggest US database with over 900 million keywords. So, you can find tons of keywords using the SE Ranking keyword research tool and perform a detailed analysis to find the best ones for you.
How to use the SE Ranking keyword research tool to optimize your content?
This is how it works:
Go to SE Ranking dashboard > keyword research
Enter your seed keyword and choose the location where you want to target the search term.
Here, you'll get a detailed analysis of the selected keyword like search volume, SEO difficulty, CPC, etc.
How to select a keyword for your campaign? What should be the criteria for choosing a keyword?
This is an important question and I want to give you a brief on what I've learnt with this tool so far.
So, if you have a new website with less authority, then you should follow these criteria to pick up the best keyword for your campaign.
So, these are some crucial tips to follow while doing keyword research.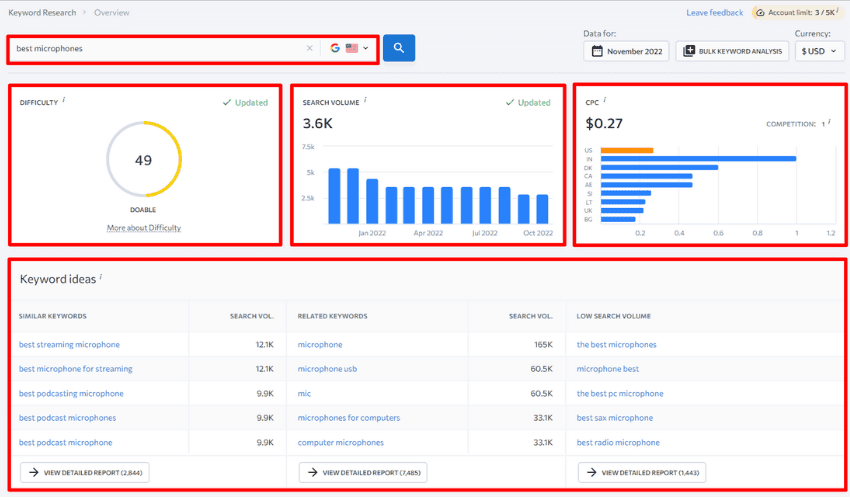 Here in our case, "Best Microphones" has 3.6k monthly searches along with 49 keyword difficulty and constant search trends.
So, if you have a website with some high-quality backlinks, you may target this keyword.
But, you want some more keywords to create content around this term. So, you should try the SE Ranking keyword suggestions tool.
To access this, either you click on "view detailed report" in Keyword Ideas or click on Keyword Suggestions in the left sidebar.

This will give you many keyword suggestions as shown in the picture below. In our example, the keyword suggestion tool provided about 2844 keyword variations.
In this list, there are many keywords with high difficulty scores, that you should avoid targeting.
So, to refine your search, you should apply filters to find the target keywords.
Now you can see by applying filters, the list has been narrowed down to only 34 keywords and these are the keywords that you should use in your content to support the target keyword "best microphones".
So, filters are something that can play around with the keywords.
Once you have refined your research, you can export the selected keywords into CSV or Excel file.
Sign up for SE Ranking's 14-days free trial
How to Generate Content Ideas (Using SE Ranking Content Idea Finder)
Finding a topic for the new blog post is something that should be done with proper research.
This is where SE Ranking Content Idea Finder works a great job.
It generates tons of content ideas for the given search term and makes clusters of 10 content ideas. You can check out these clusters to find the best topic for your content.
To access this tool, you should navigate to SE Ranking dashboard > Content Marketing > Content Idea Finder.
Now enter the search term around which you want to create content.
It will open a new dashboard where you will find out many clusters related to the search term and each cluster contains 10 content ideas.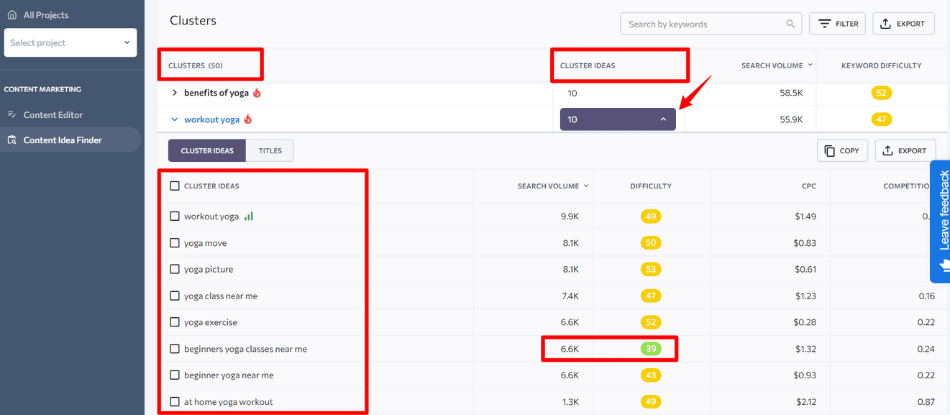 Here you can see that "Beginners Yoga Classes Near Me" has 6.6k monthly searches and its keyword difficulty score is 39. So, this can be a good content idea for your campaign.
If you are a visual learner, you should not forget to use the SE Ranking Mind Map feature. It brainstorms all relevant content ideas and shows them in a circular visual form that makes it easy to pick the terms.
So, SE Ranking's Content Idea Finder is a must-use tool if you want to generate fresh topics for your content.
It will make it easy for you to streamline content ideas and generate high-quality, user-oriented content.
Sign up for SE Ranking's 14-days free trial
How to do Competitor-Based Keyword Research
This is an interesting way to find relevant keywords for your campaign.
Just spy on your competitor's websites and generate a list of keywords on which he is ranking. After this, identify the best and easy to rank keywords among them.
This is something different from traditional keyword research.
In traditional keyword analysis, you use the seed keyword in the tool to find the relevant search terms. Whereas in this type of keyword research, you need to enter the domain name of your competitor, and the rest job to find the keywords is done by the tool.
Here's how it works:
In your SE Ranking dashboard, navigate to the competitive research bar on the top.
SE Ranking Dashboard > Competitive Research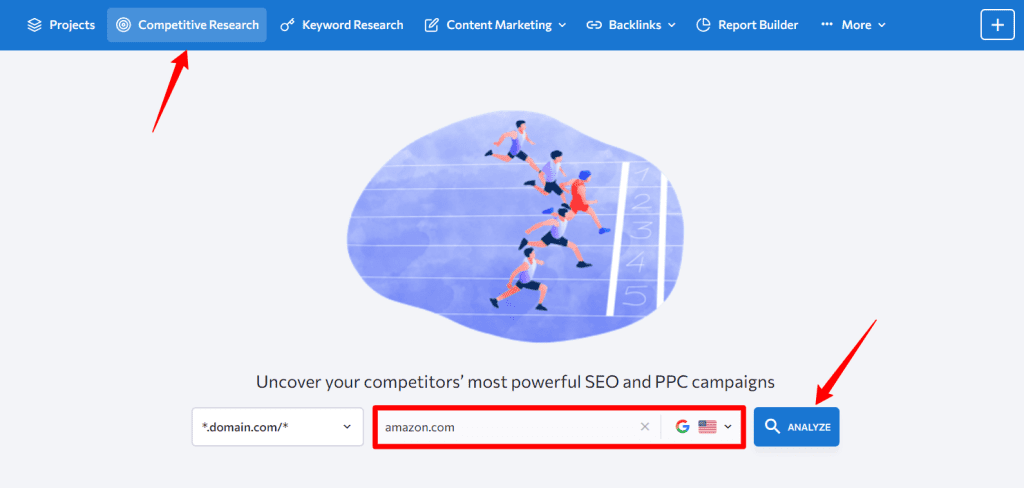 This will open the competitive research overview.
Now, navigate to the "Organic Keywords" section to view the top organic keywords of your competitor.
When you click on "view detailed report" it will open a new dashboard with all keywords for which your competitor is ranking.
Now, you have to refine these results to find the relevant and easy-to-rank keywords for your campaign.
You have a swiss army knife- "Filter" option. Just use it to narrow down the list and figure out the best keywords.
If I want to find the relevant keywords for "Mobile Phones", then I should add it to the "include" box and set the keyword difficulty up to 30. Now, Filter these results.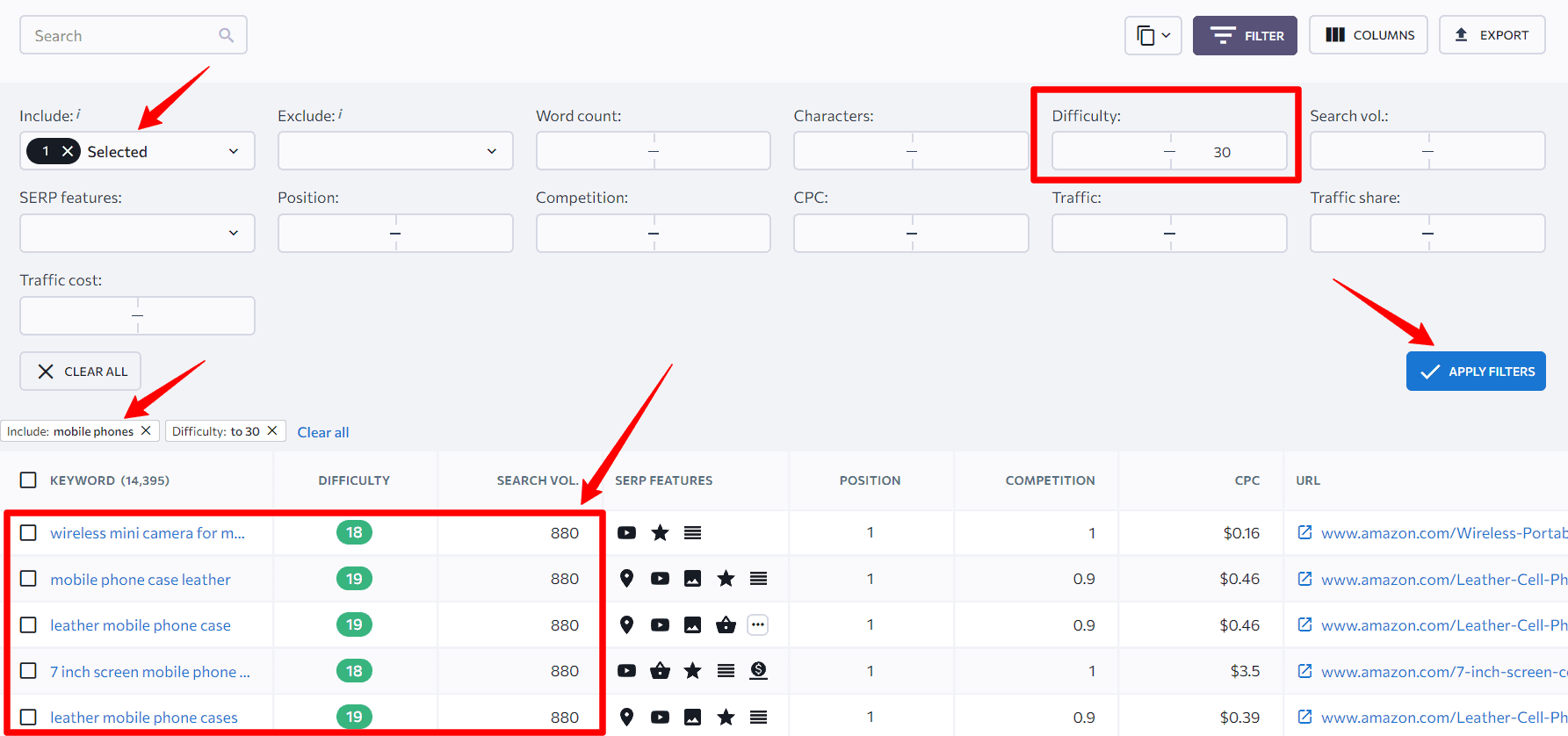 So, these are the relevant keywords for mobile phones which are easy to rank. You can sort the list by traffic or keyword difficulty.
Now, enter any of your competitors' domains here and find out the list of their top-ranking keywords.
Sign up for SE Ranking's 14-days free trial
It's Your Turn To Do Keyword Research
To rank higher on Google, you need to create a robust keyword analysis strategy. Luckily, we have an SE Ranking tool that makes it easy for us.
If you're not already familiar with SE Ranking, this is the definitive guide to using the SE Ranking tool for keyword research.
Keyword research is a crucial part of any marketing strategy, and we provide helpful insights and tips on how you can use SE Ranking to optimize your keyword selection.
We hope you enjoyed our blog post on how to use SE Ranking for keyword research.
👉It's your turn to find the best keywords for your campaign.
If you have any questions or comments, please don't hesitate to reach out to us at admin@seosachet.com
If you loved this guide, please share it with others.
Thank you for reading, we would love to hear from you!