For the best grammar and punctuation checker, ProWritingAid and Grammarly are the two names that come to mind.
If you are involved in writing daily, of course, you want to publish impeccable articles. But, it isn't easy to create a flawless piece of content in the first go.
So, it would be best if you had a premium grammar checker tool. Punctuation checks are also essential to create a piece of writing that impresses your audience and engages them.
If we see ProWritingAid vs Grammarly, both are excellent grammar checkers, and the decision becomes tough to choose which one is a better proofreading tool.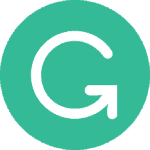 Grammarly is an all-in-one online proofreading tool, besides a grammar checker and plagiarism checker. While ProWritingAid is the best alternative to Grammarly, which is cheaper and good at grammar and punctuation checks.
If you are confused between both tools, I recommend reading this comparison article until the end.
In this comparison of ProWritingAid vs Grammarly, I'll explore both tools that make it easy for you to decide which one is better. This article compares tools for accuracy, spelling checks, punctuation checks, plagiarism checker, sentence structure, and tone.
I'm sure you wouldn't want to read the blog posts of bloggers who filled them with grammatical errors.
Fortunately, online proofreading tools like Grammarly and ProWritingAid come here to save us from feeling embarrassed in front of our audience.
I use these grammar checkers regularly to check my articles for errors; of course, they save me a lot of time. But this doesn't mean that you can rely only on these writing assistant tools and they can't negate the need for human proofreading.
ProWritingAid Review
ProWritingAid is a grammar and punctuation checker that is not limited to only these functions. You can use it for plagiarism and sentence-style checks as well.
It easily integrates with Google Chrome, Google Docs, MS Word, and Scrivener. Not only this, it has vast features that make it out of the crowd when people think about the best Grammarly alternative.
I've written a detailed review of ProWritingAid. You may refer to it for better understanding.
ProWritingAid Features

How does ProWritingAid work?
The ProWritingAid app is an online editor which you can easily integrate with:
Above all, it is a real-time grammar and punctuation checker.
I use it while writing on my WordPress blog, and it quickly detects any grammatical mistakes in real time.
In the below picture, you may see that it automatically detects if the particular words increase their readability score; if they don't, then it suggests removing those words to enhance readability.
If you're not a WordPress user and just writing for passion, you may use its online web editor feature to check your writing in real time.
Here, you can see that it checks your grammar mistakes, spelling, sentence length, and readability score to provide an impeccable piece of writing.
When you check the header tab of ProWritingAid Web Editor, you see different options like Style, Grammar, Thesaurus, Overused, etc. Among these options, Thesaurus has particular importance.
ProWritingAid's Thesaurus check offers you alternative words (synonyms) that you can use in place of your selected term. For bloggers like me, it is the best feature that helps me to include LSI keywords in my articles.
These LSI (latent semantic indexing) keywords cover our entire article and improve search engine rankings.
Similarly, you can use ProWritingAid with Google Docs, Microsoft Word, and Scrivener. ProWritingAid extension helps you use the tool on different web browsers to type error-free.
ProWritingAid Pricing
ProWritingAid grammar checker offers a variety of pricing plans to choose the best plan for themselves.
Monthly: $20 per month
Yearly: $79 per year
Lifetime: $399 one-time payment
ProWritingAid Discount
However, you can avail of a flat 20% discount using the promo code "HONEY20". After availing of the discount, new pricing for you will be:
Monthly: $20 per month (there is no discount for a monthly subscription)
Yearly: $63.20 per year
Lifetime: $319.20 one-time payment
Note: It also offers a free version, but they limited it to use only 500 words. However, there is no limit for ProWritingAid premium users.
Sign up for 14-day ProWritingAid free trial
Grammarly Review
Grammarly is an online web editor used by millions of authors and bloggers worldwide. It automatically detects spelling mistakes, and checks for grammatical errors, and plagiarism within seconds.
It provides you with vocabulary enhancement tips, checks for about 400 types of errors, automatically detects the tone of your sentence, and suggests relevant words or phrases.
Like ProWritingAid, you can use the Grammarly extension with web browsers like Chrome, Safari, Edge, and Firefox. Apart from these, you can integrate it with Google Docs and Microsoft Word.
While it takes some advantages over ProWritingAid by providing you with a Grammarly desktop app for Windows and Mac; a Grammarly keyboard for iPhone and Android users.
Grammarly Features
How does Grammarly work?
You may use Grammarly with almost every editor, just for your information, it can easily integrate with:
The best feature of Grammarly that I like the most is its real-time error check. Within seconds, it highlights your grammatical errors and provides suggestions to fix them.
It is the best online proofreading tool for bloggers and authors. I use it to provide excellent articles to my audience.
For example, while writing this blog post, I made some mistakes in a hurry. Fortunately, Grammarly detected them in real time and helped me fix them before publishing the article.
If you're not a blogger, you need not worry!
It provides different platforms to fix your grammatical errors by providing desktop and online web editors. The picture shown below shows that it provides you with an overall score after analyzing your content, and it alerts you for every mistake you make in your content.
If we compare Grammarly vs ProWritingAid, then it checks for more types of errors and provides you with an accurate piece of content.
The above picture alerted me to more errors than those alerted by the ProWritingAid app. So, it is more accurate than Pro Writing Aid.
But, it would help if you should read further to make a fair decision on which online editor is the best.
Grammarly Pricing
Grammarly offers you three types of plans to select from.
Monthly: $30 per month
Quarterly: $20 per month
Annually: $12 per month
Grammarly Business: $12.50/month/member
It is costlier than ProWritingAid, but you can take advantage of the Grammarly discount to save a huge on your purchase of the Grammarly premium.
You may also read this post to know how to use Grammarly Premium for free.
Note: It also offers a free version but limited features. However, there is no limit for Grammarly premium users.
ProWritingAid vs Grammarly: Comparison
So, you have got an idea of both the tools and how they work. Now, it's time to compare them to choose the best grammar and punctuation checker.
Now, we'd compare both tools in terms of their features, accuracy, and usability; Let's dive into this comparison guide.
Accuracy
Accuracy should be your priority when choosing the best grammar checker tool. To clear up your confusion about Grammarly and ProWritingAid, I tested both tools using the same sentences.
The picture shown below clears all your doubts regarding the accuracy of both tools.
The above example shows that Pro Writing Aid detected only a single error in the two sentences for testing, while Grammarly detected two errors in the same sentences.
You should also check the below example where I tested them in a different sentence.
👉 You are requested to hover over the image and click on it for a better picture.
Here, you can see that the ProWritingAid grammar checker detected two errors in the sentence while Grammarly detected four errors. Also, Grammarly provides better sentence enhancement suggestions.
The above tests show that Grammarly is better in terms of accuracy.
Winner: Grammarly
Plagiarism Check
Plagiarism check is an essential feature of any web editor tool; it checks your content for infringement over the internet.
For any author, it is crucial to check whether his writing is original. The plagiarism check helps you to check whether your content is copied or not.
Now, decide which software provides an accurate plagiarism check.
We have used both plagiarism checkers, and the result shows that Grammarly has an accurate plagiarism checker, and ProWritingAid doesn't offer such a robust plagiarism checker.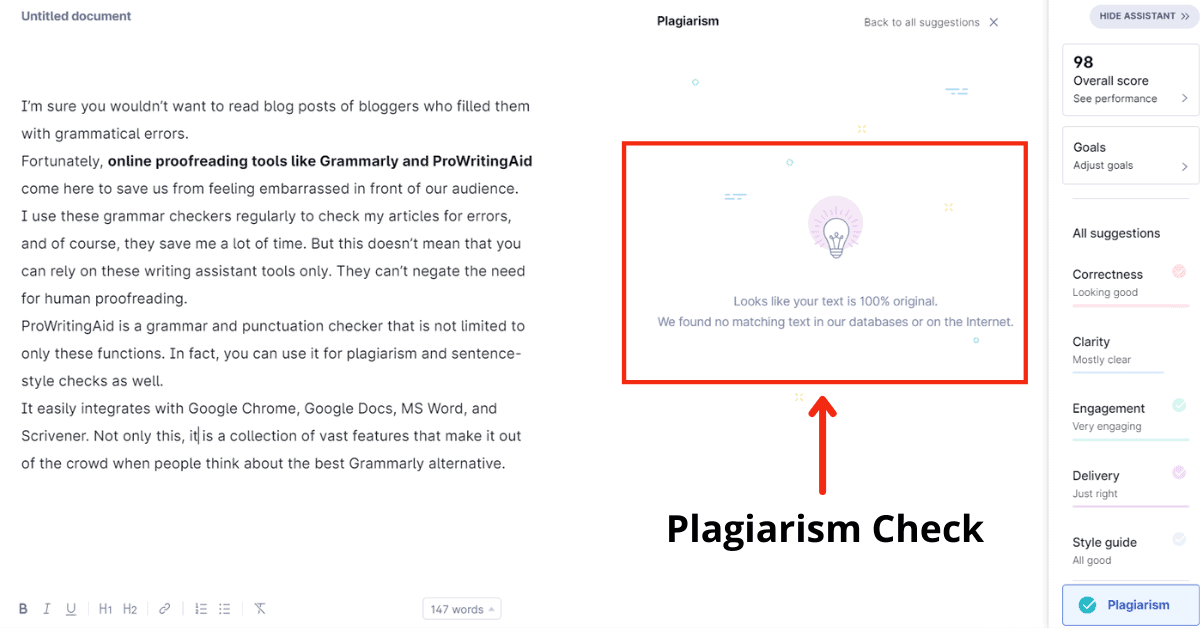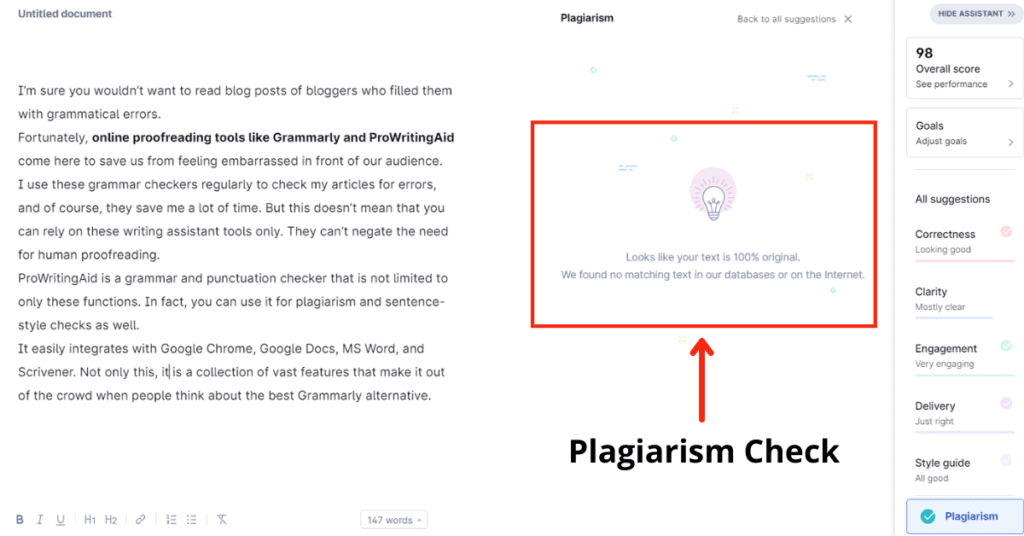 Winner: Grammarly
Interface
The user interface is something that engages the user to it. If the interface is not good and user-friendly, the tool is not worth it.
You should choose the tool that provides maximum improvement suggestions on the same page.
I wrote this comparison article to show you which tool is better in ProWritingAid vs Grammarly. So, it is necessary to show you the user interface of both tools.
I have used the same sentences as the web editor of both tools; you may check them individually.
ProWritingAid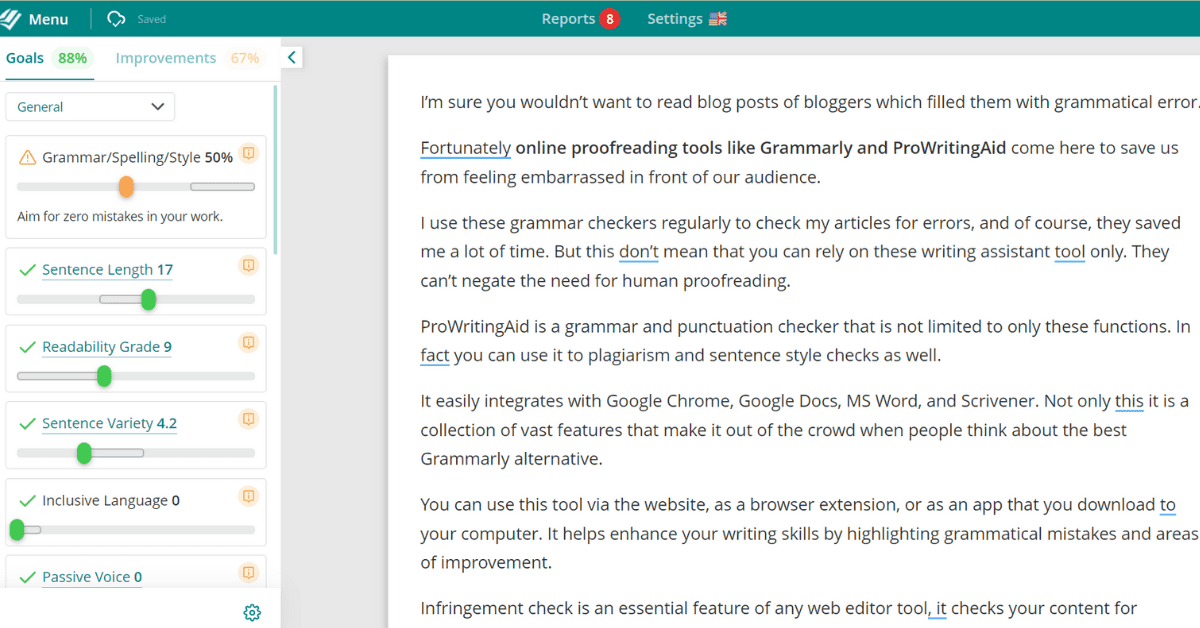 ProWritingAid interface is clean; it shows your readability score, passive voice usage, grammatical mistakes, etc.
But it highlights only errors, and you have to hover over them to find the suggestions to fix them. Now, let's see how Grammarly presents itself.
Grammarly
I found the Grammarly user interface more impressive and valuable. It shows you all errors along that it shows you what mistake you have made. However, the right sidebar shows you different scores and alerts.
Comparing both tools, Grammarly is far better than ProWritingAid.
Winner: Grammarly
Sentence Style & Tone
Sentence tone and style are very crucial for getting the audience. If your article tone is not up to par, you can't convey the right message to your audience.
Ultimately, all your hard work will go in vain!
It is a time when you can use tools like Grammarly or ProWritingAid, which tell you what phrases or words you should use in your content to make it impressive.
So, which tool guides you through crafting a better sentence?
I ran a test on both tools and analyzed the results; these can't negate the need for a human proofread.
Of course, these tools help you improve your writing, but in the end, proofread at least once. It is because the machine is not 100% correct while conveying messages. Of course, they assist you in improving your content tone.
ProWritingAid
In the above example, ProWritingAid suggests replacing "a collection of" with "acquire", and when we understand the meaning of the sentence yes, it should use a single word in place of three terms.
But, look at the other example below: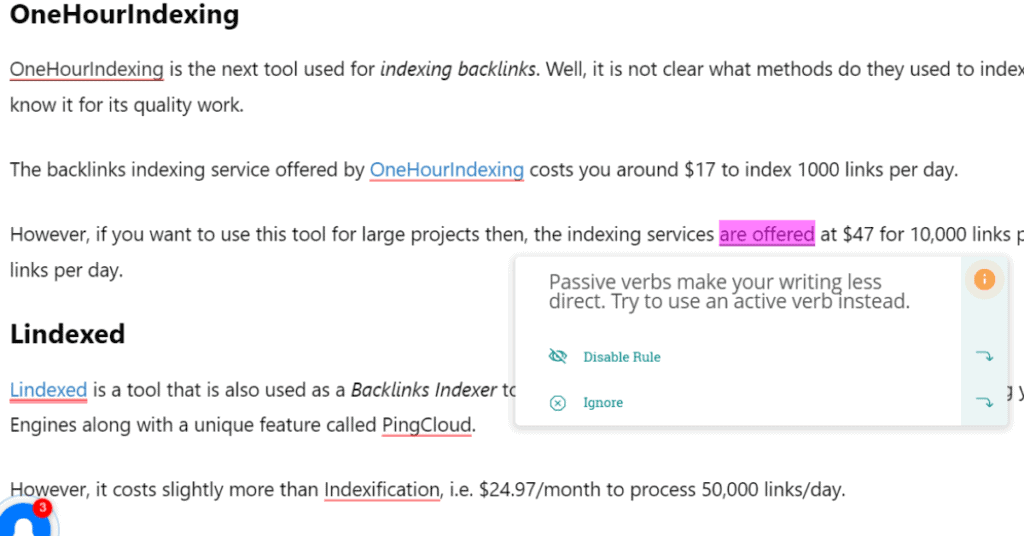 Here, it is detecting an error in "are offered" as a passive verb is used here. But, as per my sentence, it is suitable to use here. That's why I said you should at least proofread your content yourself.
Grammarly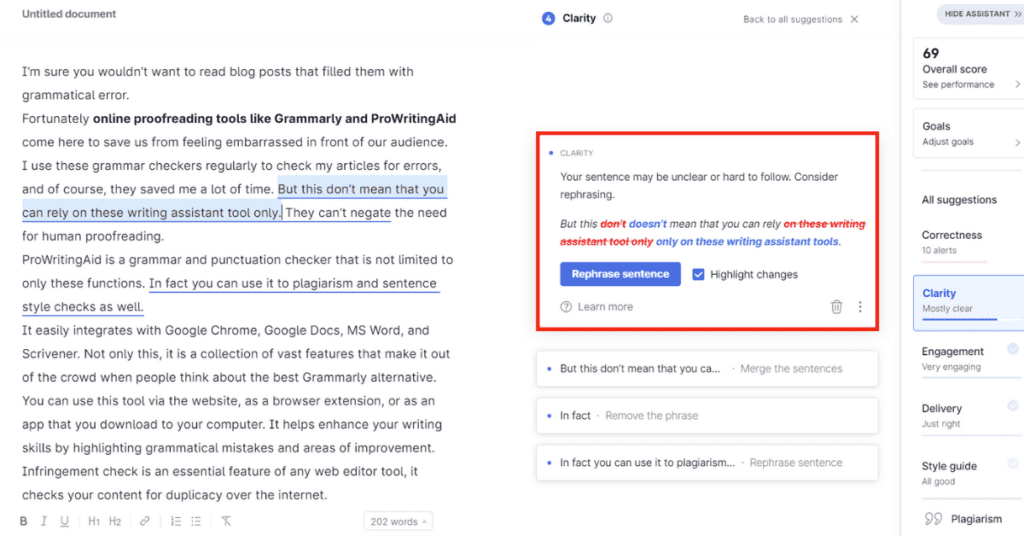 Here, I used Grammarly to improve my content style and tone. I saw that one sentence was ambiguous and hard to understand for the audience. Grammarly rephrase that sentence and provided me with a better phrase.
Also, Grammarly offers you to choose the tone of your article. It means you can set goals that make it easy for your audience to understand the meaning of your article.
You may select formal, informal, or neutral expressions for your sentences and set your goal to be a confident, friendly, or optimistic tone.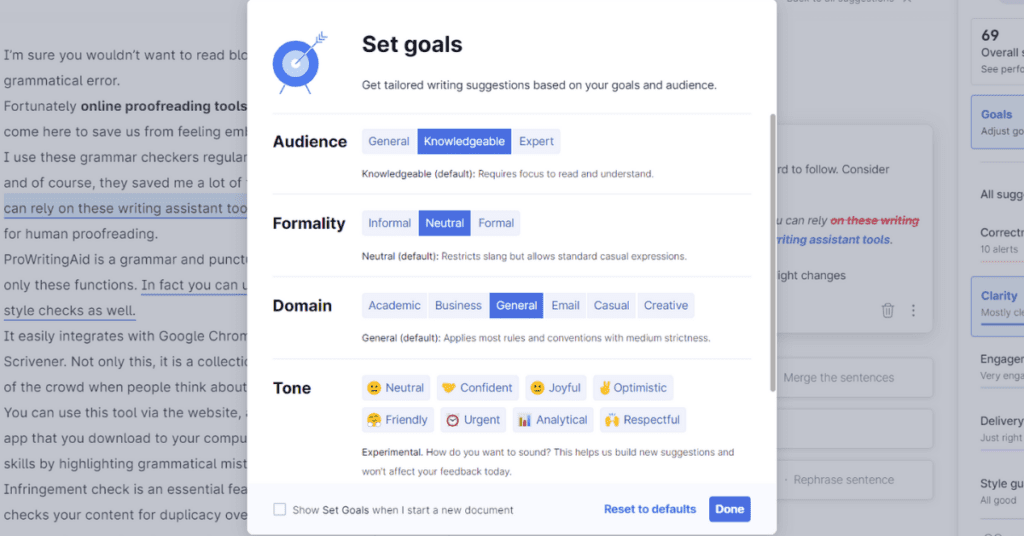 Using both tools, I found that both suggest a pleasant tone and enhance our sentence structure at some points. So, it's a tie between them, and you can use either to improve your sentence style and tone.
Winner: Both
Pricing
Any software comparison is incomplete if we don't compare the pricing of both tools. After all, the tool we select should not be too expensive that we can't afford it.
Let's compare the pricing plans of both writing assistant tools.
ProWritingAid
It offers three types of pricing plans:
Monthly: $20 per month
Yearly: $79 per year
Lifetime: $399 one-time payment
However, you may claim a 20% discount using coupon code "HONEY20" and save your hard-earned money.
Using the ProWritingAid discount code, you can get an annual subscription for just $63.20 per year.
Grammarly
Grammarly offers four types of pricing plans:
Monthly: $30 per month
Quarterly: $20 per month
Annually: $12 per month
Grammarly Business: $12.50/month/member
Grammarly doesn't promote any discount offer, but you can get a special discount after signing up for the Grammarly free version.
What are you waiting for?
Sign up now for free and get up to 60% off on Grammarly Premium.
Winner: ProWritingAid

Customer Support
Any software can get technical glitches, and customer support plays a crucial role. We need immediate help for the smooth operations of tools. Let's find out how the customer support of both editors is.
Grammarly offers 24/7 customer support. You can contact them via email or submit a ticket. Alternatively, you can use their knowledge base to sort out issues.
ProWritingAid customer support is available on weekdays from 8 am to 5 pm GMT. You can contact them via email or use their contact us page. Like Grammarly, you can use their FAQ page to solve common issues.
Winner: Grammarly
Grammarly vs ProWritingAid: What's The Best Online Editor?
What is the best online editor?
If you're still confused, look at the advantages and disadvantages of both tools.
Now, Grammarly is the best online editor. But this doesn't mean that ProWritingAid is not worthy.
Yes, Grammarly is better than ProWritingAid, but you can also use the latter if you can't afford Grammarly.
ProWritingAid is better for creating long-form articles and fiction content. It gives you a better replacement for phrases when you ignorantly create long sentences.
Grammarly is an all-in-one online editor that is fast, accurate, and reliable. Billions of users trust and use it.
FAQs: ProWritingAid vs Grammarly
Final Words: Grammarly vs ProWritingAid
We compared both tools from every angle, like features, user interface, accuracy, pricing, etc. I hope the information shared in this detailed comparison article helps you select the best tool that is helpful for you.
Grammarly is an advanced proofreading tool used for fixing grammatical and punctuation errors. It detects over 400 types of errors and provides you with an error-free article. It is the industry's leading and widely used grammar checker compatible with MS Word, Google Docs, iPhones, Android, and web browsers.

ProWritingAid is the best alternative to Grammarly, which is also used for improving your writing, and it is more focused on providing a better writing style. Of course, it helps you fix your grammar mistakes; Grammarly is the first choice for that purpose.
If you like this post, please share it with others.
Please share your thoughts on both tools in the comment section.