ProWritingAid Review
My Experience (4.5/5)
Verdict
I have been using this tool for the past 1.5 years and found it to be a worthy competitor to Grammarly. It is accurate, easy to use, and affordable. ProWritingAid is a tool for proofreading and editing grammar, plagiarism detection, and a writing coach.
This in-depth review includes its features, pricing, and comparison with other tools like Grammarly, Ginger, and WhiteSmoke.
Being a professional blogger, my margin for making mistakes in my writing is close to zero.
I run my articles through online grammar checker tools to assist my writing and to help bring grammatical errors to my attention.
Previously, I introduced you to Grammarly in this detailed review. It is an outstanding grammar checker, but it is costly as well.
I thought, why shouldn't I try any tool that can be as good as Grammarly?
So, I picked up and tried ProWritingAid.
ProWritingAid is a writing tool that helps you check your grammar, identify plagiarized content, and proofread. 
Many writers swear by this powerful software because it helps you improve your writing. It's an editor, a stylist, and a proofreader.
There are many features that this tool boasts, so be sure to read through this detailed ProWritingAid review to learn more about what it can do for you.
It doesn't matter if you are a native English speaker or not; by the end of this review, you'll know whether you should use ProWritingAid.
Let's get started.
ProWritingAid Review: Is It The Best Grammar Checker in 2023?
What is ProWritingAid?
Do you find yourself not understanding the grammar or spelling mistakes in your writing?
One of the best ways to escape this situation is to use ProWritingAid.
👉 ProWritingAid is an AI-powered writing assistant used to check grammatical errors, give a style to your writing, and detect plagiarized content.
You may use ProWritingAid to help you with:
Get 20% OFF Discount
I've negotiated to offer you with 20% exclusive discount for my audience. Click on the below button to grab this deal.
Promo Code: HONEY20
Who is ProWritingAid for?
It is an AI-powered writing assistant that anyone who wants to improve their writing can use.
Whether you're writing a blog post, editing Google Docs, creating a fiction novel, writing professional emails, or crafting a Facebook post, it is the perfect tool.
This writing assistant is helpful for:
Authors
Bloggers
Students
Book editors
Professors
Copywriters
As you're an SEOSachet reader, you must be one of these. So, try it and decide if you should use it.
In my experience, if you don't want to pay a massive amount for a Grammarly subscription, consider using this affordable writing assistant.
👉Grab it with a 20% discount now.
Promo Code- HONEY20
ProWritingAid Free vs Premium
ProWritingAid comes in two versions; free and premium.
I'd say the free version is a demo version because it allows you to use the ProWritingAid app for up to 500 words. But it suffices to know what it does and what you can get from it if you use it with a paid version.
ProWritingAid Free Version
The free version offers:
Online web app
Limited to use for up to 500 words
Real-time grammar and spelling checks
100% privacy guarantee
If I talk about professional writers, this tool offers extra features at a premium cost.
ProWritingAid Premium Version
The premium version offers:
All features of the free version
Access to the desktop app
Unlimited word limit
Stronger browser extensions
Complete document analysis; such as for novels
Microsoft Word, Google Docs, Open Office, and Scrivener integration
Resource Library or writing books such as thesaurus
So, subscribe to the premium version if you want to check beyond 500 words and fully use the tool.
I purchased the premium version and have been using it for 1.5 years. Now, I can say that it is worth investing in.
This ProWritingAid review reflects my experience with it.
How to use ProWritingAid?
It doesn't matter how you write and how long your article is; ProWritingAid is there to check your grammar errors, overused words, sentence tone, and more.
So, if you're looking for a tool to help you become more productive and improve your writing to a professional level, then you need this software. In this ProWritingAid review, we go over how to use the software.
Before I get into specific integrations and plugins, let's look at how this app works.
ProWritingAid is a grammar checker and writing coach in one; so, it highlights different issues in your writing with different colors.
Red underline: Spelling errors
Blue underlines: Grammar mistakes
Yellow underline: Writing style check
Purple underline: Sentence structure improvement and highlights the passive voice usage
When you hover over the underline, it shows you the correct replacement of the word.
You can select the correct word by just clicking on it or by hitting the "ENTER" button. However, if you don't like the suggestion, you can ignore it.
👉If you want to open the thesaurus, just double-click on a word; it will show you all synonyms of the selected text. I often use this feature to escape from overusing words.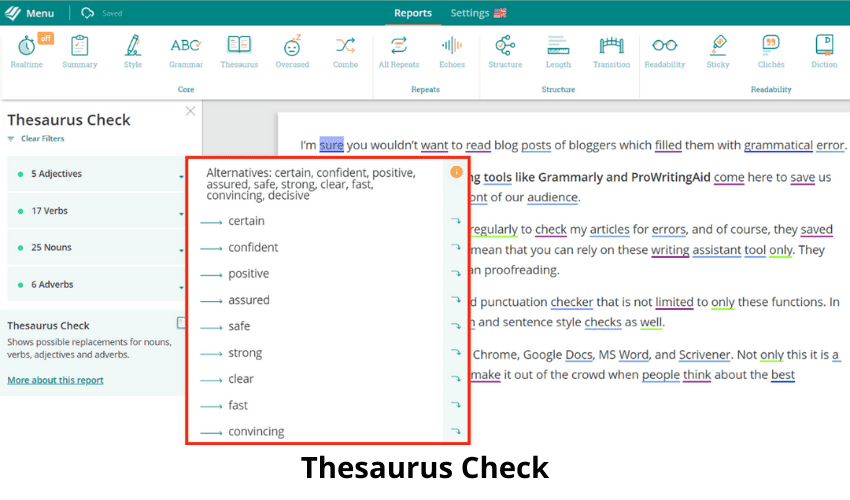 But, the actual power of the ProWritingAid app doesn't lie in the real-time editor but in the reports.
It detects the overused words and helps you to improve your writing by providing their replacements.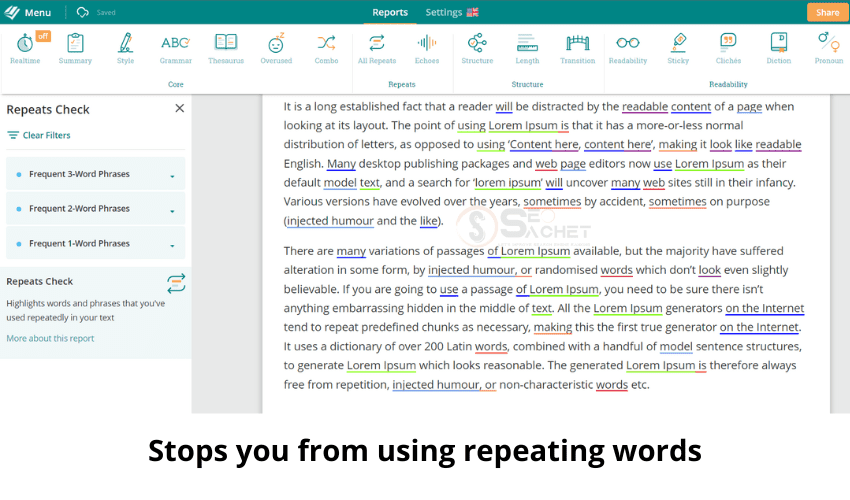 It is important to note that you can only go through these in-depth reports with the premium version, whereas the free version limits you to 500 words.
When you're ready to proofread the complete article, you can run a summary report to check for errors.
Besides this, the app's killer feature is its integration with other apps, but it is available only in the paid version.
I've discussed how you can grab the ProWritingAid discount in the following section. If you want to skip to the section, click here.
The ProWritingAid app offers the following integrations:
Online Editor
ProWritingAid online editor is a web-based editor. You can type or copy-paste the text in this editor to check for errors. I took all the above screenshots from the ProWritingAid web editor.
So, there is nothing more to describe it. You may draft, edit, or save documents for your account in the online editor.
You can run an in-depth analysis of the reports in the online web editor to proofread your content.
The only thing to note is that if you use the free version, the report can analyze your content for up to 500 words. However, you can access the reports for unlimited words with a premium license.
Microsoft Word
If you're a Microsoft Windows user, you can download the MS Office "Add-In" to improve your writing. Yes, ProWritingAid for Word will help you proofread your content on the desktop app.
The "Add-In" will provide you with an extra tab in MS Word that will provide you with all analysis reports.
Similar to the online editor, ProWritingAid Word Extension will highlight the mistakes by underlining them. Hover over the underline to get the suggestion and fix your errors.
If you frequently use MS Office to create documents, ProWritingAid for Word will be a boon for you. It is compatible with MS Office versions 2007, 2010, 2013, 2016, and 2019 running on any MS Windows.
But, it is primarily for Windows users; if you're a Mac user, you can use the desktop app to proofread your content.
Desktop App
The ProWritingAid Desktop App works similarly to the online editor. The only difference is that it works as a desktop app on your computer.
You can easily open a .doc file in the desktop app and check your content for grammatical or spelling mistakes. It is highly flexible, which also works perfectly for Scrivener files.
One of this tool's outstanding features is that it also works for Mac users. Yes, you can download ProWritingAid desktop app for Mac as well.
The only thing you need to care about is your internet connection. Yes, you can use the desktop app only if you are connected to the internet. It doesn't work offline.
Google Docs
Like other integrations, you can also connect ProWritingAid with your Google Docs. ProWritingAid for Docs quickly checks your connected Google email address for a premium license.
It automatically checks your content for mistakes in real-time and provides suggestions.
If you are an author or freelance writer, you use Google Docs to write content. In such a case, it is a perfect tool for you to produce impeccable content.
Bloggers often create guest blog posts to publish on other blogs so they can use the ProWritingAid for Google Docs.
Browser Extensions
ProWritingAid offers various browser extensions for Chrome, Firefox, Safari, and Edge.
So, irrespective of which browser you use, it works mainly for all major browsers. It differs slightly from other integrations.
When you install the ProWritingAid Chrome extension, it directly integrates itself with the browser and works in real-time for all online apps like Gmail, Facebook, WordPress, etc.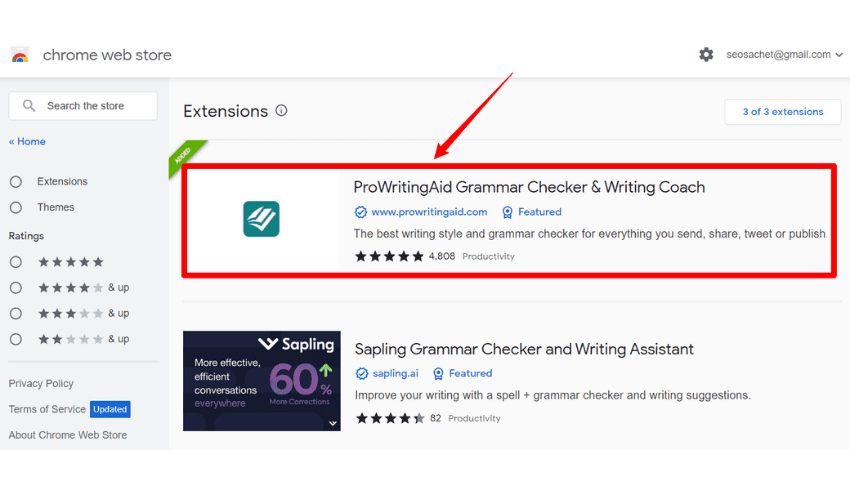 For free users, it only detects grammatical and spelling errors. But for full-featured functionality, you need to purchase the premium version of the ProWritingAid app.
How much does ProWritingAid cost?
It's an interesting question. What's the ProWritingAid price?
ProWritingAid is a powerful software that is used for proofreading and editing. It offers proofreading services for your documents, professional editing, and plagiarism detection.
However, for the features which it offers, it is worth the price.
The cost of ProWritingAid is a fraction of what you might have to pay for something like Grammarly or WhiteSmoke. You can get ProWritingAid for $20 a month or $79 a year.
However, you can grab ProWritingAid for just $399 for a lifetime.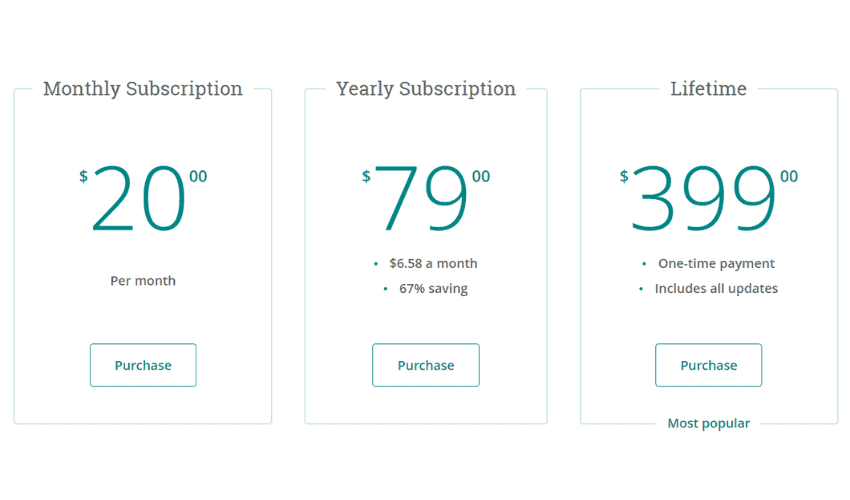 ProWritingAid Discount
There is a ProWritingAid discount code that can save you a lot of money.
It is currently 20% off, so you can save up to $80 on your purchase. To get the discount code, you need to click the button below.
Promo Code- HONEY20
👉This helps you to choose an affordable grammar checker despite expensive tools like Grammarly.
Pros and Cons of ProWritingAid
A review is incomplete without discussing its advantages and disadvantages. So, how this review of ProWritingAid can be?
I used the tool for several months to craft this extensive ProWritingAid review. I was using it on WordPress, Gmail, Facebook, etc.
Is it the best grammar checker tool?
Let's find out the answer to this question.
ProWritingAid Competitors
ProWritingAid is one of the most popular writing tools for students and professionals alike. However, it is not the only one. Other competitors include Grammarly, WhiteSmoke, and Ginger. Grammarly, for example, is a popular grammar checker. With it, you can catch spelling and grammar mistakes and plagiarism.
WhiteSmoke App
WhiteSmoke is a plagiarism detector and a grammar checker. It can check your essays and papers for plagiarism, and it can also catch spelling and grammar mistakes.
Pros
It is compatible with several browsers than its competitors
It has a clean and user-friendly layout; and provides professional templates to use on different occasions
It has translation capabilities
Cons
No free plan; the basic plan starts at $60 for a year
If you compare it with ProWritingAid, then its premium plan costs $79.95, which is around $10 more than the former
Speed remains an issue with WhiteSmoke
Ginger Software
Ginger is a grammar checker and proofreading tool. It also has a plagiarism detector and a punctuation checker tool.
Pros
You get a text reader
It has a translator that can translate into 40 different languages
The sentence rephrase feature helps you rewrite your sentence
You can access it via a desktop app, browser extension, or with an Android keyboard
Cons
It costs more than ProWritingAid; i.e. $89.88 for a year
It isn't compatible with Firefox
No style checker is available
It lags when we look at its interface
ProWritingAid Review: Grammarly vs ProWritingAid
Grammarly and ProWritingAid both are renowned grammar checker tools. Though Grammarly is more popular and has more users, it doesn't mean PWA compromises its quality.
Both are doing well in their jobs. In some situations, Grammarly works better; in others, ProWritingAid does an outstanding job.
I have written a detailed comparison article on Grammarly vs ProWritingAid. You may refer to it for more clarity.
Grammarly
Real-time grammar checker
Quick & Accurate
Integrates easily with browsers, MS Word, Google Docs, etc.
Plagiarism Checker
Expensive
ProWritingAid
Real-time grammar checker
Sentence style Checker
Repetitive word checker
Offers lifetime plan
Cheaper than its competitors
Both tools more or less work similarly. So, if you don't want to spend $144 for a year on Grammarly, you can choose the ProWritingAid app.
Remember: No tool can replace a human editor. These tools can assist you while writing, but in the end, proofread your content on your own.
Frequently Asked Questions
ProWritingAid Review: Is It Worth It?
I hope you enjoyed this ProWritingAid review. As a professional writer; you are always looking for a tool that will help make your job easier.
With that in mind, I wanted to point out one of the best writing tools out there: ProWritingAid.
There are indeed plenty of tools out there to help you with proofreading, editing, and writing.
But, ProWritingAid is a powerful tool for people who are struggling with editing and proofreading effectively.
I know how important it is to have reliable software that can help you discover if your writing is plagiarized or if it has grammatical mistakes.
With a 20% discount, you can try out ProWritingAid for yourself to see what all the hype is about.
Just use the coupon code: "HONEY20"
I hope you found this helpful, and that this blog post helped you to make an informed decision about the software.
If you have questions or suggestions about the tool, please don't hesitate to contact us. We would love to hear from you!