If you are a blogger or digital marketer, you know the importance of SEO tools in your business. It is very difficult to choose the best SEO software where a sheer number of options are available.
Every other tool is claiming to offer the best insights and analytics to boost your blog's performance on search engines.
Amidst this confusion, two prominent contenders have emerged as leading SEO tools:
SE Ranking and Ahrefs.
Even the most experienced SEO experts scratch their heads for choosing between SE Ranking vs Ahrefs.
What will you get in this blog post?
In this blog post, you'll get a detailed analysis of SE Ranking vs Ahrefs. Though both are All-in-one SEO toolset, there are some questions that put you at a loss like-
There are many such questions that intimidate you, but don't worry.
This comprehensive comparison of Ahrefs and SE Ranking tool will give you a clear picture of the Best SEO tool for you.
In this comparison of SE Ranking vs Ahrefs, I'll explore both tools in every aspect. By the end, you'll clearly understand each tool that will help you decide the best tool for you.
Are you ready to discover which tool will dominate the ultimate SEO battle between Ahrefs vs SE Ranking?
Let's dive into the detailed comparison and bring the best tool to light. Let the battle begin!
SE Ranking vs Ahrefs
This comparison is based on the following key features, which help you decide the best tool for you.
Keyword Research
Rank Tracking
Competitive Research
Backlinks Monitoring
Website Audit
Content Marketing
On-Page SEO Checker
SEO agency Pack
So, these are the prime features to compare both tools, which ultimately help you decide which tool you should keep in your arsenal.
Introduction
SE Ranking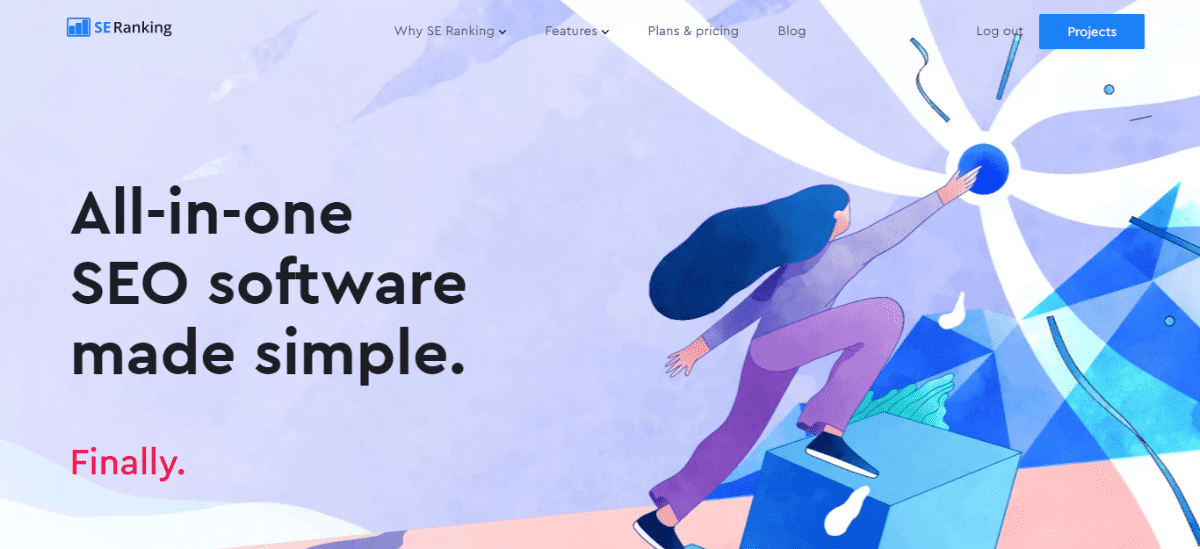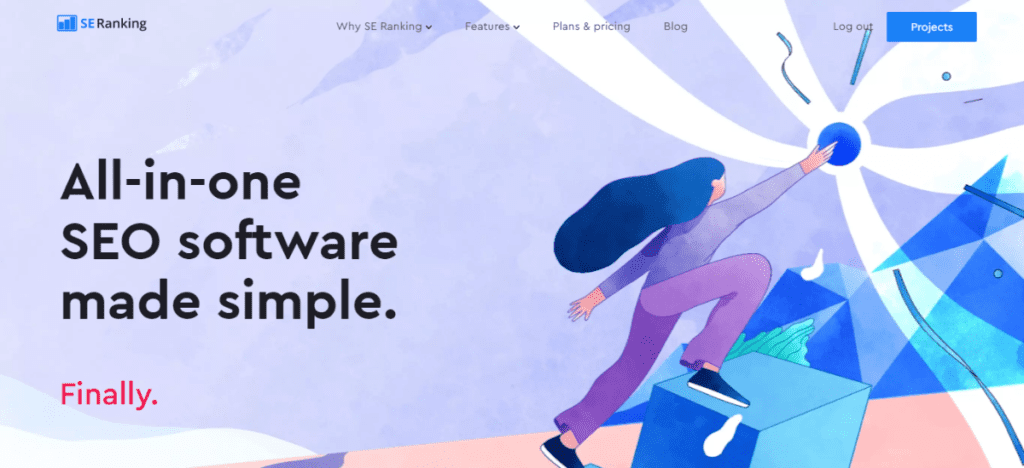 SE Ranking is a cloud-based all-in-one SEO platform that was launched in 2013 as a keyword rank tracker. Over time, it has developed into a complete SEO toolkit and its prime features include:
keyword research
rank tracking
website audit
backlink checker
content editor
SERP analyzer
White label reporting
and other SEO essentials
Ahrefs
Ahrefs is a relatively older tool than SE Ranking, which was launched in 2011 as a backlink analysis tool. Like SE Ranking, it also developed itself into a full-fledged, complete SEO toolset. It is used for the following purposes:
keyword research
backlink analysis
website audit
keyword rank tracking
competitor research
and other SEO essentials
Understanding SE Ranking and Ahrefs
SE Ranking
SE Ranking is a toolset that has garnered good word of mouth from users. This complete SEO toolkit is used for the following purposes:-
Keyword research
Competitive analysis
Keyword rank tracking
Backlinks analysis
Website audit
On-Page SEO checker
SERP analysis
Content marketing
Page changes monitoring
Content Editor
White label reporting
Local SEO
Marketing strategy
It has improved its existing tools and added a few more essential tools to its arsenal. For instance,
Keyword research: it added global search volume, ranking dynamics, and keyword search intent in the past couple of months
SERP analyzer: it is a new feature added to the toolset that assists you to understand real SERP competitors and act accordingly
Content marketing module: it is a new module added to the toolkit recently which allows you to find keyword ideas and write SEO-optimized content
On-Page SEO checker: it is an updated version of SE Ranking's On-Page SEO Checker that is rebuilt with advanced features to conduct an On-Page audit
Local SEO tool: this is the most recently added feature in the toolkit that is very useful for local business owners
Apart from these, there are many more updates in its product vision for 2023.
Talking about its strength, then Keyword Rank Tracker is a tool in its toolkit that provides an accurate rank of your keywords on search engines. It has improved its On-Page SEO Checker which briefs you about the changes that you should do to improve your keyword's rank on Google.
SE Ranking Review [2023]: Why should you buy it?
Ahrefs
Ahrefs on a similar line is a highly popular SEO tool for its efficiency. Though it's costlier than SE Ranking, it offers amazing stats that help you improve your business. It also comprises many essential SEO tools, for instance:-
Keyword explorer
Site explorer
Rank tracker
Backlinks checker
Content audit
It is also updated over time and here are the recent updates in Ahrefs:
Keyword research: it added a word count in the SERP overview to help the users understand how in-depth content they should write to target that keyword.
Filter top pages: you can now filter top pages by selecting new, lost, or no change by using the dropdown menu.
KW explorer: now you can see the ranking of your website for an available keyword in the keyword explorer.
The unique selling point of Ahrefs is its Backlinks checker tool. Well, these are the most important updates that all users appreciated. Apart from all these, there are many updates that are yet to come, like showing a description of Google AdWords and Trend graph on keyword pages, etc.
SE Ranking vs Ahrefs Comparison
So far, you have got an idea about both tools. But you need a detailed analysis of both tools to choose the best out of them. So, I picked up the prime features of SEO tools and compare these both around them.
Let's dive into the detailed comparison of Ahrefs vs SE Ranking.
Keyword Research: The First Step to Success
Keyword research is the foremost task that an SEO expert does to improve his online business. You can't get an audience if you don't analyze the keyword around its search volume, keyword difficulty, SERP overview, etc.
That's why it is necessary to have an SEO tool that can help you pick up the best keywords to boost your business online. Ahrefs and SE Ranking, both tools have dedicated keyword research tools. Let's analyze each of them and find out who wins the battle of keyword research.
SE Ranking provides you with a dedicated keyword research tool. Over time, SE Ranking has updated many times and users loved the improvements.
To get insights into the keyword, you need to have access to the tool. You may try the tool for 14 days using SE Ranking's free trial. If you haven't signed up you may sign up for the free version and start analyzing the keyword.
Go to SE Ranking dashboard and navigate to Keyword Research.
Enter the keyword, select the location, and hit enter.
You'll get the following key metrics for the keyword:
Monthly search volume
Keyword difficulty
Global search volume
CPC
Search intent (added recently)
SERP overview
Ranking dynamics
On scrolling down, you'll see a list of keyword ideas grouped into 3 categories, namely similar keywords, related keywords, and questions.
To get further keyword ideas, you can expand the list by clicking on "view detailed report".

This opens up the SE Ranking keyword suggestion tool that will help you filter out the terms.
You may filter the results by search volume, keyword difficulty, search intent, etc.
Using these filters, you'll have a list of targeted keywords that are more relevant to your seed keyword.
You may read our detailed SE Ranking keyword research guide on how to use the tool efficiently to find keyword ideas.
Apart from these results, SE Ranking keyword research tool also provides you with a list of the top 100 URLs ranking for the keyword. You can analyze them as well to decide whether or not you should go with this keyword.
Ranking dynamics shows you the most recent changes in the position of top URLs for that keyword.
One more important benefit of using the SE Ranking keyword research tool is that it shows you the top websites that are bidding for your main keyword. So, if you run a campaign like Google Ads, it will help you.

You can use the Expand Ads feature to see how ads look in real-time.
Similar to SE Ranking, Ahrefs also provides you with a dedicated Keyword Explorer tool. This tool also hunts the perfect keywords for your online business.
Ahrefs offers you a 7-day trial for $7. You may sign up for the Ahrefs trial and experience the tool to optimize your blog or website. After signing up, go to the dashboard to access the "Keyword Explorer Tool".
Though people use Ahrefs mainly as a site explorer and backlinks checker tool, it offers a good chunk of keywords as well.
In the tool, you can get keyword insights into Google, Bing, Youtube, and other search engines as well.
Just select the search engine, choose the location, and hit the Search Bar to get relevant keyword ideas.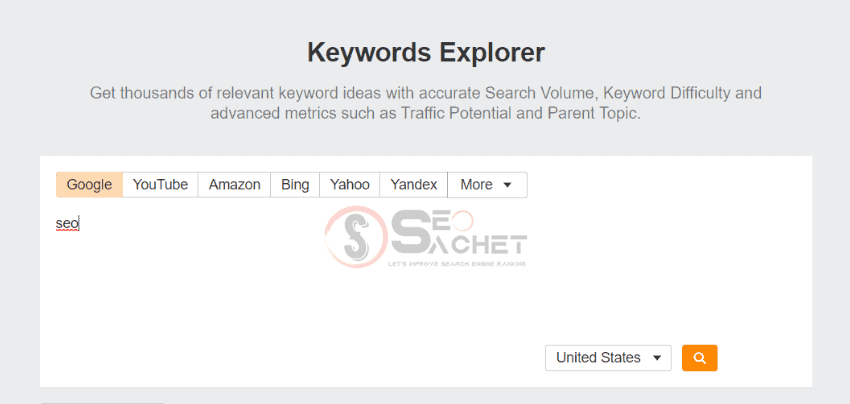 Within seconds, it will open up important metrics related to the keyword. These essential keyword metrics will help you decide if you should target the keyword or not.
Apart from common metrics like search volume, CPC, and keyword difficulty score, it provides you an approximate idea of the number of clicks-
For instance, the search query "SEO" gets a monthly search of about 141k but gets only 66k clicks (just 46.8% of the search volume)
Clicks per Search (CPS) is the ratio of clicks per search, i.e., 0.47 in the above example
This is because the search terms show featured snippet and most users get their answers here and don't click further.
On scrolling down to the keyword analysis report, you get relevant keyword ideas for your main keyword.
You may expand this list by clicking on the "View all" button. This provides you with a list of all related keyword suggestions that you can filter to handpick the best keywords for your business.
Apart from all these metrics, the keyword research report also contains a SERP overview that will help you to analyze your competitors on search engines.
This report will show you how many backlinks you need to overrank your competitors, how authoritative is your competitor, and what keyword he is ranking for.
So, you can use Ahrefs to get such kinds of insights into the seed keyword. But what about keyword search intent and PPC analysis?
Unfortunately, you can't find search intent in the Ahrefs keyword explorer tool, and little to no ppc report in the "Ads History" tab.
Ahrefs vs SE Ranking: Which tool is better for keyword research?
Both tools provide useful data in terms of finding relevant keywords. You can generate a list of numerous keyword ideas including their search volume, CPC, keyword difficulty, etc.
But, SE Ranking offers some data that is important for users but Ahrefs haven't. The features that help SE Ranking to get an edge over Ahrefs are Keyword Search Intent and PPC Ads.
SE Ranking has clearly a better keyword research tool than Ahrefs.
This is the prime reason, I've chosen SE Ranking over Ahrefs in keyword analysis.
Winner: SE Ranking
Rank Tracking: Keeping an Eye on Your Progress
Writing non-stop content on your website doesn't guarantee you rank higher on Google. In fact, you should measure your performance on SERPs and make a good SEO strategy accordingly to win a top spot on search engines.
You can't win the game if you don't evaluate your upsides and downsides.
Keyword rank tracking is of utmost necessity to track your performance and ultimately beat your competitors.
It helps you to find the keywords whose ranking dropped recently on search engines so that you can put some extra effort to revive those keywords. These extra efforts could be building backlinks, updating content by adding text or images, forum posting, etc. That's why it is necessary to track the performance of your keywords.
Both tools offer dedicated keyword rank trackers to help you track your target keywords' position on SERPs.
But, which one is better?
Let's analyze both tools and find out which is the best tool to check keywords position.
SE Ranking offers the industry's best keyword rank checker tool. The prime reason behind saying it is the best in its accuracy and daily rank-check functionality. I am using the tool for the past 3 years and it always provides me with accurate data.
Another important feature of the tool is the on-demand rank check. Yes, if you wish to check your keywords position after making any change, you just need to click on "Recheck data".
The tool provides you with the updated rank of your keywords on Google, Bing, Yahoo, and Yandex. Additionally, you get separate rank data for desktop and mobile versions of the search engines.
Frequency of update: Daily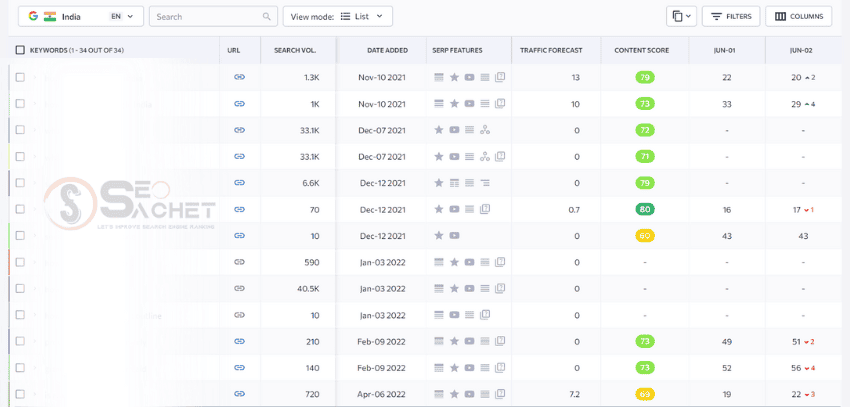 SE Ranking keyword rank tracking dashboard provides you with some additional information also apart from keywords rank. The important metrics include-
accurate keyword rank
search volume of the keyword
Search results of that keyword on a particular search engine
SERP features that your keyword is associated with
estimated traffic of the keyword due to its rank change
date from which you are fetching rank change data
content score after analyzing your competitors
In addition to this, you can sort out the top 3, top 10, or top 30 keywords from the rank chart.
The tool shows you keywords position history for the past 2 years.
Similar to SE Ranking, Ahrefs also provides a dedicated Rank Tracker tool that provides you with your keyword's position on search engines.
Like the above-mentioned tool, it also offers you insights into desktop and mobile Google rankings.
Frequency of update: Weekly
Ahrefs rank tracker let you know the following metrics about your keyword:
visibility on search engines
average position & traffic
SERP features
ranking progress
CPC
return rate
clicks
Search volume
Of course, you can improve your keywords' position on Google if you regularly monitor their performance and act accordingly.
Ahrefs also shows you, segregated groups of your keywords positions like #1-3, positions #4-10, positions #11-50, etc.
It shows you the keywords rank history for the year your website started.
Ahrefs vs SE Ranking: Which tool is better for keyword rank tracking?
Both keywords have their own rank tracker tools which help you measure your keywords position on Google.
But, which one is better and why should you use that?
I have used both tools and I found the SE Ranking keyword rank tracker the most accurate. That's why I choose SE Ranking over Ahrefs in keyword position checking.
Winner: SE Ranking
Competitive Analysis: Staying Ahead of the Game
Competitive analysis is of utmost importance in SEO for the following reasons:
it helps you identify and understand your competitors effectively
it assists you to create an efficient SEO strategy to beat your competitors
it helps you uncover the keywords your competitors are ranking for
it helps you to find the backlinks gap between you and your competitors
it helps you to find out which content of your competitors is doing well so that you can resonate with your audience as well
Before getting started with SE Ranking competitive analysis tool, it is important to note that you can analyze and domain or URL using the tool.
In the SE Ranking dashboard, click on "Competitive Research" and enter the domain name you want to spy along with the target location.
This will give you in-depth insights into your competitor's blog.

You get the following details about your competitor:
domain trust of your competitor (similar to DA as shown by Moz)
organic traffic and traffic cost
keywords on which your competitor is ranking for
paid traffic and traffic cost
paid keywords
referring domains and backlinks pointing to the domain
traffic distribution by country
keywords that are shown with SERP features
top organic competitors
top pages on SERPs
PPC campaign data
You can analyze a particular domain in any location and get all the important metrics for it.
The tools show you the organic keywords that your competitor is ranking for along with improved, decreased, new and lost keywords.

Furthermore, you can expand the list by clicking on "view detailed report". This will give you more detailed metrics along with a list of keywords that includes:
Search volume
keyword difficulty
Search intent
SERP features
keyword position
PPC competition
CPC
URL of target keyword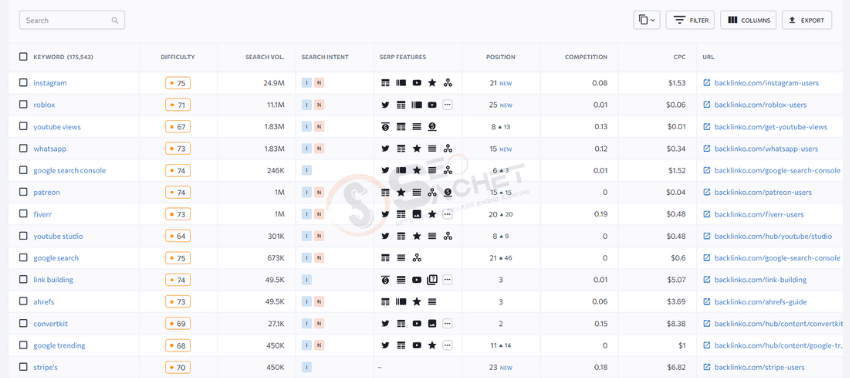 You can sort out the list by using "filters" and export the list in Excel format as well.
On scrolling down in the main dashboard of Competitive Research, you'll find the section of Top Pages of your competitors.
The list shows you the top pages in terms of traffic share they receive from Google.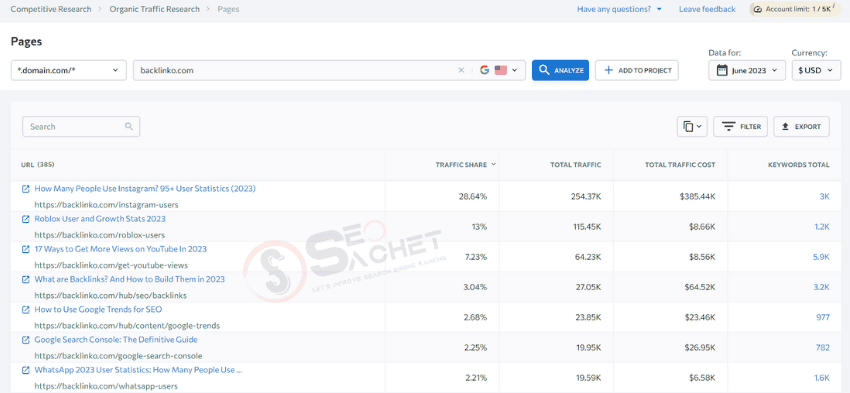 Apart from traffic share in percentage, it provides you with estimated traffic and traffic cost.
You can also find out on which keywords that particular page is ranking, just click on the blue links given in the "Keywords Total" column.
Let's explore Ahrefs competitive research tool. In Ahrefs, the tool is named "Site Explorer".
Just enter the domain you want to spy on and click the search bar.
In its foremost report, you'll see all important metrics related to the domain like its-
domain rating
URL rating
backlinks (target location + globally)
referring domains
organic keywords on which it is ranking for
total traffic it is receiving
paid keywords and traffic
Below this section, you'll find the information related to traffic like which country is the main source of the traffic it is receiving and what keywords it is ranking for.
To get the list of keywords, you should click on the "view all" button in the Top Organic Keywords section.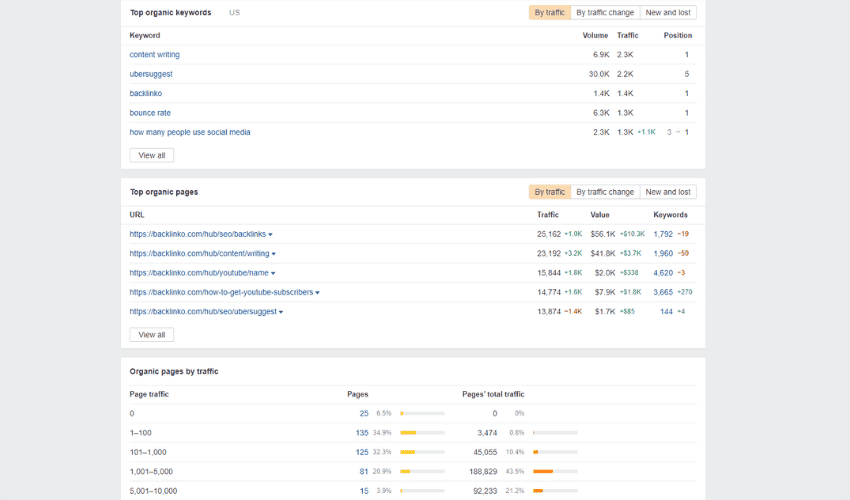 This will give you a list of keywords but with some additional features than SE Ranking.
You can get a list of keywords that are targeted by the same blog post. To get such a list, you should Enable the Multiple URLs only button.
Apart from this, it also shows you top-performing pages on the search engines.
This helps you to find out which blog posts are performing well on search engines and driving huge traffic.
Unlike SE Ranking, Ahrefs offers no PPC campaign data.
SE Ranking vs Ahrefs: Which tool is better for competitive research?
As you have seen both tools offer quite good competitive analysis. Both have unique features that assist you while spying on your competitors.
Ahrefs explores the domain quite well in all terms except PPC campaign data. While SE Ranking also satisfies the users to get insights into the domain metrics.
After analyzing all terms, in my opinion, both tools are equally important while doing competitive research.
Winner: Both
Backlink Analysis: Building Authority and Trust
Along with quality content, backlinks occupy the top spot when we talk about Google ranking factors.
The more authoritative backlinks you have, the more organic traffic you receive.
As I mentioned earlier in this blog post that Ahrefs was launched as a backlink checker, let's analyze how SE Ranking backlink checker competes with it.
Though SE Ranking was launched as a keyword rank checker, it has evolved into a complete SEO toolset over time. Among several other important features, backlinks analysis is also a specific feature that it offers to its users.
To get started with backlinks monitoring, you need to click on Backlinks in the SE Ranking dashboard.
Enter the domain name and this will provide you with all data related to backlinks pointing to that particular domain name.
You get the following metrics-
domain trust/page trust
anchor text
dofollow/nofollow backlinks
referring domains
segregated backlinks from .edu, .gov sites, etc.
You may try the SE Ranking tool for free for 14 days. Click here to sign up for SE Ranking free trial.
The tool shows you the overall growth of your backlinks pointing to the domain and new/lost backlinks for the past 12 months.
You may find which anchor text is attached to the maximum number of backlinks.
The tool distinguishes between Dofollow and Nofollow backlinks to give you clarity about how link juice is passed on. You may read this definitive guide to Dofollow backlinks for better clarity.
The backlinks checker shows you the top pages based on the number of backlinks so that you can easily track the performance of pages.
Apart from these, one important feature that SE Ranking backlink checker offers is Backlinks Gap Analyzer.
This gives you link building opportunity as it assists you to find the links pointing to your competitor's domain but not yours.
In the above picture, you can see the gaps between backlinks pointing to Adamenfroy.com and Backlinko.com
Backlinks gap analysis helps you to easily build links for your website from other relevant blogs.
As I mentioned earlier too, Ahrefs is unbeatable in backlinks monitoring. Despite being an all-in-one SEO toolkit, it is still used by experts to check backlinks.
You may use Site Explorer for auditing the backlinks profile of any domain name.
The backlinks report shows you the number of backlinks pointing to that domain from a particular country along with all total backlinks globally.
Just click on the number of backlinks to get a more detailed overview of backlinks.
In this detailed report, you will have multiple options to sort the backlinks that resonate with your need.
You can sort the backlinks according to-
nature of backlink (dofollow/nofollow)
backlink type (image/content)
domain rating
traffic
word or phrase
grouping all similar backlinks
grouping one link per domain
new/lost backlinks in a specific time frame
After that, you can export them to Excel format for detailed analysis.
Like SE Ranking, Ahrefs also provides you backlinks gap analyzer in the form of Link Intersect.
It informs you about the links that are pointing to your competitor's website but not yours.
Unlike SE Ranking, it gives you insights into the internal backlinks of the associated domain names. This helps you to analyze how much and in what way link juice is flowing within the same website.
Furthermore, it helps you to analyze the internal link structure of your posts as well.
The detailed report of the backlinks checker shows you the anchor texts associated with backlinks.
SE Ranking vs Ahrefs: Which tool is better for backlinks analysis?
Both tools offer specific backlinks checker tools to monitor the backlink profile of your domains.
But the above analysis shows Ahrefs has more capability in terms of backlinks analysis. The way it displays results and the user interface is outstanding.
Moreover, it shows an in-depth and comprehensive analysis of backlinks.
The report clearly shows that Ahrefs is better than SE Ranking in terms of backlinks research.
Winner: Ahrefs
Site Audit: Maximizing Website Performance
A website technical audit plays a crucial role in enhancing website performance by identifying performance bottlenecks, optimizing code and scripts, implementing caching, content delivery, and ensuring mobile optimization.
By addressing these areas, website performance can be improved, resulting in fast page load times, better user experience, and improved search engine rankings.
Well, both tools provide website audit tools. But, which one is the best for you?
Let's explore each tool and find out the well-suited tool.
What could be better than receiving automatic website audit reports?
Yes, this is the best part of the SE Ranking website audit; it schedules the reporting and provides you with technical SEO audit reports weekly. Of course, you can reproduce the fresh reports at any time.
The only thing to do is set up your project in the SE Ranking tool and get detailed reports to enhance your SEO.
In the main dashboard of the SEO audit, it shows your overall health score based on warnings and technical issues on your website.
You get a detailed report on how many pages it crawled along with warnings to improve your website performance.
The best part is that it highlights top SEO issues that are hurting your website SEO along with their solution to fix them.
It basically shows the top errors regarding the following-
website security
duplicate content
HTTP status code
title
description
textual content
internal links
website speed
redirects
CSS
mobile optimization
performance
Each section offers you a detailed report like what is hurting your site and how to overcome it.
Once you fix every error, you may run a fresh audit to check if it is fixed or not. Just click on "Restart Audit" to run technical SEO analysis again.
Like SE Ranking, Ahrefs also provides you with a technical audit of your website. It also offers you a health score and crawled pages report along with top errors, warnings, and notices.
But, let me reiterate, it is not the strength of this tool.
Why am I saying that?
It is because it takes a lot of time to generate the report and even with numerous errors like 4XX page, internal links error, etc. it shows me a health score of 98.
I got a more accurate score and detailed report in the SE Ranking audit tool than Ahrefs. It shows you common errors to fix and once you run a fresh website audit, it will take a hell lot of time again to show reports.
SE Ranking vs Ahrefs: Which tool is better for website audit?
Website audit is something that every SEO tool offers but the best one is that provides you with accurate reports to enhance your blog SEO.
As we explored both tools and SE Ranking provides more in-depth reports and solutions.
That's why SE Ranking is a clear winner here in respect of website audit.
Winner: SE Ranking
Pricing and Support: Finding the Right Fit
Pricing is an important factor to consider when choosing the best SEO tool for your needs.
Why you should pay attention to the pricing plans of SEO Tools?
Budget Considerations: It's important to assess how much you are willing to invest in SEO software and ensure it aligns with your financial resources. Consider the pricing plans and whether they fit within your budget constraints.
Features and Functionality: Assess the value you will receive for the price you pay and choose a tool that offers the best combination of features for your specific needs.
Scalability: Consider the scalability of the SEO tool. Evaluate if the tool can accommodate your growth and if the pricing scales accordingly.
ROI Potential: Assess the potential return on investment (ROI) from using the SEO tool. Compare the pricing of different tools with the potential benefits they can deliver. A tool with a higher price may be justified if it saves you time and effort in the long run.
Customer Support and Training: Consider if the pricing includes access to customer support channels, such as email, live chat, or phone support. Determine if the tool provider offers training resources, tutorials, or documentation to help you maximize the tool's value.
Consider the overall value, and long-term benefits that fit with your specific SEO needs when selecting the best SEO tool for your business.
SE Ranking pricing plans are categorized into 3 types-
Essential: $39/month
Pro: $89/month
Business: $189/month
Note: It offers you a flat 20% discount if you choose the annual plan.
| Features | Essential | Pro | Business |
| --- | --- | --- | --- |
| Price | $39/month | $89/month | $189/month |
| Projects | 10 | Unlimited | Unlimited |
| Keywords | 250 | 1,000 | 2,500 |
| Rank track | Daily | Daily | Daily |
| Website audit (pages per project) | 7,000 | 40,000 | 80,000 |
| SERP analysis (keywords) | 10 | 100 | 1,000 |
| Backlinks monitoring (per report) | 10,000 | 30,000 | 100,000 |
| Backlinks gap analyzer | Yes | Yes | Yes |
| Competitive research (reports per day) | 100 | 5,000 | 10,000 |
| SEO reporting (manual) | Unlimited | Unlimited | Unlimited |
| SEO reporting (scheduled) | 5 | 20 | 50 |
| Agency pack | No | Yes | Yes |
| Content marketing | 15 articles/month | 30 articles/month | 120 articles/month |
| Local marketing | Yes | Yes | Yes |
| API | No | Yes | Yes |
| Mobile app | Yes | Yes | Yes |
| Marketing plan | Yes | Yes | Yes |
| Social media | Yes | Yes | Yes |
| GA & Search console integration | Yes | Yes | Yes |
| SE Ranking academy | Yes | Yes | Yes |
Apart from these, SE Ranking also offers a custom plan to users who need more resources than it offers in these 3 plans. You need to contact them for a personal plan.
Ahrefs offers 4 different types of pricing plans to its users.
Lite: $99/month
Standard: $199/month
Advanced: $399/month
Enterprise: 999/month (you need to contact them for this plan)
Note: Ahrefs offers 7 days trial for $7 and 2 months free if you choose the annual subscription
| Features | Lite | Standard | Advanced | Enterprise |
| --- | --- | --- | --- | --- |
| Price | $99/month | $199/month | $399/month | $999/month |
| Projects | Unlimited | Unlimited | Unlimited | Unlimited |
| Keywords | 750 | 2,000 | 5,000 | 10,000 |
| Rank track | Weekly | Weekly | Weekly | Weekly |
| Daily updates (extra add-on) | $100/month | $150/month | $200/month | $250/month |
| Website audit (pages per project) | 25,000 | 50,000 | 250,000 | 5M |
| Data (per report) | 2,500 | 30,000 | 75,000 | 150,000 |
| Keywords lists | 5 | 50 | 100 | 250 |
| API (units/month) | No | No | No | 2M |
SE Ranking vs Ahrefs: Which SEO tool is more affordable to you?
Both are renowned SEO tools and are widely used by experts worldwide. The above tables are self-explanatory as what you get in individual pricing plans of both SEO software.
Clearly, SE Ranking offers more value to its users than Ahrefs in more affordable pricing.
Winner: SE Ranking
SE Ranking vs Ahrefs: Users Opinion
User opinions about SEO tools like SE Ranking and Ahrefs can vary based on individual experiences and needs. Here are some common perspectives on these tools by the users:
User-Friendly Interface: Many users appreciate SE Ranking's intuitive and user-friendly interface, making it easy to navigate and understand the tool's features.
Comprehensive Keyword Research: SE Ranking offers robust keyword research capabilities, allowing users to discover relevant keywords, track rankings, and analyze keyword competitiveness.
Local SEO Features: Users who focus on local SEO find SE Ranking particularly helpful, as it provides tools for tracking local rankings, analyzing local search results, and monitoring local competitors.
Affordable Pricing: SE Ranking is often considered budget-friendly compared to some other SEO tools, making it appealing for small businesses or individuals with limited budgets.
Customer Support: Users generally report positive experiences with SE Ranking's customer support, finding them responsive and helpful in addressing queries and concerns.
Extensive Backlink Analysis: Ahrefs is renowned for its comprehensive backlink analysis capabilities, allowing users to explore their own backlinks, analyze competitors' backlinks, and uncover link-building opportunities.
In-Depth Site Audit: Users appreciate Ahrefs' site audit feature, which helps identify technical issues and provides actionable recommendations to improve website performance and SEO.
Advanced Keyword Research: Ahrefs offers powerful keyword research tools, including keyword difficulty analysis, search volume data, and related keyword suggestions, aiding in finding valuable keywords for content optimization.
Competitor Analysis: Ahrefs' competitor analysis features enable users to gain insights into their competitors' strategies, including organic search rankings, backlink profiles, and content performance.
Regular Updates and New Features: Users often praise Ahrefs for its frequent updates, adding new features and improving existing ones based on user feedback, which helps ensure the tool stays relevant and competitive.
It's important to note that individual preferences, specific needs, and the nature of SEO projects can greatly influence users' opinions about these tools. It's recommended to try out free trials or demos of both SE Ranking and Ahrefs to assess which tool aligns best with your requirements.
SE Ranking features list doesn't end up here. It has a lot of other crucial features as well that are impossible to comprise in this blog post. For instance-
Content Marketing Tool: helps you in crafting compelling and optimized content
SERP Analyzer: helps you to understand your competitors' strategy and to beat them
On-Page SEO Checker: briefs you on everything to optimize your pages
Marketing Plan: helps you to ensure all SEO checklists to grow your blog
White Label Reporting: this helps you to generate white-labeled reports for your clients.
Frequently Asked Questions
Conclusion
The choice between SE Ranking and Ahrefs ultimately depends on your specific needs and preferences. Both tools provide valuable features that can enhance your SEO efforts.
But if we compare both tools in terms of SEO needs and pricing, then SE Ranking is a clear winner here.
Here's a quick glance at both tools to help you make a decision:
SE Ranking: It is an intuitive and budget-friendly SEO tool that excels in keyword research and provides robust local SEO features. It offers a user-friendly interface, comprehensive keyword analysis, and useful tools for tracking keywords rankings. If you prioritize affordability and require strong keyword research capabilities, particularly for local SEO, SE Ranking may be the preferred choice.
Strength of SE Ranking:
Keyword Research
Keyword Rank Tracking
Ahrefs: It is a powerful and widely acclaimed SEO tool known for its extensive backlink analysis, in-depth site audit, and advanced keyword research functionalities. It provides valuable insights into competitors' strategies and offers regular updates to stay updated with ongoing SEO trends. If you prioritize comprehensive backlink analysis, competitor research, and advanced keyword research, Ahrefs may be the better option.
Strength of Ahrefs:
Extensive backlinks monitoring
Competitive analysis
Ultimately, the best choice for you depends on your specific requirements, budget, and the features that resonates with your SEO objectives.
It's recommended to explore free trials or demos of both tools to get a hands-on experience and evaluate which tool better suits your needs.
Related articles:
SE Ranking vs Semrush [2023]: Which SEO Tool Is Best For Professionals?