Tired of spending money on SEO tools that don't deliver what they promise?
I feel your frustration!
In this blog post, I'll explore the SE Ranking pricing for 2023 and reveal the ultimate solution to maximizing your ROI. Get ready to unlock the full potential of your website and leave your competitors in the dust.
Let's dive in!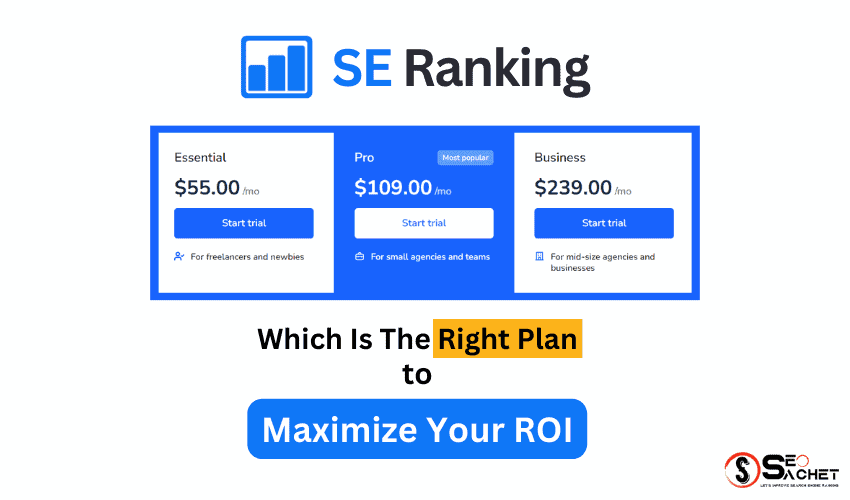 What is the SE Ranking?
SE Ranking is an SEO tool used for 360° analysis of your website. It is a cloud-based SEO software that assists you from keyword research to content marketing.
The SEO tool is growing rapidly and has become one of the best Semrush alternatives. The reason being it offers a large set of SEO tools to its users at an affordable price. In this blog post, you'll discover how you can maximize your return on investment using a suitable pricing plan.
Some prime features of SE Ranking are:
Keyword research
Competitor analysis
Keyword rank tracking
Website audit
SERP analyzer
Content marketing tool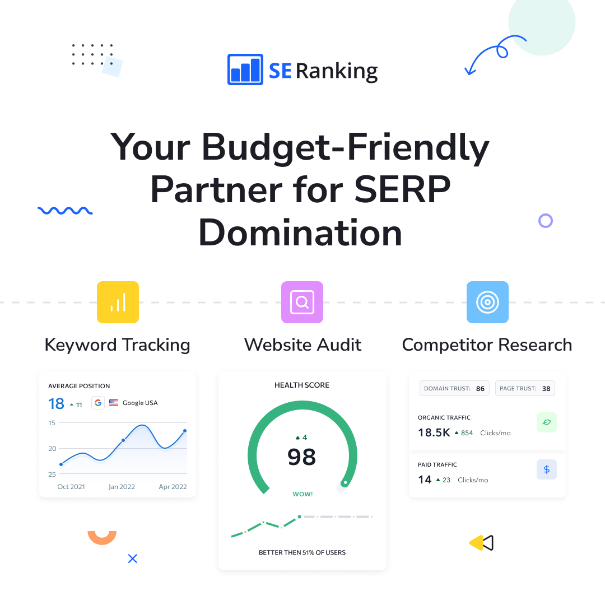 Who uses the SE Ranking tool?
Starting as a keyword rank checker, the tool has grown to an all-in-one SEO platform and has a user database of over 600,000 users. The tool offers a variety of excellent tools which attracts a wide range of audience, including:
Freelancers
Bloggers
Affiliate marketers
SEO professionals
Small business owners
Mid-range business owners
Large-scale SEO agencies
Importance of ROI in SEO
ROI is a metric that measures the profitability of an investment relative to its cost. For SEO, ROI is the gauge of how effectively your website's optimization efforts translate into tangible business results, such as increased website traffic, leads, conversions, and ultimately revenue.
With the vast range of SEO tools and services available, it's essential to make decisions that deliver real value for your investment. Many website owners and businesses have faced the disappointment of investing in expensive tools that cannot deliver substantial results.
Maximizing ROI is not just about getting a higher ranking, but also about generating meaningful and sustainable growth for your business.
If you invest wisely, you'll surely get results; so, it's necessary to choose the perfect pricing plan for SE Ranking.
SE Ranking Pricing 2023
SE Ranking offers 3 main pricing plans, including Essential, Pro, and Business.
One can start exploring opportunities in search engine optimization at $55 a month. However, the price range increase when your resource usage increases.
Let's discuss the SE Ranking pricing model.
How much does SE Ranking cost?
Essential: $55/month
Pro: $109/month
Business: $239/month
Custom: As per your needs
Note: SE Ranking discount on annual plans saves you 20% on your purchase.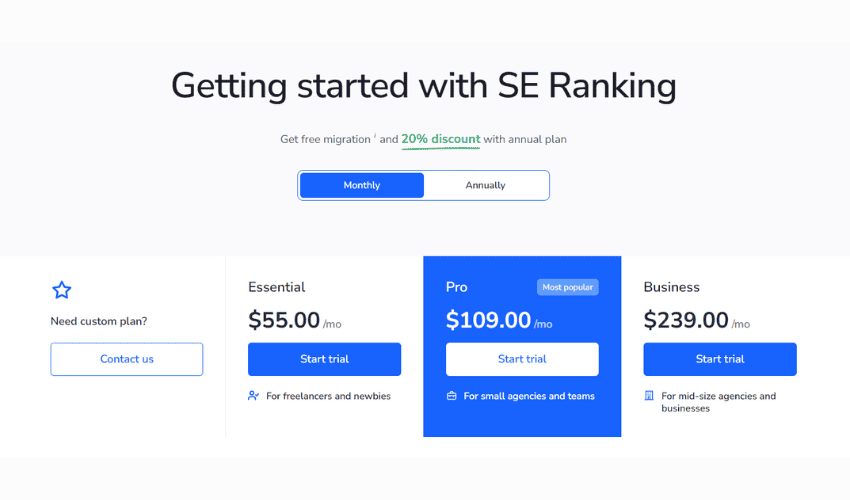 What do you get in SE Ranking pricing plans?
As you know, the SE Ranking pricing starts from $55 monthly and goes up to $239 monthly. Let's get to know what features you get in these plans —

So, you get so many features in the SE Ranking tool with just a flat 20% OFF on the annual subscription. If you get an extra 10% OFF, you may use this SE Ranking discount code.
Add-on features
Agency Pack
This pack is available for an extra $50/month if you choose an annual subscription to Pro and Business plans.
You get the following features in the agency toolkit —
White Label Reporting: you can set your own custom logo and color on the SEO reports and brand it as yours while serving it to your clients.
Client Seats: it allows 10 users to get access to view the specific data in the SE Ranking account in the PRO plan and the BUSINESS plan.
Lead Generator: this is really a fantastic feature for any agency. It allows you to install the On-Page Checker widget on your site. Visitors provide you with their email for a detailed health report of their site.
Content Marketing
This pack is available to users of each plan but with some extra charge. Below mentioned is the price of using the Content Marketing module besides their current subscription.
Essential: $29/month
Pro: $49/month
Business: $99/month
So, what does the Content Marketing module offer you?
Here are the features you get with this module.
Content Editor: it allows you to optimize your content after analyzing top organic results. It suggests content edits such as how many headings you should use, what should be the content length, and what relevant keywords you should use in your content.

Essential: 15 articles/month
Pro: 30 articles/month
Business: 120 articles/month

AI Writer: it offers you an AI-based writer that generates content for you.

Essential: 25,000 words/month
Pro: 50,000 words/month
Business: 250,000 words/month

Plagiarism Checker: you get a plagiarism checker to verify the uniqueness of your content. You can detect duplicate content using the plagiarism checker.

Essential: 3 plagiarism checks
Pro: 5 plagiarism checks
Business: 10 plagiarism checks

Content Idea Finder: each plan of SE Ranking allows you to generate topic clusters around your main keyword. It is especially helpful for topic research and to build topical authority.
Google Docs Add-On: each plan offers you to integrate your SE Ranking's content editor tool with Google Docs and to make your content generation faster.
Local Marketing
SE Ranking offers a Local Marketing tool to its users as an Add-On feature with some extra cost.
Essential: $7/month for 1 location and $29/month for 5 locations
Pro: $48/month for 10 locations
Business: $181/month for 50 locations
You can use this tool to target an audience around a specific location. The tool offers you the following features with the Local Marketing Module.
Google Business Profile Integration: you can get to know how people are interacting with your Google Business Profile and what type of searches they use to get it to you. It allows you to gather historical data of all time.
Local Rank Tracker: you can track your business profile's ranking in Google Maps and track it on Google SERPs to improve your business in the local geographic location.
Review Management: get valuable insights into the reviews gathered from various sources like Google, Facebook, etc. to know what people are saying about your business.
Business Listing Monitoring: you can monitor your business listing across various directories and maps to improve your presence and brand credibility.
Local Marketing Audit: you get a detailed audit report of your local marketing campaign to ensure that your business is optimized for local searches or not.
Pay-As-You-Go Data
Keyword Grouper: $0.004 per request
It allows you to group your keywords automatically based on the top 10 organic search results.
Search Engine Autocomplete: $0.001 per search query
You can get Google, Bing, and Yahoo autocomplete search suggestions.
Index Status Checker: $0.005 per URL
It allows you to check your page's indexing status in Google, Yahoo, and Bing search engines.
How to Choose the Right Plan for Your Needs
Choosing the perfect pricing plan depends on individual business needs and scenarios. I analyzed some businesses and some crucial points came out to me that are really necessary to consider while choosing the best plan. These will help you decide which pricing plan you should select for your business.
SE Ranking offers a variety of pricing plans, so, definitely, there is something for you. But, need to find out the best one that fits your budget.
If you're on a tight budget, the ESSENTIAL plan is a great option. It offers all the basic features you need to improve your SEO, such as keyword research, rank tracking, and backlink analysis, etc.
If you have a larger budget, consider the PRO and BUSINESS plan. These plans offer more features and functionality, such as On-Page SEO Analysis, Content Marketing, Local SEO tools, etc., and prove themselves as the most suitable pricing plans for SEO Agencies.
If you have many sites, you need to add them to your SE Ranking projects to track their performance. Therefore, it is essential to choose the plan wisely.
The ESSENTIAL plan allows you to track up to 10 websites, while the PRO and BUSINESS plans allow you to track unlimited websites. Also, you get numerous resources to use in the latter plans if you have many websites.
If you are an agency with many clients or an SEO professional with many projects, PRO and BUSINESS plans can accommodate your needs.
What are you hoping to achieve with the SE Ranking tool?
If you're just starting out with search engine optimization (SEO), the ESSENTIAL plan may be enough to get you started.
However, if you have some experience and have more ambitious goals, such as ranking for competitive keywords or driving more traffic to your blog, you may need a plan with more features and functionality.
Take Advantage of the FREE TRIAL
SE Ranking software offers a free 14-day trial, so you can try out the different pricing plans before you commit to one.
This is a great way to see which plan is the best fit for your needs and budget.
| Plans | Price | Projects | Features |
| --- | --- | --- | --- |
| Essential | $55/month | 10 | Rank tracking, keyword research, backlink analysis, website audit, etc. |
| Pro | $109/month | Unlimited | All the features of the Essential plan, plus content market tool, and local SEO tool. |
| Business | $239/month | Unlimited | All the features of the Pro plan, plus historical data, API access and white label reports. |
At last, I'd like to recommend matching those needs with the most suitable SE Ranking plan.
FAQs
Conclusion
So, which SE Ranking pricing plan is right for you?
It depends on your budget, website size, and SEO goals. If you're on a tight budget and just starting out with SEO, the ESSENTIAL plan is a great option. If you have a larger budget and more ambitious SEO goals, consider the PRO and BUSINESS plans as per the number of your websites.
If you're not sure which plan is right for you, take advantage of the 14-day free trial to try them all out.
No matter which plan you choose, SE Ranking is a powerful SEO tool that can help you improve your website's ranking and drive more traffic.
So, what are you waiting for?
Sign up for a free trial today and see how SE Ranking can help you achieve your SEO goals!