Blogging is a great way to share your thoughts and ideas with people.
But there is one element of blogging that many people neglect: blog description. Every blog post needs a description, but how do you write a wonderful description?
Are you struggling to write an effective description for your blog?
Don't worry!
In this post, I will provide you with some tips for writing the perfect description that will get more clicks and traffic.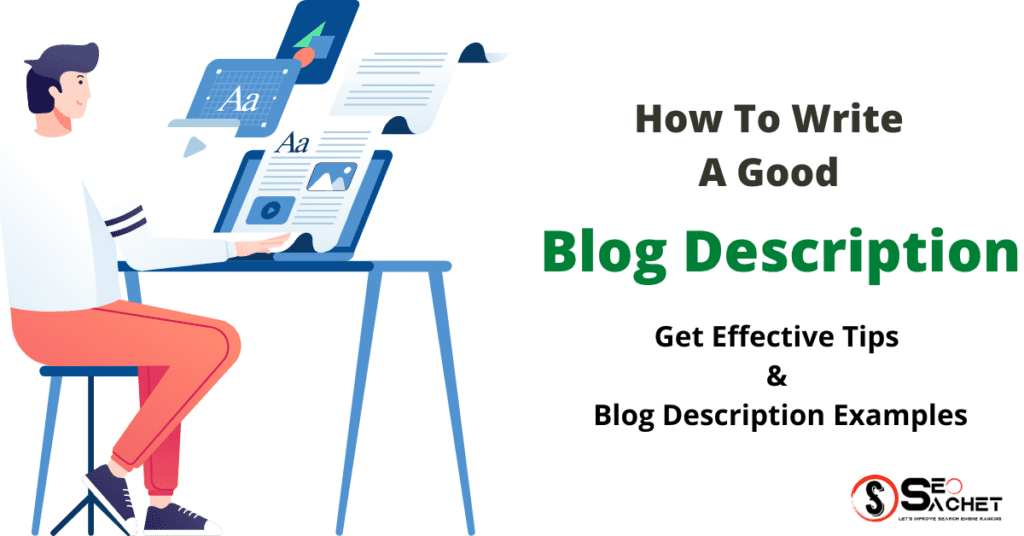 If you want people to get more interest in your blog, read this article to learn how to describe your blog to engage your audience.
What is a Blog Description?
Blog Descriptions are just a paragraph explaining your blog content. It is the description that appears below your blog's title in the search results and gives potential visitors a glimpse of what your blog is about. We use them in order to entice people to click on our blog and read it.

It is one of the most important elements of your blog. It can be the difference between a visitor leaving and someone actually reading your blog. There are a few things you need to keep in mind when writing it.
In order for your blog to grow, you need to make sure that the description is descriptive and intriguing enough for people to click on the link to your blog.
So what are the most effective ways to describe a blog?
Before going through it, you should know how many types of blog descriptions are there.
What is the Importance of Describing a Blog?
It is one of the most overlooked parts of blogging. However, it is a big part of having a successful blog.
Most people spend too little time on descriptions, so they will not rank as high on Google as they should. We will look at how to write a good blog description, to get the most out of your blog.
Writing a blog description is like drawing up a blueprint. It is a way to layout your blog's goals, contents, and target market.
If you write excellent descriptions, it should provide your audience with helpful information that can help them make an informed decision on whether to choose your blog and join your loyal readership.
It is important to create an interesting description to engage your audience. It is important that you keep your audience engaged in what you have to say.
That's why this blog is going to give you 7 tips on how to write an effective blog summary to engage your audience.
Why does blog summary matter?
These are really important because they are the first thing people will see when they search for your blog. Many people will not bother to click on your blog if they cannot find what your blog is all about.
The main thing to remember is that your blog summary shown in the search snippet is an opportunity for you to share your purpose and your passion with your audience. So make sure that they know what they're getting into when they click on your blog.
Benefits of Blog Descriptions
Blogs are becoming more and more popular as they're great platforms to share your thoughts on a subject. As a blogger, you have a responsibility not only to your audience but to yourself to create a blog that engages them and shares the things you have to say. If your blog doesn't have an excellent description, you'll lose a lot of readers.
If it has a perfect description, you'll have many benefits, like:
What to include in the description of a blog?
Your blog's description is the first thing that your visitors will see when they come to your site. It's your chance to entice them into clicking through your content.
So, it is really important to make sure that the description is descriptive, interesting, and engaging.
You should not only provide the reader with your top-line message but also include information about who your audience is and what they will find on your site.
If you don't know your audience, you're wasting your time.
There are a lot of ways to write a description for your blog. You could use a template or a tool like Blogger's blog description editor, but there are a few things you need to think about before you write one.
Blog Description Examples
The description of a blog is a must-have for any blogger to engage their audience. Here are some examples of blog descriptions you should look at for more clarity.
This section includes descriptions from a variety of niches. I've tried to put forth the best examples from various niches like digital marketing, health, tech, travel, etc.
I hope it is beneficial.
Example 1: Koimoi
This blog clearly specifies that it provides you with all the latest updates about movies, celebrities, reviews, box office reports, etc. The description is well-written, which helps the audience to take an immediate decision to click on the blog or not.
Example 2: ACE Fitness

Fitness is a topic that needs expert guidance. ACE provides you with medical exercise certifications and guides you with personal trainers and group trainers. So, when a user comes to this blog's description, within seconds he understands what this blog is all about and whether he should go with it or leave it.
Example 3: TechCrunch
A tech lover always sought after the latest technology updates, gadget news, startups, etc. TechCrunch is a perfect example for such kind of audience and its description itself says what it is all about.
Example 4: Nomadic Matt
It is a perfect blog for someone who loves to plan itineraries. As the blogger understands the users' intentions and provides what they want with his blog's USP, i.e. "Travel Better For Less".
Example 5: Backlinko

If you are a blogger like me who wants to explore next-level SEO strategies, Backlinko is the best blog for you. Brian Dean describes his blog in the most effective way that any blogger or affiliate marketer can't leave his blog without clicking on it.
👉 How to Write A Blog Post Outline?
How to Write a Blog Description in WordPress?
It is a place where you can give a bit more information about your blog, such as why people should read it, what people can expect from it, and why your blog is uniquely different from the others.
To get the most out of your website description, use it to build trust in your audience. It is also a good place to talk about your blog's mission and the benefits of reading it.
Adding a blog description in WordPress is quite easy. There are many plugins available for it like RankMath SEO, Yoast SEO, All-in-one SEO, etc. I'm using RankMath on this blog, so I can easily guide you on how to write a blog description using RankMath.
A blog description is always the homepage description of a blog.
Before starting it, note whether you are writing a description for a static homepage or a regular homepage.
👉A static homepage is a webpage designed for a specific purpose as it is custom designed by a website owner. It does not change itself and always shows what you want to show to your audience.
👉A normal homepage could be anything that is provided by your WordPress theme containing all your latest blog posts.
So, there are two methods for writing descriptions for two types of home pages.
You just need to follow this step-by-step tutorial for a normal homepage:

---
👉 Besides this, if you own a custom homepage for your blog, you can add a description by following these steps: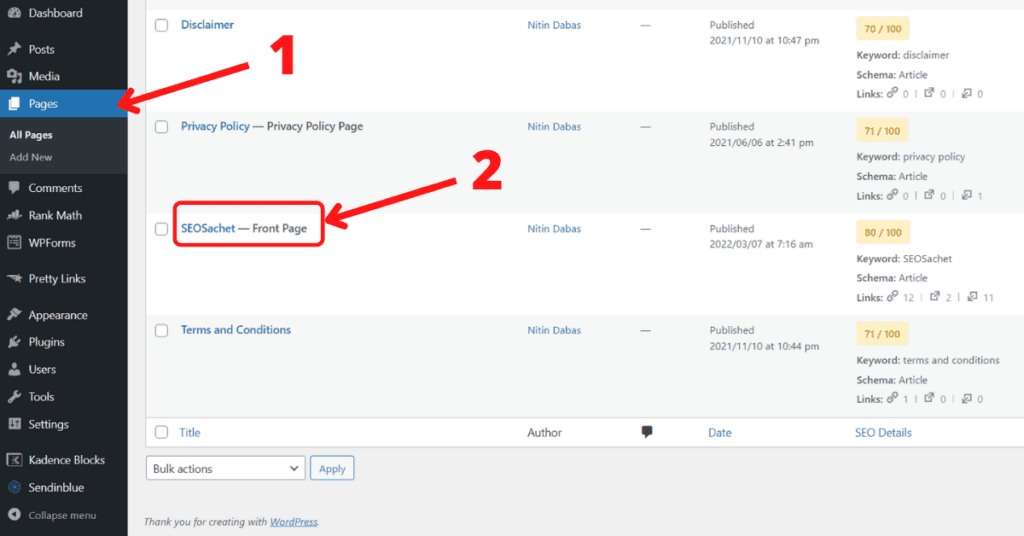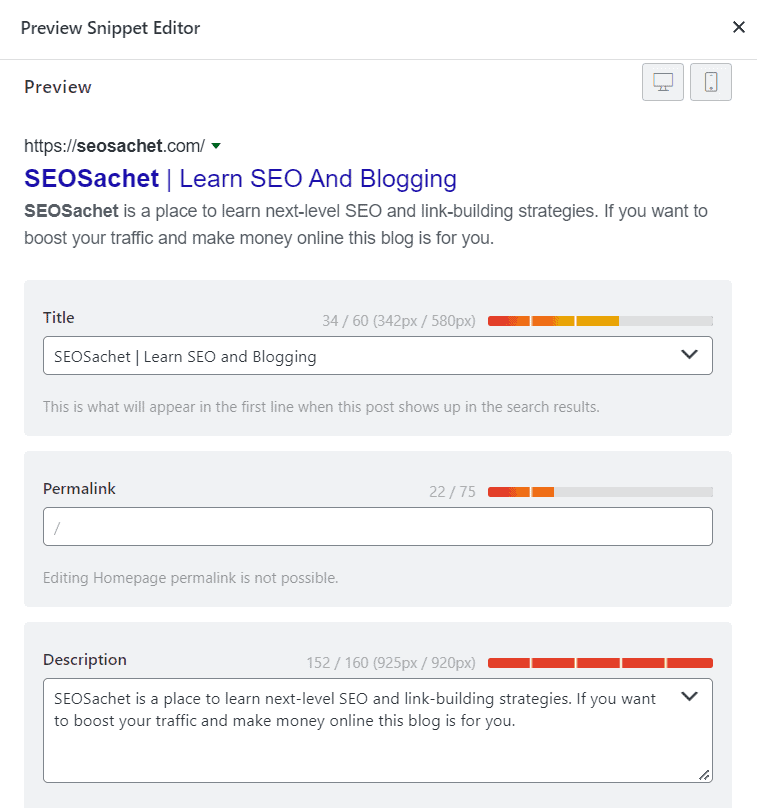 That's it!
So, you have successfully added an effective meta description that will boost the CTR of your blog and increase your web traffic.
Blog descriptions are just a paragraph explaining your blog content. We use them in order to entice people to click on a blog and read it. So what are the most effective ways to write an excellent description?
7+ Tips to Write an Excellent Blog Description
A description is one of the most important aspects of your blog. It is the first thing that your reader sees and they provide the most valuable information about your blog. It is a great way to tell your readers what they can expect from your blog.
To write a wonderful description, you must first determine what your blog is about. There are many types of blogs, and not all of them are alike. For example, you can write a blog on how to teach yourself, how to draw landscapes or a blog on how to eat healthily. You should be able to tell this in your blog's description.
The description is not just about what your blog is about. It is about what your target audience will be interested in. It should be able to attract, engage and inspire your audience to read your blog.
The blog summary is also important for SEO, which is why it needs to be well written. When writing a description, use a third-person point of view and it should be about the benefits of your blog.
I suggest including a call-to-action in the description of a blog. This is a way to get your reader to do something right away. For example, you could tell your reader that you are giving away a free ebook, or that you are offering a discount.
When writing your blog summary, consider these 7+ tips first.
Show your audience what would you provide to them. Why should they click on your blog?
Use a keyword or phrase that people are searching for in the description.
Use an interesting opening line to draw the reader in.
Always try to add your main keyword to the first sentence of your blog description.
The description should be under 160 words.
Add some power words like best, boost, effective, etc. to make it more catchy.
Include call-to-action in your description improves the CTR value.
Add your credentials like your achievements, monthly traffic, email subscribers, etc. to stand out from the crowd.
The blog's title and description are the first things that happen when a visitor lands on your blog. These are the first things they see and they can make or break the success of your blog. You want it to be enticing, interesting, and easy to read. These tips will help you get more clicks.
What is a Blog Post Description?
A blog post description summarizes your blog post in one or two lines. Readers scan these descriptions when they're looking for new posts to read and are more likely to click on the blog post if they get an accurate description of what they need to know.
It is an opportunity to interest people in your content, and enhance your blog's appeal.
Earlier in this post, we discussed blog description which defines what the whole blog is all about. Whereas, a blog post description defines the content within a blog post. It tells the user what the author described in a particular blog post. It is also vital for your blog's growth and to boost your organic traffic.
This blog post will give you the most effective tips for writing a wonderful description of a blog post. But before diving into that section, look at the most captivating descriptions of blog posts.
Most Effective Example of Blog Post Description
SearchEngineLand
In this example, I searched for the phrase "what is SEO?" The first result I got shows the blog post of SearchEngineLand, which is the most popular website related to SEO.
It ranks at #1 for the number of queries related to SEO because of its relevant and appealing description. I read its description, and it appeals to me to know further and it happens to most of the visitors.
How to Write a Blog Post Description?
If you are using RankMath SEO Plugin, follow these steps to write a blog post description: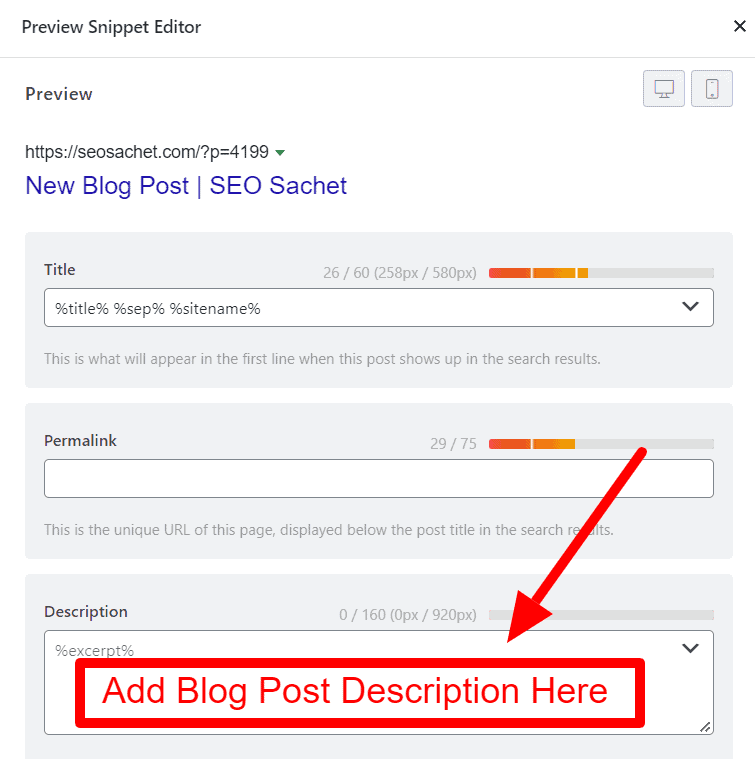 That's it!
What are the most effective tips for writing a good blog post description?
Blog post descriptions are a key part of any blog post. When writing the descriptions, remember to include:
1: Use the focus keyword in your blog post-description
Using relevant keywords along with your focus keyword in the description will boost your blog post's CTR (click-through ratio). The simple reason behind it is if the users see the keywords that they are looking for in the description of your blog post, obviously they will click it.
It also shows Google the blog post is more relevant to the query a user is searching for.
Wait! Wait!
Don't do keyword stuffing, it is neither favorable to the users nor Google.
2. Give your audience a reason to click on your blog post
Blog post description is an opportunity for you to engage your audience in your content. So, always prioritize it and add a line or two that briefly describes what is in the blog post and what a user will lose if he leaves your post without clicking on it.
Always note that the description of your blog post should be clear and concise!
3. Use CTA (Call-to-action)
Many studies have shown that including call-to-action improves the click-through ratio and ultimately the organic clicks to your blog post. You may use the following CTA in the descriptions:
Looking for
Here is how to do
Here are the top 5 tips
Read to know more
Struggling to find
4. Word Limit
It should be very important to provide a clear and concise description within the word limit. The reason behind it is Google shows a limited amount of words in the search results. So, if you add a long description to the blog post, it will cut down the extra words and show the description in only 160 characters.
So, I recommend providing a captivating blog post description within 160 characters.
5. It should be unique
I have seen many bloggers don't pay heed to adding meta descriptions to their posts. If they do, they simply copy it from others and paste it into their blog posts. You should pay attention to it, as it causes duplicate content issues that will drastically affect your blog post rank on Google.
I always advise adding a unique and concise blog post description.
6. Spy your competitors
It is really difficult to provide an interesting description of a blog post that gets clicks. So, you can use tools to generate meta descriptions or a very simple way is to spy on your competitors.
Yes! You can search for the same topic on your competitor's blog and see what description he is using to get clicks.
Wait!
You don't have to copy your competitor's description. Instead, you can take an idea of how he is attracting his audience with his blog post description. Just take an idea and craft your own description.
7. Use Questions
A question is something that adds a quick curiosity in the user's mind to know further. That's the simple reason most bloggers include question tags in their descriptions.
I also use questions in the descriptions of the blog posts and these really do well.
Conclusion: Don't forget to use keywords, have a clear layout, and get to the point.
I hope you enjoyed this blog post on how to write a captivating description of your blog. Writing blog information is always important, as it not only helps build up your audience but can bring in more traffic and ultimately help you sell more products.
Writing a description of a blog can be a little tricky, but it is really important that you know how to write it so that your audience will be engaged in your blog and keep coming back for more.
Whether you're just getting started or have been writing for a while, this blog post will provide you with all the information you need to make your blog definition the best it can be.
With the information provided in this post, we hope you will develop a seamless description that will leave your audience wanting more. If you need any tips, feel free to reach out to us at admin@seosachet.com
Thank you for reading. I would love to hear from you!