Top SEO Agency Tools Bagged By Marketers
The digital industry continues to grow exponentially, and in order to keep up, businesses need the latest and greatest SEO software and tools to help grow their businesses with digital marketing.
SEO software is often part of an agency's toolkit in order to optimize, monitor, and manage their SEO campaigns online.
In order to make your agency efficient in managing SEO campaigns across multiple channels, you need the most suitable SEO software for your needs.
The good news is, there are literally hundreds of these tools and platforms to choose from, but we can help narrow down your decision by highlighting 5 of the best SEO software for agencies in 2023.
SEO agencies have many functions for which they need experts to perform keyword research, competitor research, site audit, content strategies, website rankings, etc. Also, they need to generate white-label SEO reports for their clients. Analytics is another crucial function that SEO agencies need to perform to measure the success of their campaigns and make data-driven decisions.
So, they need an all-in-one SEO toolkit rather than individual software.
Finding and choosing the best SEO tools for agencies is really a tedious job.
To make it easy, we've created this targeted article to provide you with the Top 5 SEO tools for agencies.
This is true that not all SEO tools are equal. Some of them are focused on keyword research while some are on keyword rank tracking and some are on providing you with detailed website audit reports. However, competitor analysis is a crucial aspect of SEO that cannot be ignored.
But I specially created this article for SEO agencies to avoid the pitfall of investing their money into SEO tools that are not worth investing.
What is the best SEO software for agencies?
There is no one-size-fits-all answer to this question as each agency's needs and budget are different. However, some popular SEO software options for agencies include Semrush, SE Ranking, Ahrefs, Moz Pro, and Raven Tools.
The list contains only those SEO tools that are standalone and sufficient to perform all functions related to search engine optimization. Obviously, these are paid tools and do not include tools like Ubersuggest, Keyword Planner, and BuzzSumo which are not all-purpose SEO tools.
The list consists only of All-in-one SEO tools that include primarily the following key features:
When it comes to digital marketing agencies, having the best SEO software is essential. These tools can help agencies optimize their clients' websites and improve their search engine rankings.
Whether it's keyword research, competitor analysis, or tracking rankings, the right SEO software can make a significant difference in achieving online success.
With the right tools, digital marketing agencies can provide comprehensive SEO services and deliver impressive results to their clients.
Top 5 SEO Agency Tools Used by Experts in 2023
5 Best SEO Software for Agencies in 2023
Let's get started with the top SEO agency tools.
1. Semrush
Use this tool if your top priority is keyword research and competitive analysis.
Price: Starts at $119.95/month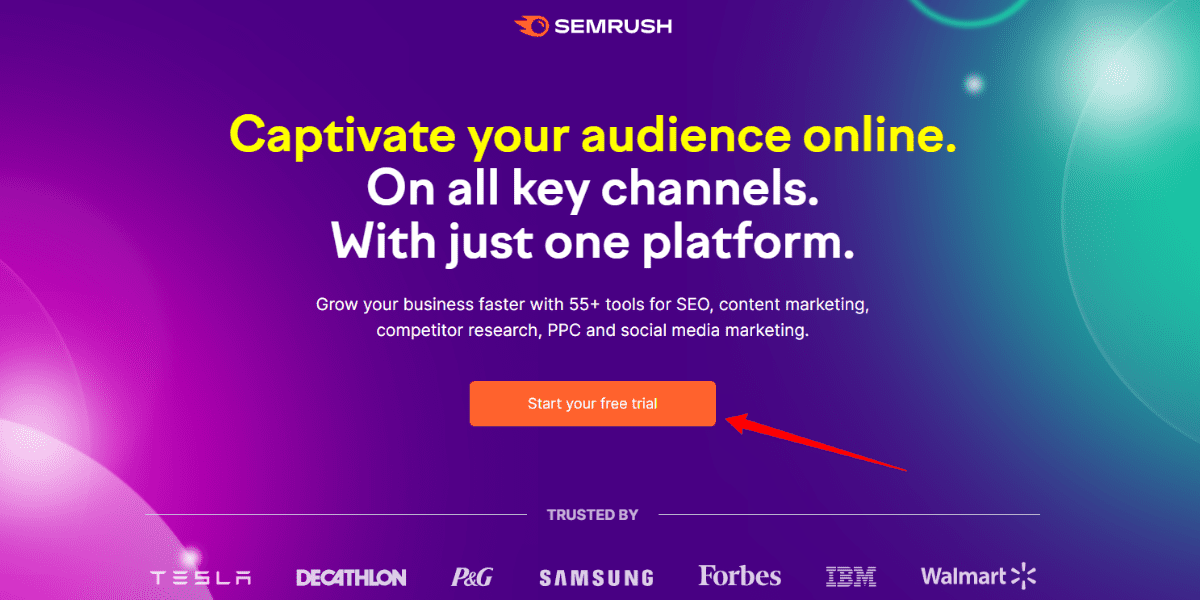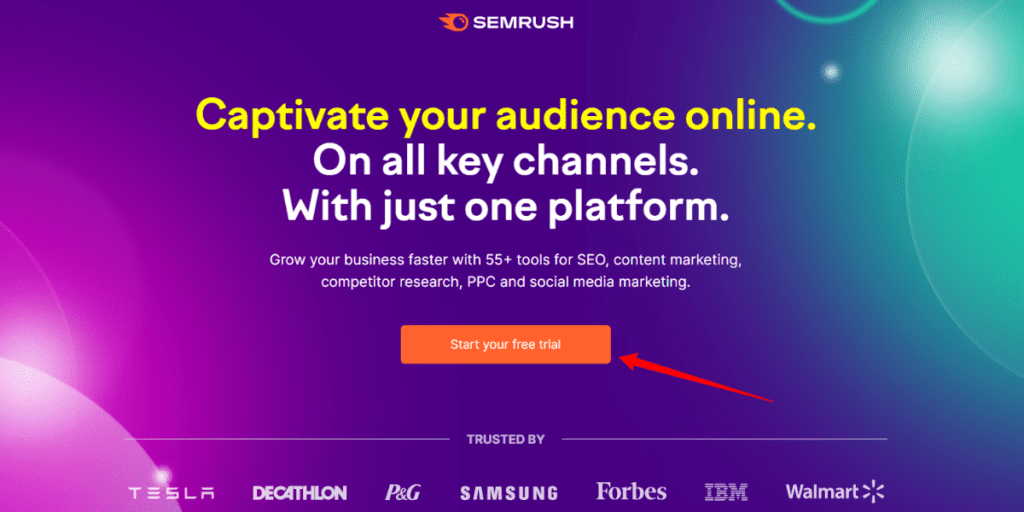 Let's get started with Semrush. It is the tool I have been using since the initial days of blogging. It's a Swiss army knife for all kinds of SEO needs.
We primarily know Semrush for keyword research and competitive analysis.
You may have several clients, including beginners to professionals.
If a beginner enters the online market, he needs a keyword research tool to generate all relevant keyword ideas. Because without knowing the search metrics of a keyword, it is a waste to write content about it.
If your client is professional and needs you to perform a technical SEO audit for him. You need to provide him with the white-label report.
In both cases, you need an all-in-one SEO software to grow your agency. Semrush is a perfect choice in such cases for SEO analysis.
You can use Semrush Keyword Magic Tool to find all relevant keywords of the focus keyword. This tool will allow you to find long-tail keywords with low keyword difficulty.
This tool assists you in analyzing your clients' websites for all possible technical issues. So that you can quickly identify and fix the technical SEO issues of your client's websites.
Why should you use it?
Semrush is an all-in-one SEO toolkit that has many top-level features. Here are some benefits of using Semrush:
Keyword Position Checker: Semrush's keyword position checker tool allows you to create a project and add your prime keywords for which you want to track the SERPs ranking.
This gives you email alerts on your rank changes daily.
SEO Writing Assistant: Semrush's AI content writer assists you while writing SEO-optimized blog posts. SEO content writing tool provides you with all LSI keywords and briefs you on the positions where you should use it like headings, sub-headings, content, meta terms, etc.
This helps you create useful content for both users and search engines.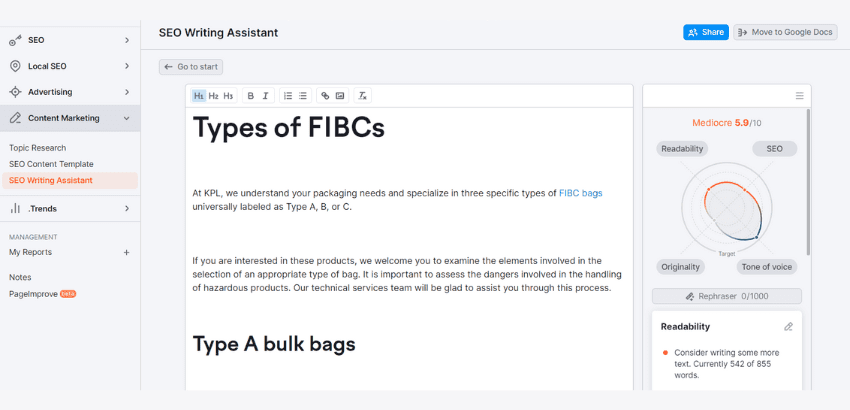 Keyword Research: Keyword analysis is the prime feature of any SEO tool. But the one that provides you with more authentic insights should be a priority.
Semrush's Keyword Magic Tool is a dedicated keyword analysis tool that offers you all relevant search terms and their metrics like search volume, CPC, and keyword difficulty in a single place.
More important is that it gives more authentic results.
Social Media Management: What if your SEO tool handles your social media platforms as well?
It is a real feather in any SEO tool's cap. It allows you to post, schedule, and track content on social media channels. For any SEO agency, it is an arduous task to monitor everything missing nothing. So, this tool makes it easy for you to manage various social media handles including Twitter, Facebook, Instagram, LinkedIn, etc. in a single place.
Link Building: Link building is one of the prime tasks SEO agencies do for their clients. Obviously, they need a robust tool that gives them efficient insights into the link profiles of any domain.
Semrush's link-building tool offers you to analyze any domain and find out how many links are pointing to a specific domain. Building backlinks continuously is a poor practice and it can hurt the respective website. So, you need a tool that can audit the backlinks you created.
Semrush's backlink audit tool checks your backlinks if there are any toxic links pointing to your domain to protect your website's health. You can easily export the toxic links file and disavow them to keep your website healthy.
Backlinks Gap Analyzer: While doing competitive research, you often see several backlinks pointing to your competitor's site. What if you get the opportunity to create the same backlinks for your domains as well?
Semrush competitive research tool offers you an exceptional feature to find the opportunity to build backlinks for your domains. You just need to enter your domain along with your competitors' and it will show you the list of backlinks your competitors have, but you don't.
So, you can easily create backlinks for your clients.
Google Search Console is a powerful free tool for SEO agencies. It provides valuable insights and data on how clients' websites perform in organic search. With features like the coverage report and performance report, agencies can analyze and monitor website rankings more effectively.
Google Search Console integrates seamlessly with Semrush allowing agencies to consolidate their data and streamline their SEO efforts.
Semrush is a widely used SEO Agency Software.
Semrush pricing plans for agencies start at $229.95/month.
2. SE Ranking
Use this tool if your priority is keyword rank tracking and website analysis.
Price: Starts at $39/month. (Click here for a 14-day free trial)
SEO agencies often need to provide results to their clients regarding their websites' performance. For this, they need to check the SERP position of the keywords they worked on. SE Ranking provides you with the accurate position of keywords on the SERPs.
Note: It offers you daily keyword rank tracking as well as you can generate a fresh report on demand.
It is a tool that was initially used for keyword rank tracking. But, over time, it has grown into an all-in-one SEO software widely used by SEO experts.
It is one of the top SEO reporting tools for agencies. They may use it to fulfill all their SEO needs.
SEO agency tools check the clients' websites for all possible technical issues and provide them with their fixes.
Serving white-label reports to the clients keeps up their trust in their SEO agencies.
So, if you need to prepare daily keyword position charts and website analysis reports for your clients, then SE Ranking should be your priority. It offers you to furnish white-label reports.
Apart from these, you may use the tool for keyword analysis, competitive research, backlinks monitoring, and content marketing.
You may read this detailed guide on how to use SE Ranking to find profitable keywords.
Why should you use it?
SE Ranking is an all-purpose SEO software that has many features and some leading benefits are:
Keywords Rank Tracking: It is the most common task managed by an SEO company. There are many SEO tools that offer this feature, but I have found no one closer to SE Ranking's accuracy level.
Yes, a keyword rank checker should generate an accurate SERPs report, and SE Ranking's keyword rank checker comes out clean here. Simply create a project and enter the domain name and keywords to get the most accurate report daily and on demand.
Website Audit: Being an SEO agency, you often run technical audits of your client's websites. SE Ranking offers you to generate white-label audit reports. It builds up your client's trust in you and offers you more opportunities to grow your business.
Content Finder: SE Ranking is an all-purpose tool that fulfills all your SEO needs. Here comes another feature that will force you to use it.
SE Ranking Content Finder offers you many relevant keyword clusters of your seed keyword to generate content ideas. Each cluster includes 10 related keyword ideas that show you its search volume, CPC, keyword difficulty, and search trends.
Content Marketing: After generating content ideas, its brand-new Content Marketing tool helps you create content around it.
It suggests LSI keywords related to your seed keyword, which is a good ranking signal for Google. Using this premium module, you can generate SEO-optimized content easily.
Here is a video tutorial that briefs you about the SE Ranking content marketing module.
On-Page SEO Checker: Ignorance is the most common mistake people do. However, ignorance of SEO can hurt a website badly.
But, you need not worry if you have SE Ranking On-Page SEO Checker. It checks your content to find all potential issues related to the title, meta description, internal/external links, URL, page UX, etc. and provides you with fixes as well.
White-label reporting: I already briefed you about this. It is a premium feature that other tools offer you at an extra charge. But SE Ranking provides you with this premium feature in its Pro and Business plans.
Being an SEO agency, you know how important white-label reporting is. You can easily generate reports with your logo on them. Obviously, it increases your followers and keeps up their trust in you.
Google Analytics and Search Console are considered the best tools available to get valuable insights into website traffic, user behavior, and other important metrics that can help agencies optimize their clients' websites for better search engine rankings. SE Ranking tool allows you to integrate your account with these tools for better analysis of your projects.
You may read this detailed SE Ranking vs Semrush comparison article to know which one is best for you.
SE Ranking pricing plans for small business owners start at $89/month.
3. Ahrefs
If your priority is keyword research and backlinks analysis, use this tool.
Price: Starts at $99 monthly.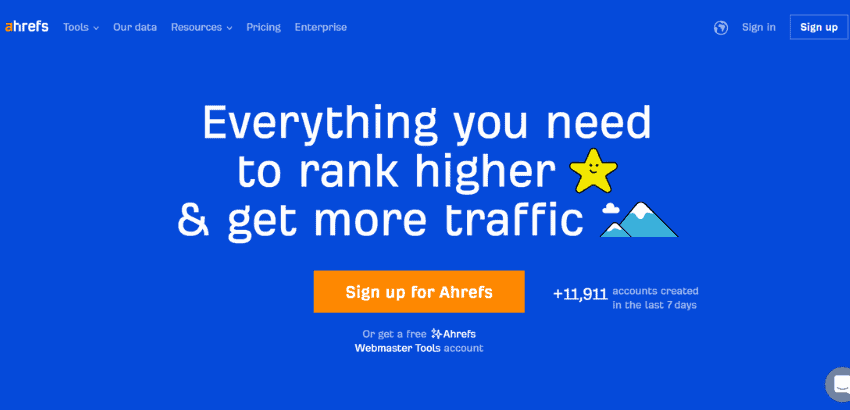 No tool can beat Ahrefs in backlinks analysis. Because of its largest index size (around 16 trillion links), it is the most preferred link analysis tool used by SEO experts and agencies.
Over the years, it has strengthened into a complete set of SEO tools that offer keyword analysis, website audit, rank tracker, and competitive research tools.
This tool has the fastest crawler for link analysis in the industry. You can use its site explorer tool to analyze your client's websites and find out how many links are pointing to them and on which keyword they are ranking.
Its user-friendly interface makes it the most favorable tool for users and a top-notch SEO platform for agencies.
Why should you use it?
Ahrefs is a leading SEO tool for backlinks analysis. But here are some more benefits of using this tool:
Ahrefs is one of the best SEO tools for agencies if they want to analyze the backlinks of their client's websites.
Keyword Research: If you want to find relevant keyword suggestions for your client's website, you must use the Ahrefs keyword research tool. It gives you the most authentic keyword difficulty score along with its search volume and CPC.
Competitive Research: Keyword research includes two methods, i.e. seed keyword method and competitive keyword analysis. Having a massive index size, this software gives you the number of keywords your competitor is ranking. So, you can easily spy on your competitor's website to find more relevant keywords for your SEO campaign.
Backlinks Analysis: Here comes the prime feature of this SEO agency software. Its largest crawl database shows you the links that are not tracked by other SEO tools. You can filter the backlinks by their domain ratings, dofollow/nofollow, and backlink type, i.e. image, content, etc.
You may export the low-quality backlinks pointing to your client's website and disavow them to improve its domain authority.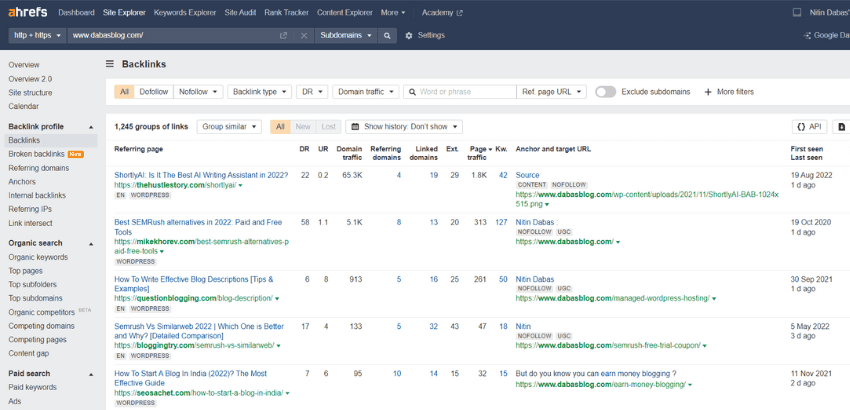 Rank Tracker: Being an SEO agency, it is the most common task for you. So, you need a good keyword rank tracker with a clean dashboard. Ahrefs provides you with one of the best keyword rank trackers.
Its largest database automatically shows you the rank of recently indexed keywords. So, you can pick up the focus keywords and track their presence on the SERPs.
Site Explore: Ahrefs site explore provides you with all important metrics of your client's website in a single place. Its user-friendly interface helps you analyze your client's domain's links profile, and organic/paid keywords analysis.
Content Gap Analyzer: What if a tool gives you a list of keywords that you should target?
Ahrefs content gap analyzer scans your competitor's websites and finds the keywords on which they are ranking and shows you the list of keywords that you should target.
This is a pretty cool feature of the tool to improve your ranking on Google for all relevant keywords in your niche.
Ahrefs pricing plans for agencies start at $199/month.
4. Serpstat
Use this SEO agency platform if you have a smaller budget and you need a reliable all-in-one SEO program.
Price: Starts at $69 monthly (Click here for a 7-day free trial)

SERPSTAT is an all-in-one SEO platform widely used by bloggers and marketers. The reason is that it offers the same tools at an affordable price. Where all other SEO agency tools cost you around $100 monthly, it is available at $69 per month.
Its Enterprise SEO agency software cost you $499 per month.
This makes it a great alternative to Semrush and Ahrefs.
SERPSTAT was launched in 2013 as a keyword research tool which now evolved into an all-in-one SEO software.
Popular companies like Samsung, Philips, Deloitte, Uber, and Shopify use this software for their SEO campaigns.
Using this tool, you can analyze your competitor's website, perform keyword research, website audit, and many more. Of course, you may find some discrepancies after analyzing its reports with Semrush or Ahrefs. But, it's still a reliable tool with a low budget.
Why should you use it?
Apart from common SEO features, here are some most useful features of this tool:
PPC Research: Often you need to run PPC campaigns to drive traffic to your client's website. Here, you will find the data offered by this tool quite helpful.
Simply enter your competitor's domain and find the strategy he is using in getting paid traffic.
Identify gaps in his reports and improve your Ads copies to get a wider reach.
Keyword Trends: This is really a cool feature to discover popular topics in real time. You can find the trending topics for a selected country, language, or date to create trending and appealing content.
Content Analysis Module: It can't be denied that the popularity of AI content generation tools has improved a lot in recent times. It's no surprise that SEO tools include this feature on the prime list.
This module has distinct features that help you create titles, meta descriptions, paraphrases, FAQ generation, plagiarism check, article generation, etc.
Potent Keyword Analysis: It dedicated keyword research tool helps you generate tons of keyword suggestions related to your seed keyword.
Its especially useful function allows you to generate keywords that have question intent. Such keywords help you generate a FAQ section that is really useful in bringing organic search traffic to your site.
Serpstat subscription for agencies start at $149/month.
5. Mangools
If you want a budget-friendly and reliable keyword research tool, use Mangools dedicated keyword analysis tool- KWFinder.
Price: Starts at $49 monthly
Our list of best SEO tools for agencies concludes with Mangools SEO Package. Yes, this package includes unique tools for keyword research, SERP analysis, rank tracking, backlinks analysis, and website analysis.
It was launched in 2014 and is well-known for its flagship tool KWFinder. But other tools are equally useful for an SEO expert.
So, if you have a client with a limited budget, you may use Mangools SEO tools to fulfill his needs. It is the most economical tool for search engine optimization used by SEO business owners.
Why should you use it?
There are many reasons to use this tool, the major ones are given below:
KWFinder: It is the most used keyword research tool offered by Mangools. Similar to other keyword analysis tools, it shows you insights into the search volume, keyword difficulty, and CPC of a keyword.
But what makes it distinct from other tools is its most accurate keyword difficulty score.
You can use this to overrank your competitors in the market by using competitive-based keyword research.
SERP Checker: This tool analyzes the web for a keyword and shows you the top 10 organic results on the SERPs.
The detailed report shows you many useful metrics like DA, PA, backlinks, referring domains, trust flow, etc. which helps you analyze the competition for that keyword on the search engines. You can use these metrics to build a dedicated keyword research strategy to beat your competitor.
SERP Watcher: It is the dedicated keyword rank checker offered by Mangools.
No SEO strategy can work if you don't know where your keywords are ranking on the SERPs.
You may use this tool to find the exact keyword position on the search engine results page. Its detailed report shows you the daily top gainers and losers to make you a robust SEO strategy.
Link Miner: Any SEO tool is incomplete if it doesn't provide you with a backlink checker tool.
Mangools backlink analysis tool i.e. LinkMiner helps you find the number of backlinks pointing to your client's site.
You can analyze the quality of the backlinks by using different metrics provided by the tool like trust flow, citation flow, dofollow/nofollow tags, anchor text, etc.
Site Profiler: It helps you to analyze any domain and to find its web traffic, top pages, backlink profile, etc.
You can spy on your competitors using this tool to replicate their most efficient SEO strategy using the metrics provided by Site Profiler.
Mangools' pricing plans for agencies start at $129/month.
Final Thoughts
We know it can be a daunting task to find the right software to help run your agency. With the help of our article, you should now have a better understanding of what to look for when reviewing tools for your SEO agency.
When it comes to SEO software for agencies, visibility is a key factor. The best SEO tools help improve the online visibility of websites and content, allowing marketers to create and optimize content that drives organic traffic.
SEO agency tools provide insights into customer intent, keyword research, and on-page optimization techniques. With features like technical website audits and keyword ranking distribution analysis, these software platforms empower agencies to track and improve their clients' search visibility.
Stay ahead of the curve in your industry with these 5 best SEO software for agencies in 2023.
Based on your priority and budget, you can use any of these SEO agency tools and maximize your earning potential.
This was a useful list of the best SEO software. We hope this article helps you find the right SEO marketing tools to run your agency and build a successful year!
If you have questions, please send us an email at admin@seosachet.com Thank you for reading,