Are you looking to expand your business and dominate the digital landscape? Look no further than White Label SEO Software to provide your clients with top-notch services.
Imagine having access to a suite of powerful SEO tools that can be customized with your branding. With White Label SEO Tools, you can establish yourself as a trusted authority and build stronger relationships with your clients.
Don't miss out on the opportunity to revolutionize your business! Take the first step towards success by exploring the 5 Best White Label SEO Software options.
These cutting-edge tools will empower your agency to deliver outstanding SEO services, attract more clients, and stay ahead of the competition.
In this blog post, we will dive into the world of white-label SEO tools, explaining what it is, why they are beneficial to use and what are the top white label SEO reporting tools.
We'll also cover the criteria you should consider when choosing the best SEO software for agencies.
To help you get started, we've compiled a list of the best white-label SEO tools. Discover how these powerful tools can help take your business to the next level.
| Tool | Features | Price |
| --- | --- | --- |
| SE Ranking | keyword research, site audit, domain analysis, rank tracking, SERP analyzer | $39/month |
| Semrush | keyword research, site audit, domain analysis, rank tracking, content marketing | $119.95/month |
| DashThis | PPC/SEM reporting, SEO reporting, White-labeled dashboard | $45/month |
| Authority Labs | Keyword rank tracking, competitors tracking, white label reporting | $49/month |
| Serpstat | keyword research, site audit, domain analysis, rank tracking, backlinks monitorings | $69/month |
What is White Label SEO Software?
White Label SEO software is a tool that digital marketing agencies use to provide SEO services using their brand.
Using this software, agencies can offer a comprehensive suite of SEO tools and services without having to invest in developing their own software from scratch. These software solutions typically include a range of features such as keyword research, on-page optimization, backlink analysis, competitor analysis, rank tracking, website audits, and reporting.
The key advantage of white label SEO software is that it allows agencies to customize the software with their own branding, logos, and company information.
This enables them to present the software as their own, enhancing their professional image and credibility. Additionally, white label SEO software often integrates with other popular marketing platforms, content management systems, or analytics tools, providing seamless integration and enhancing workflow efficiency.
Benefits of White Label SEO Software
Investing in SEO software that allows you to generate white-labeled reports is quite a good move to grow your company. There are many advantages of using such tools which include the following-
1. Custom Branding and Personalization: offering personalized branded reports for clients is easy with customization features available on platforms like SEMrush and Ahrefs. By using these white-label tools creatively alongside your own logo and color scheme choices, you'll present an authoritative and unique service offering unlike any other in the market.
2. Scalability and Flexibility: Agencies can easily add or remove services as needed. This means you can adjust your offerings to match evolving client requirements, ensuring maximum satisfaction in an ever-changing marketplace. Furthermore, these tools provide seamless integration with existing systems, so incorporating them into your workflow is quick and simple.
3. Time and Cost Efficiency: These tools save time and cost by automating tasks and streamlining workflows. Agencies are able to offer SEO services more efficiently without sacrificing quality, which improves profitability. Additionally, the customizable reports and dashboards cut down on the time spent manually compiling data, freeing up employees to work on other essential tasks.
4. Comprehensive SEO Analytics and Reporting: Comprehensive analytics and reporting capabilities of SEO software white label help businesses to stay on top of their SEO performance. With detailed insights into keyword rankings, backlinks, and website traffic, agencies can make informed decisions about how to optimize their clients' digital presence. This data also helps demonstrate the value of your services to clients through tangible results.
Criteria for Choosing the Best White Label SEO Software
To select the ideal white-label SEO platform for your digital marketing agency or in-house team's success, prioritize customization options and seamless integration with data sources.
The best white-label SEO tool offers a range of features like automation or robust reporting capabilities. Additionally, ensure excellent customer service and affordable pricing plans for optimal value.
Customization Options
Customization is key when selecting the right white-label SEO tool. Opt for a platform that offers custom reports and workflows, allowing you to incorporate your branding, logo, and color scheme seamlessly.
A comprehensive suite like SE Ranking or SEMrush should offer you localization options, PDF reports, and the ability to integrate data sources from Google Analytics or Ads. Use free trials and demos while selecting tools that offer customized domain features for better tracking and auditing.
Pricing Models
When choosing a white label SEO software provider, it's important to consider pricing plans that match your business goals and budget.
Monthly subscriptions or per-client charges are standard options. To ensure scalability and value for money, evaluate providers' pricing models against your essential needs such as features required by you. Compare their prices to get the most out of it.
Usability
When selecting the best white-label SEO reporting tool, usability is critical. The platform should be easy to use for both agencies and their clients, offering customizable dashboards, reports, and alerts that allow you to showcase the value of your services while monitoring client advancements.
Good customer service is also a must-have feature in white-label SEO platforms to ensure any issues are promptly resolved.
Reputation and Reliability of the Provider
Look for SEO software with a proven track record in delivering quality services and meeting clients' needs. Check reviews and testimonials from other users, and evaluate their customer support responsiveness.
Choose a provider that offers regular updates and up-to-date technology to keep your agency at the forefront of the industry.
5 Best White Label SEO Software Solutions
1. SE Ranking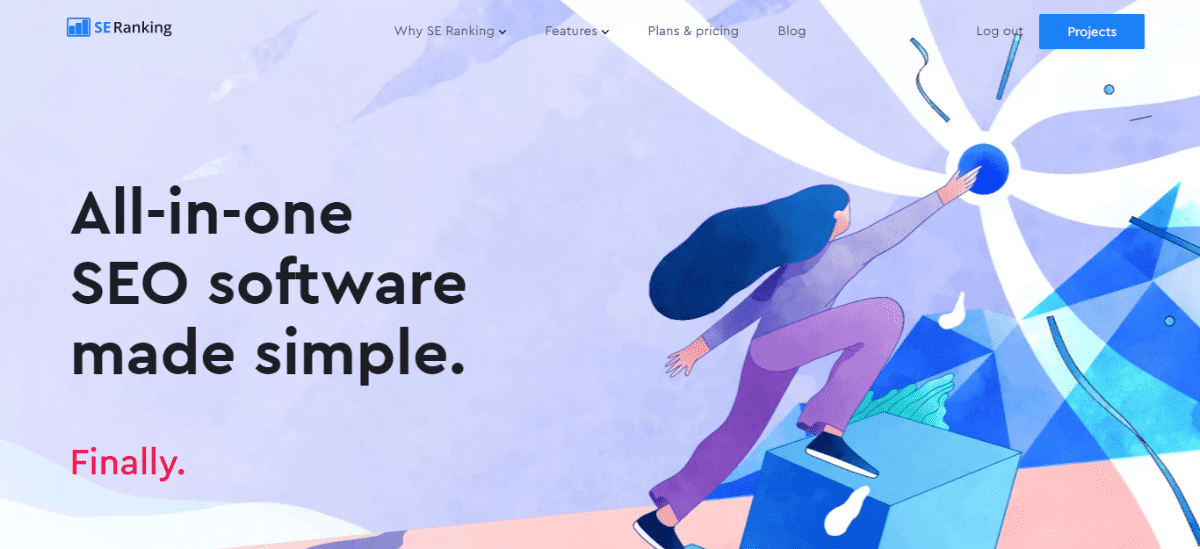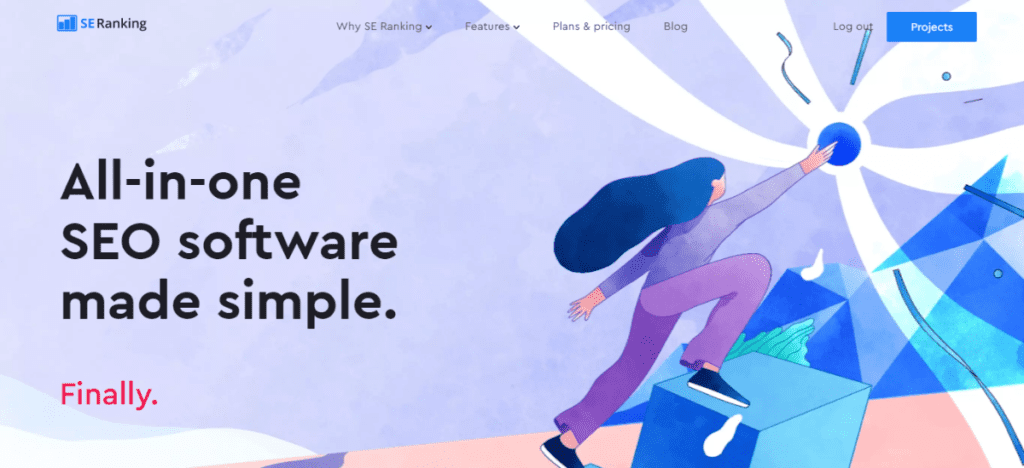 SE Ranking is a cloud-based SEO platform that includes a complete SEO toolkit. It is suitable for everybody including bloggers, marketers, mid-businesses, agencies, etc. The tool was first introduced in 2013 as a rank tracker tool but it has now developed into a full-fledged all-in-one SEO software.
Key Features
Complete white-label reporting
Keyword research
Competitive research
Backlinks checker
Website audit
SERP analyzer
Rank tracker
Content Editor
On-Page SEO checker
Page changes monitoring
Marketing Plan
Lead generator
Social media management
API Access
Benefits
It is budget-friendly software that is suitable for agencies of any size. It provides every feature that is necessary to scale your business which makes it one of the best alternatives to Semrush.
It is quite useful for agency owners because it-
has the ability to generate automated reports
helps you to make a custom interface and login page
can customize your branding with your own logo and color scheme
can boost your conversion by offering white-label SEO reports
manage users with custom access
needs no hosting
needs no link to SE Ranking for white-label SEO
Customer Reviews and Ratings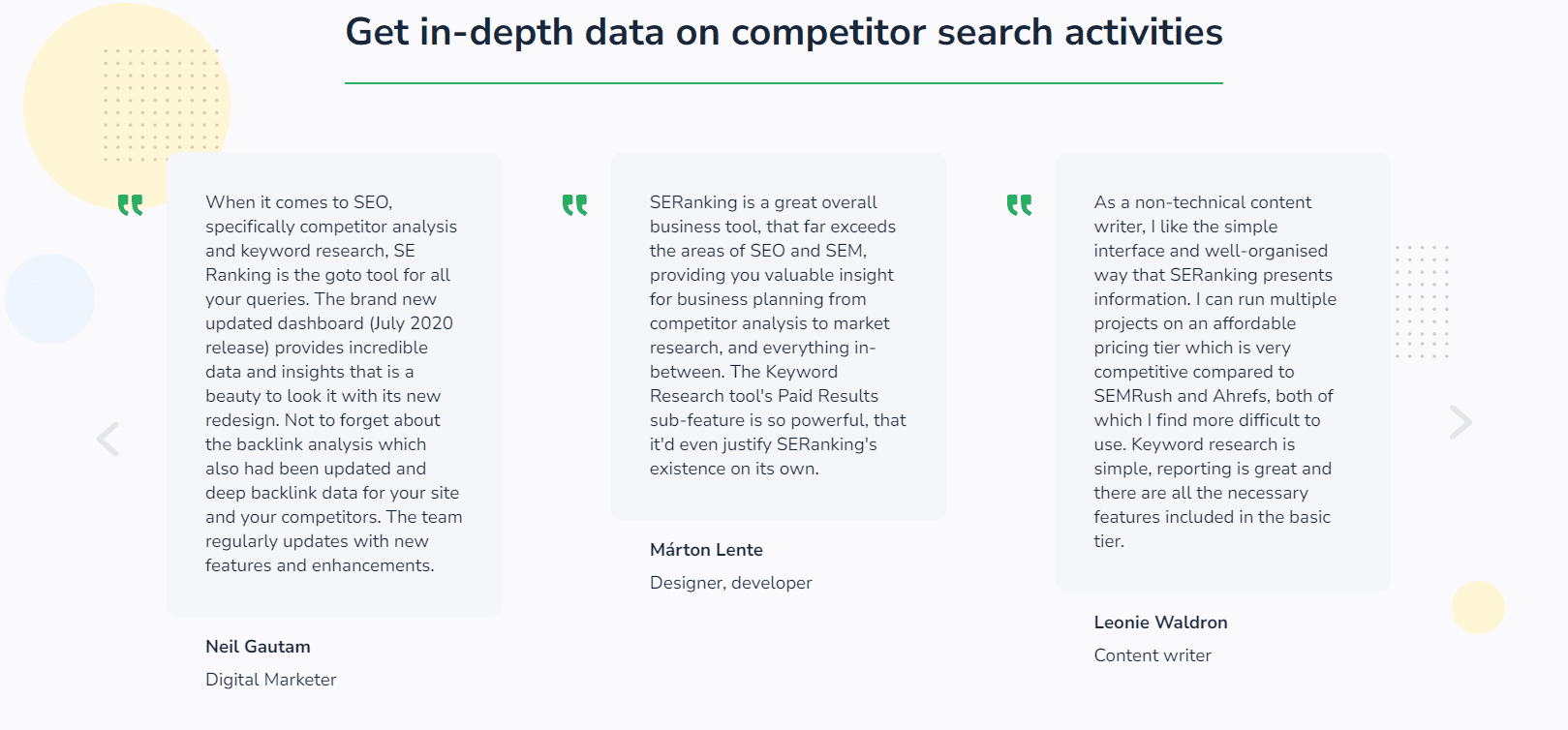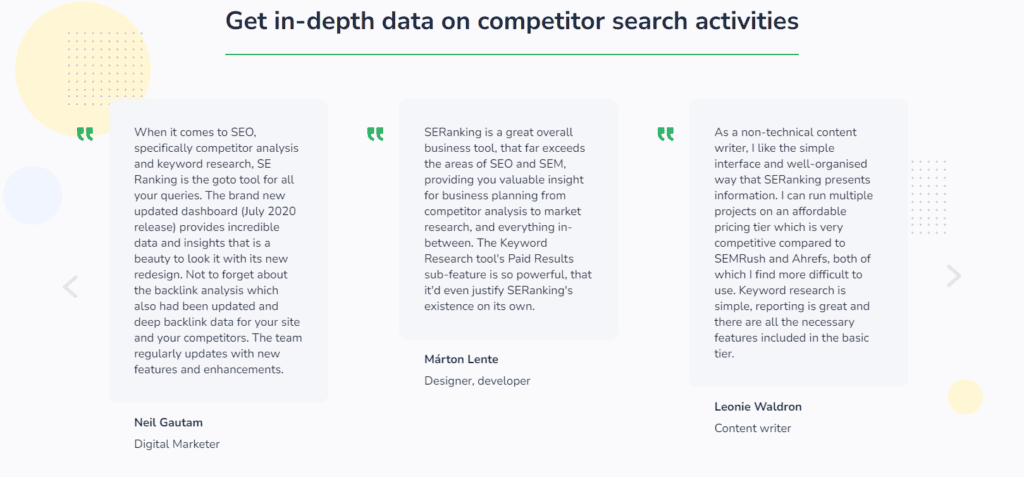 Pricing
Essential: $39/month
Pro: $89/month
Business: $189/month
Note: SE Ranking's white label feature is available in the Pro plan or above.
2. Semrush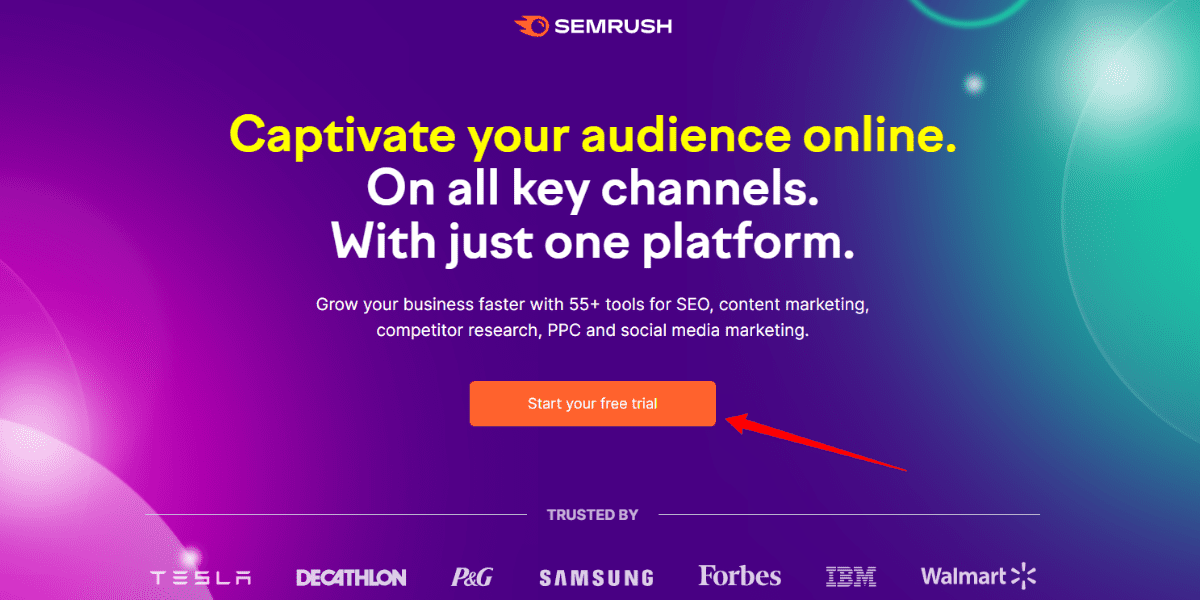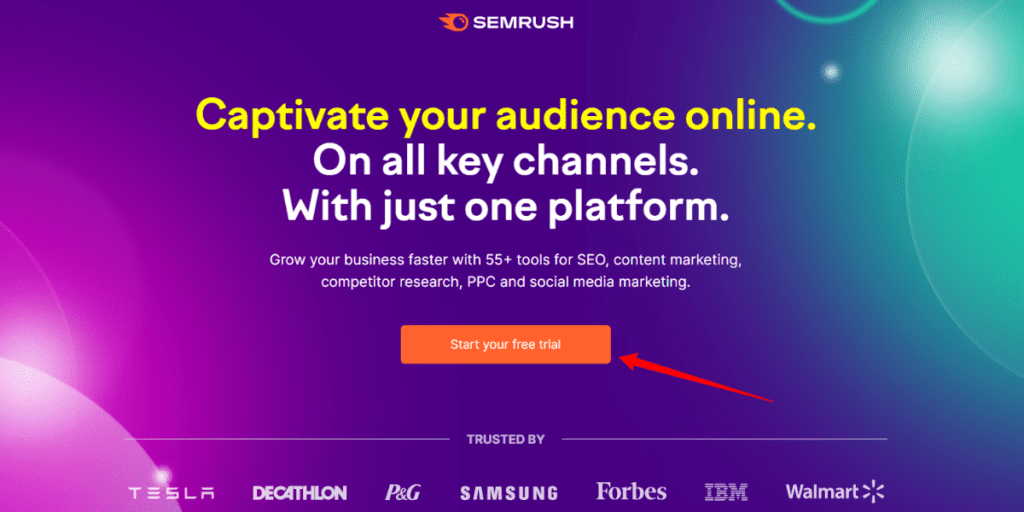 Semrush is a leading SEO tool known to everyone in the industry. Whether you are a small business owner or a leading agency, it is a must-have tool for everyone.
With Semrush's white label feature, agencies can easily customize the reports with their own branding and logo.
Key Features
Keyword research
Domain analysis
Backlinks checker
Website audit
SEO content writing
Keyword position tracking
Social media management
Brand monitoring
Content analyzer
PPC keyword tool
Benefits
In addition to the above-mentioned features of Semrush, it has a dedicated Agency Growth Kit, especially for agencies. You may use this dedicated add-on for the following purposes.
Send automatically scheduled white-labeled SEO reports
Use your logo in an email address and custom message
Make your pdf reports professional by using your own logo and colors
Customer Reviews and Ratings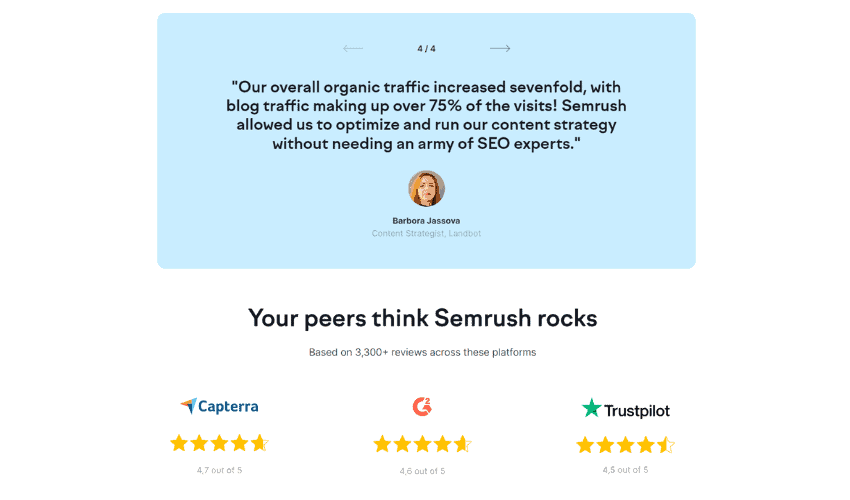 Pricing
Pro: $119.95/month
Guru: $229.95/month
Business: $449.95/month
Note: To use Semrush Agency Growth Kit, you need to have an existing Semrush subscription and then you can use this add-on by paying $69/month.
3. DashThis
DashThis is a unique marketing dashboard tool. Unlike SE Ranking and Semrush, it focuses more on customizable dashboards and detailed metrics across various data sources. It integrates with 34 various tools and pulls various KPIs together to arrange them into a single dashboard.
Key Features
Combines reports from several sources into a single dashboard
Drag and drop editor
Automated email dispatch
Link sharing
Pdf export
Custom domain for white label SEO reporting
Benefits
This white label SEO dashboard software integrates with 34 marketing tools including Google Analytics, YouTube, Facebook Ads, Semrush, Mailchimp, etc.
So, agency owners can avail the benefit of this white label SEO reporting software to offer their clients-
White Label reports
Custom-branded pdfs and emails
Customer Reviews and Ratings

Pricing
Individual: $45/month
Professional: $139/month
Business: $269/month
Standard: $419/month
Note: You get access to white labeled dashboards in the Professional or above pricing plans.
4. Authority Labs
For agencies or businesses looking for accurate ranking data and competitor insights in their SEO strategies, Authority Labs is the go-to white label SEO analytics tool.
With features such as desktop and mobile ranking tracking and customizable branded reports sent directly to clients or team members; this platform provides valuable data on local search results and keyword trends.
If you're looking for a local rank-tracking tool, it should be the first choice for you. White-label SEO reporting adds toppings to this.
Key Features
Local and global SEO tracking
Competitor tracking
Accurate and reliable rank tracking
Automated featured snippets tracking
White label SEO reports
API Access
Benefits
Gain a competitive edge in digital marketing with Authority Labs.
100% white label SEO reports
Customize your own logo, colors, and domain
Customer Reviews and Ratings
Pricing
Plus: $49/month
Pro: $99/month
Pro Plus: $225/month
Enterprise: $450/month
Note: For white label, you need to choose the Pro plan or above.
5. Serpstat

Serpstat is an all-in-one SEO platform similar to SE Ranking and Semrush. It is a powerful white label SEO software that provides agencies with a wide range of features for effective digital marketing campaigns.
From keyword research to competitor analysis and backlink tracking, Serpstat offers all the tools needed to optimize clients' websites and improve search engine rankings.
Key Features
Keyword research
Competitive analysis
Website audit
Keyword clustering
AI content generation
Benefits
With its intuitive interface and customizable reporting options, Serpstat allows agencies to showcase their expertise with branded reports.
Get custom-branded reports with position tracking and search analytics
Use your own logo not only in case of sending reports to your clients but also in the web version of the tool
Customer Reviews and Ratings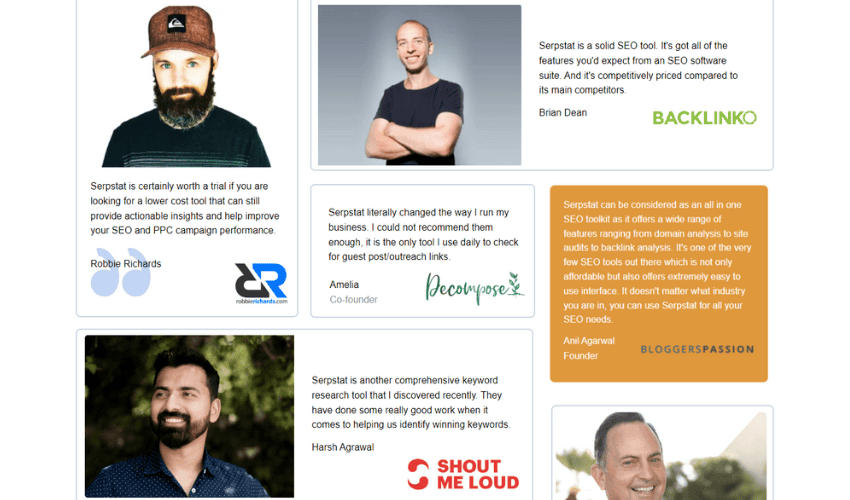 Pricing
Lite: $69/month
Standard: $149/month
Advanced: $299/month
Enterprise: $499/month
Note: For the white label, you need to choose the Enterprise plan.
Comparison of the Top 5 White Label Tools
| Software | Features | Price |
| --- | --- | --- |
| SE Ranking | White Label, Keyword Research, Competitive Research, Technical audit, Content Editor, SERP analyzer, keyword rank tracking | $39/month |
| Semrush | White label SEO reporting, keyword analysis, domain overview, position tracking, site audit, content marketing | $119.95/month |
| DashThis | White label SEO reporting tool, 34+ integrations for keywords data, analytics, ads, and many more | $45/month |
| Authority Labs | SEO rank tracking tool, white label SEO reports, | $49/month |
| Serpstat | keyword research, website audit, white label reporting, competitive analysis, AI content generation | $69/month |
Frequently Asked Questions
Conclusion
White-label SEO software is a powerful tool that can help you maximize your results and streamline your workflow. By using the software, you can create custom reports, track your progress, and manage your campaigns more efficiently. Choosing the right software is crucial to ensuring success.
Of course, you should look for customizable options, flexible pricing models, and user-friendly interfaces when selecting a white label SEO tool.
To help you get started, we recommend using SE Ranking tool as it proved true in every situation to meet the SEO standard.
You may use SE Ranking's 14 days free trial to evaluate the tool.
If you have any queries or suggestions, feel free to put them down in the comments section. We'll be more happy to interact with you.
If you feel this blog post given you some value, please share it with others.